A man has been charged after four people died in the Channel while trying to enter the UK illegally.
Thirty nine people were rescued when a dinghy ran into difficulties off the Kent coast on Wednesday, but four, including a teenager, died.

Ibrahima Bah, 19, of no fixed address, was arrested on Friday and is due to appear before magistrates on Monday.

Kent Police said officers were still working to identify those who died and find their next-of-kin.

A statement issued by the force said the Crown Prosecution Service had authorised a charge against Mr Bah of knowingly facilitating the attempted arrival in the UK of people he knew or had reasonable cause to believe were asylum seekers.

Eight children were among those who were successfully rescued.

A dramatic rescue operation saw people in T-shirts and thin lifejackets shouting for help as people were pulled from the water. The incident happened at night and helicopters lit the scene as people were airlifted away.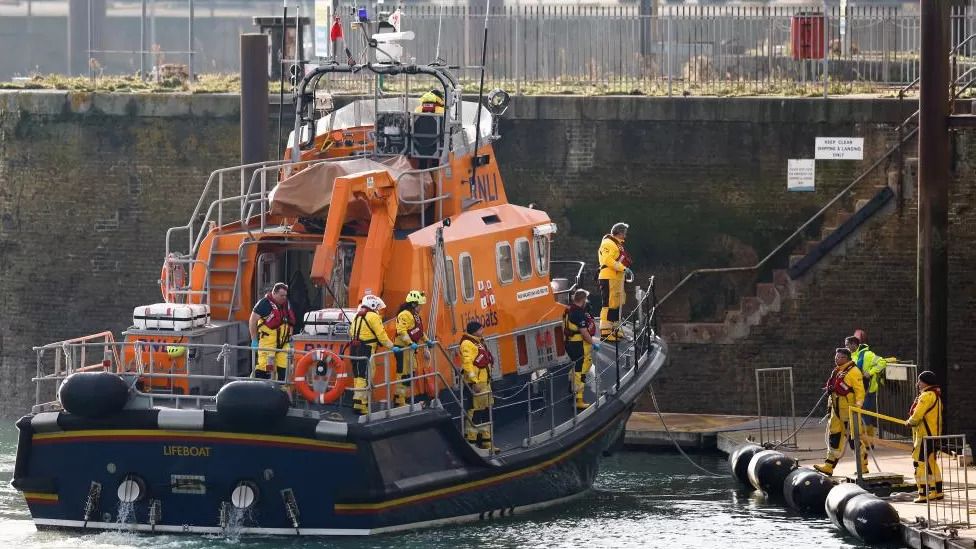 Lifeboats and a nearby fishing boat helped with the rescue
The group had been on a packed vessel that started sinking in freezing waters in the early hours.
Authorities were alerted at 03:05 GMT to reports that the small boat was in distress, which was in difficulty off the coast of Dungeness, 30 miles west of Dover.
Temperatures had dropped to 1C overnight on Tuesday and it was likely to have been colder at sea.
A yellow weather warning was in place across Kent at the time.
Crews on a nearby fishing boat helped lifeboats and the UK coastguard with the rescue.
French navy and air and land ambulances were also deployed.
On Tuesday, the government announced measures to stop small boat crossings, including a new command centre and more funding to tackle immigration crime.
Nearly 45,000 people have made the journey so far in 2022.