Focal points in central London have had a deep clean ahead of the Queen's state funeral.
Westminster City Council's "Clean Streets" team has been jet-washing graffiti and dirt from statues, and removing stickers from lampposts.

One cleaner, who did not want to be named, said he had been starting work at 06:00 BST, cleaning areas including Whitehall and Park Lane.

He told BBC London he was "cleaning up the city for the Queen".

When asked by reporter Ayshea Buksh if he felt proud, he said: "Of course I do - we all have to do our bit."

He was speaking as he power-washed the statue of another queen - Boudicca - who led a revolt by Celtic Britons against the Roman Empire and whose statue overlooks the Houses of Parliament.

Souvenir sellers said they were also very busy.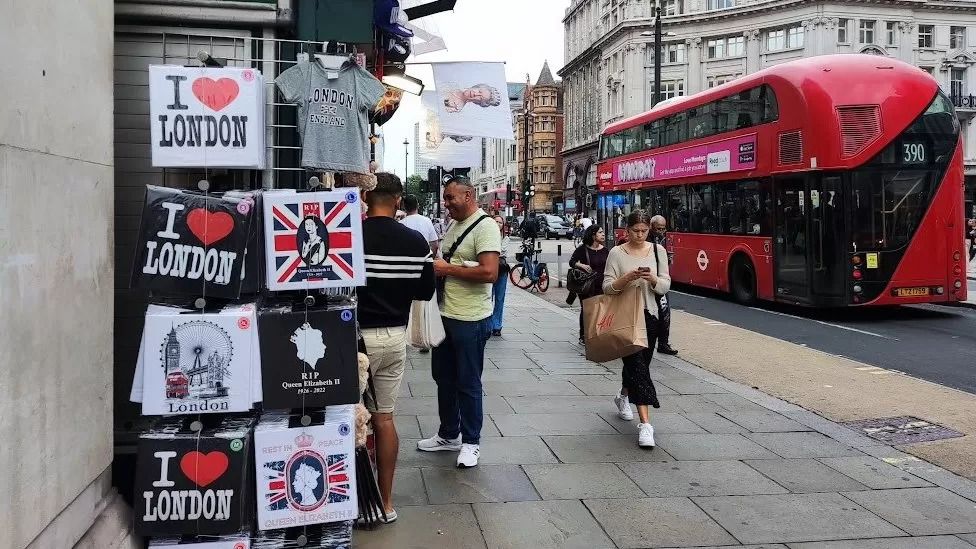 A tourist stall on Oxford Street is one of many selling Queen Elizabeth II memorabilia

Mohammed Salah, who runs a stall near on the north side of Westminster Bridge, said he had mugs and flags in stock to mark the occasion.

Lambert Souvenirs, near Trafalgar Square, told the BBC postcards featuring the Queen and the Royal Family "were all going out the door".

Speaking of other popular items, Michael Bloomberg, Lambert's IT manager, said: "It's really, really busy, and the trouble is getting stock.

"Online, suddenly it's gone mad. The evening after the announcement we were getting orders for mugs and tea with pictures of the Queen on," Mr Bloomberg said.

The orders, he added, were coming from as far as Australia and the United States for the store, which has been selling souvenirs in London for four decades.

He said they would be better prepared for the King's coronation, as the Queen's death took people by surprise.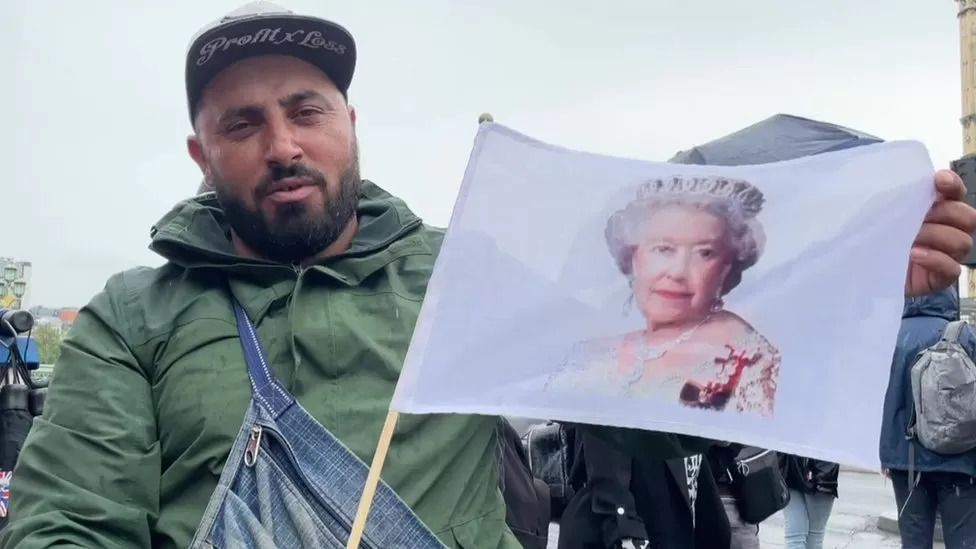 Mohammed Salah, who runs a stall near Westminster Bridge, said he had mugs and flags in stock to mark the occasion

As many people prepare to head to London in the coming days to witness events related to the Queen's funeral, there is a warning they could face soaring hotel bills.

An overnight stay on Sunday, the night before the funeral, could cost four times as much it would a week later, according to analysis by the Press Association.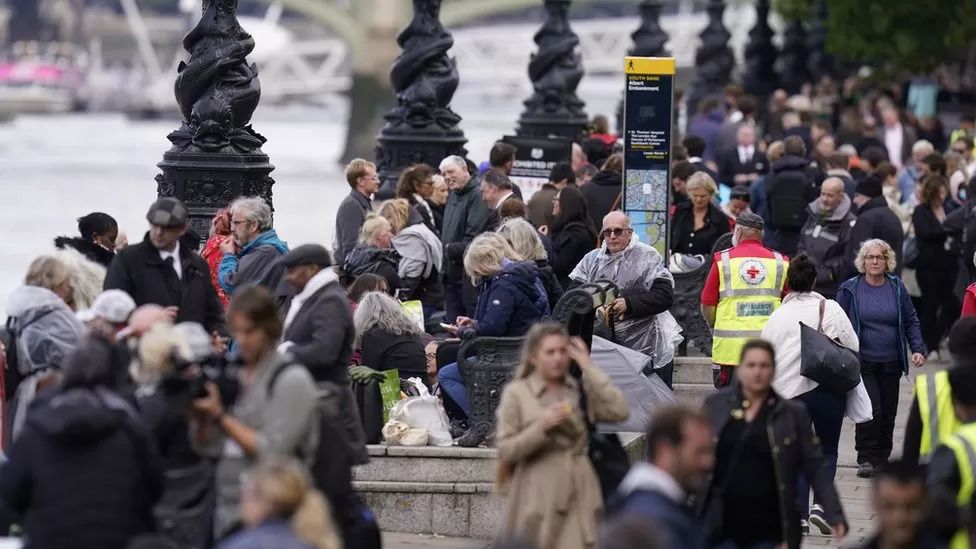 People are queuing to see Queen Elizabeth II lying in state

The BBC found a double room at Park Plaza County Hall - one of the closest hotels to Westminster Abbey - costs £999 on 18 September, compared with £241 seven days later.

The hotel group said prices "fluctuate" according to demand.

The Crowne Plaza London Albert Embankment also has higher rates on the eve of the funeral, with a standard double room costing £730, compared with £251 a week later.

Many hotels near Westminster Abbey operated by lower-priced chains such as Premier Inn and Travelodge are fully booked for Sunday night.

Premier Inn said it had no rooms left available at several of its sites, including London County Hall, London Waterloo (Westminster Bridge) and London Victoria.