A man has admitted exploiting a vulnerable worker who was kept in a freezing 6ft (2m) shed for 40 years.
Peter Swailes, 56, denied conspiring to facilitate travel of another with a view to exploitation, but changed his plea at Carlisle Crown Court.

The defendant's father, also Peter Swailes, 81, was accused of the same offence but died in September 2021.

The Gangmasters and Labour Abuse Authority (GLAA) said the case in Carlisle had been "traumatic".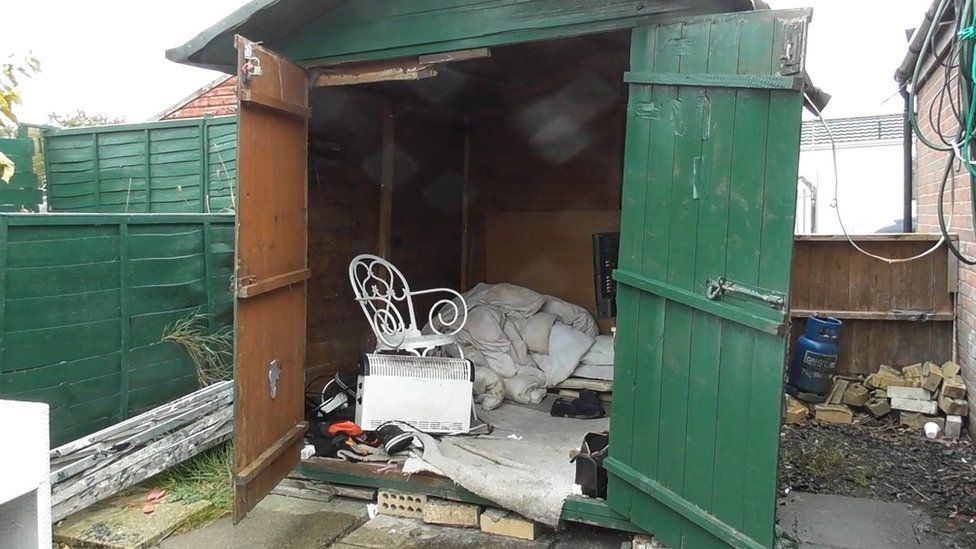 The shed the man was kept in for 40 years had no lights or heating

It rescued the victim, then 58, from the shed in October 2018 after receiving a tip-off to a confidential helpline.

The hearing heard he had been sleeping on the floor with a soiled duvet next to a metered TV.

There was only one window which could not be fully closed and it was in complete darkness when the doors were shut.

An old electric heater with damaged wiring had been left in the corner of the shed, and there was no other heating inside.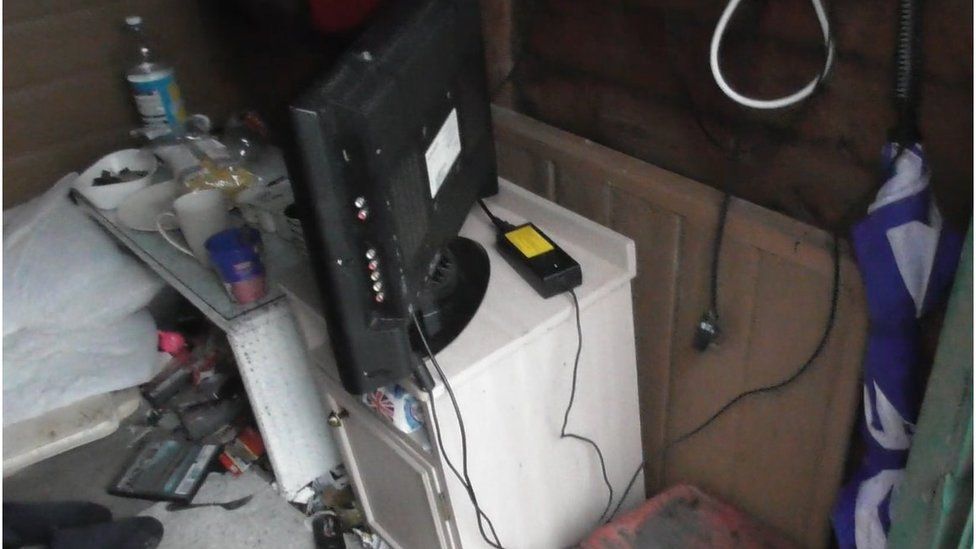 Conditions inside the shed were awful, the GLAA said

The GLAA officers noted that another shed on site used for the family dog to sleep in was in a far better condition.

The court was also told he was made to carry out work on farms from about the age of 16, painting, slating and tarmacking. He said he was paid as little as £10 per day.

Swailes, of Low Harker, Carlisle, was bailed and will be sentenced on 4 February.

The court heard he changed his plea on the agreed basis of his "limited" involvement with the victim and that he had not been made aware of his living conditions.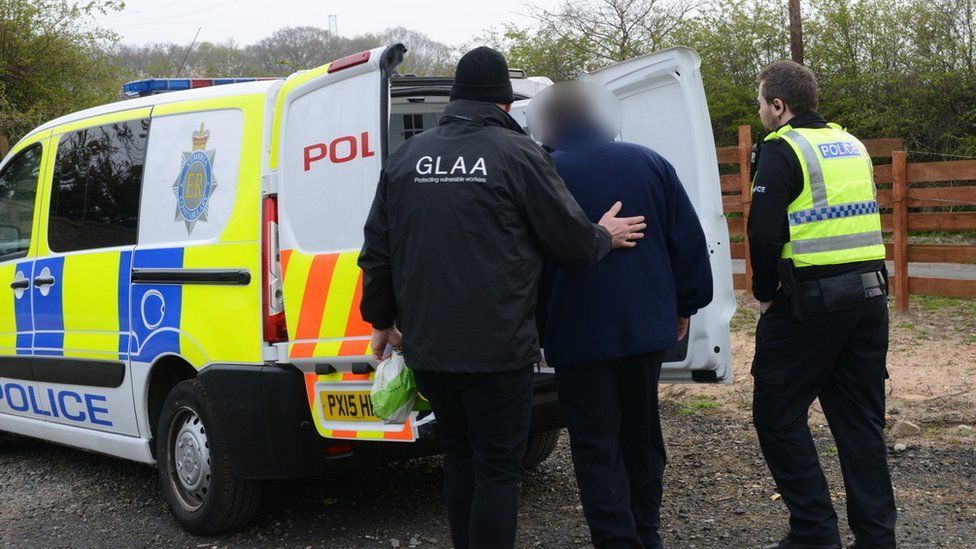 The raid at the caravan park took place in 2018

From time to time, Swailes senior would make contact and arrange for his son to work with the man, the hearing was told.

However, Swailes junior accepted that, on occasion, he paid the man he had known for many years "less than his minimum entitlement".

Investigators from GLAA were supported by Cumbria Police and the National Crime Agency (NCA) in rescuing the victim.

A search warrant was executed at the Hadrian's Caravan Park near Carlisle on 3 October and Peter Swailes senior was arrested in his static caravan on suspicion of offences under the Modern Slavery Act 2015.

When the GLAA told him he was under arrest he said: "Not all this slavery thing again."

The GLAA said the victim had been sleeping in conditions "that no human being should live in".

'Kept as a slave'

Providing an update on the victim, prosecutor Barbara Webster said: "He has accommodation that he is extremely happy with. He is in regular contact. He has a carer who comes in and checks him.

"He will be cared for until the end of his life."

GLAA senior investigating officer Martin Plimmer said it had been "a really harrowing investigation".

"In all my years in law enforcement, I have never known a modern slavery case where the exploitation has taken place over such a long period of time," he said.

"First and foremost in my mind at this time though is the victim. Let's remember that he has been exploited for all his adult life up until just a few years ago.

"He is now in his early 60s. This is something that even now I struggle to comprehend. For four decades, he was in effect kept as a slave."