Traffic has been queuing all day on the approach to one of the south coast's most popular beaches, despite the local council warning people not to come.
Rother District Council told people to avoid visiting Camber Sands in East Sussex, because of the risk of getting stuck in traffic.

"The Met Office has issued an extreme heat warning, so the last place you want to be is stuck in a car!" it said.

By 14:00 BST traffic stretched back several miles and car parks were full.

An amber warning for extreme heat has begun for England and parts of Wales as the UK braces for record temperatures.

A national emergency has been declared amid warnings temperatures could exceed 40C (104F).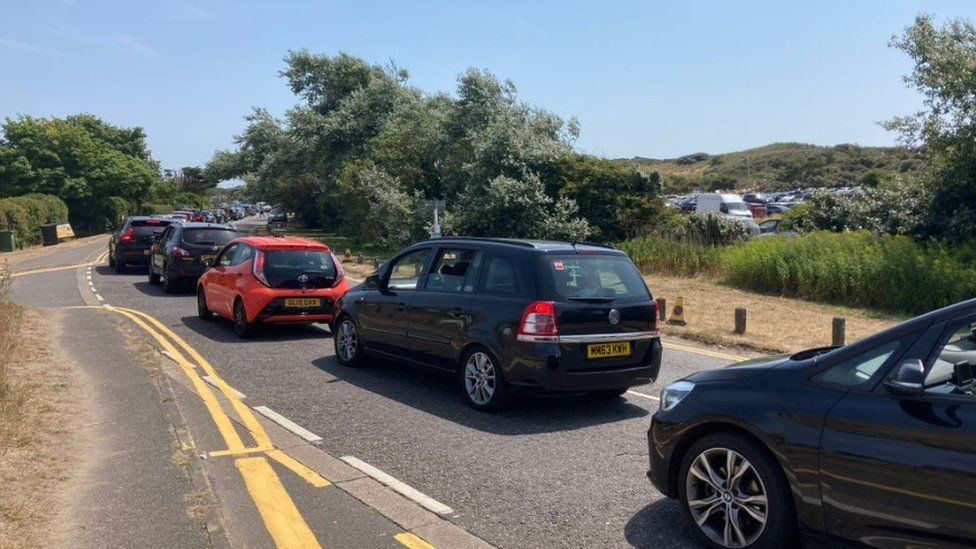 Cars have been queuing all day and the beach car parks are full

Camber Sands is a popular, sandy beach known for its picturesque dunes.

In August 2016, five young men died there after getting into difficulty in the water on what was the hottest day of the year.

On its website, Rother District Council said Camber Sands gets quickly congested, warned of long delays, and told people to bring plenty of water if they did set off.

It recommended using the Beach Check UK app to plan ahead, and to visit another time or choose another destination if car parks are full.