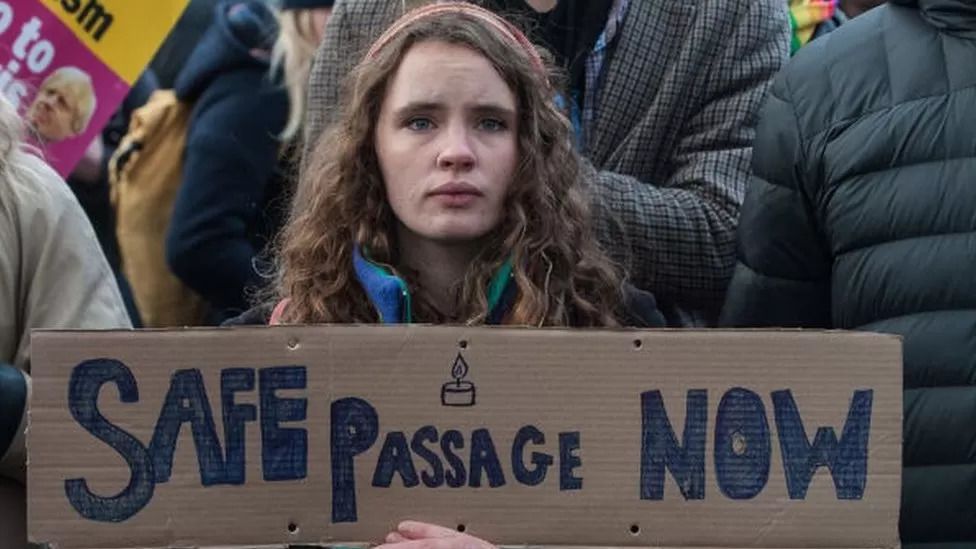 Calais migrants: Grieving families write letter to PM Rishi Sunak
The families of people who died in the worst migrant mass drowning in the Channel have sent a letter to Prime Minister Rishi Sunak demanding justice.
On 24 November 2021, a boat carrying 33 people sank in the Channel, leaving only two survivors.

One year on, the letter claims that the French and UK authorities "failed desperate people who came asking for help."

The government said it is working to disrupt people smuggling gangs.

Both coastguards are declining to comment during the investigation.

People on the boat first notified French authorities in the early hours as it began to sink, but French operators told them to call the UK.

Neither authority appeared on scene until the afternoon, some 11 hours later, finding only two survivors.

The death toll included 21 men, seven women - one of which was pregnant - and three children. Four bodies were never recovered.

Growing evidence suggests French rescue services failed to respond adequately to the phone calls they received from the migrants on the boat.

In the letter, signed by sixteen relatives as well as charities including Care4Calais, the families listed five demands.

They want safe passage for migrants; kindness and compassion; an end to "poisonous rhetoric"; the results of the inquiry into the incident; and to know why the authorities failed their relatives.

"On 24 November 2021, 32 people slowly froze to death in the icy waters of the English Channel while waiting for a rescue that never came. 27 bodies were recovered and four are still missing, only adding to the pain of the families left behind," the relatives wrote.

"We will never let the lives that were lost on the 24 November 2021 be forgotten. For the victims and their families, we demand justice."

A vigil will be held tonight in Parliament Square for those who died.

Zana Mamand Mohammad is the brother of victim Twana Mamand Mohammad, whose body was never found.

He said that he still searches for his brother, hoping for a message.

"I am doing my best to obtain justice for you and your friends," he added. "Our mother is destroyed as if she is not alive anymore.

"Our father is sallow and has aged in a way that you would never recognise him. Our sisters are constantly praying for your return, our brothers are just living with your memories."

A government spokesperson said: "Our thoughts are with the families of all of those who lost their lives in the tragic incident last November.

"We cannot have a repeat of this devastating event which is why we are working with our international partners to disrupt the people smuggling gangs behind these dangerous crossings who are putting lives at risk with every journey they arrange.

"As is standard practice in such circumstances, the Marine Accident Investigation Branch is conducting a safety investigation focusing on the emergency response to the incident, which HM Coastguard and the Home Office are fully cooperating with."