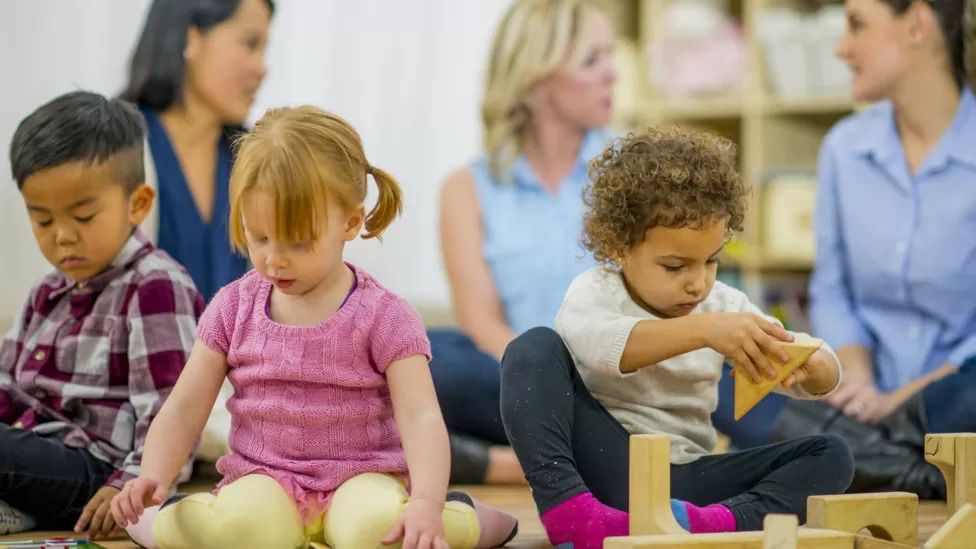 Budget 2023: Struggling parents to get more help with childcare
Struggling parents are set to get more help with childcare as the government tries to boost the number of workers.
The plan is part of a comprehensive strategy to get hundreds of thousands of workers back into the workforce.

The strategy - set to be announced at Wednesday's Budget - will include more funding for childcare, thought to be focused on people on Universal Credit.

Currently those eligible for this support pay upfront and then claim a refund.

This form of support has been frozen for several years, and has fallen well behind the surging cost of care.

The BBC understands that an advertising campaign encouraging older workers who have left the workforce since the pandemic to return could also be launched.

The government is also considering allowing international students to work more than the current limit of 20 hours a week.

There are expected to be changes to disability benefits too.

Insiders say there is a "carrot and stick" approach to try to boost the workforce, a key economic challenge for the UK.

Last month the Governor of the Bank of England Andrew Bailey told the BBC that the failure of the UK workforce to return to its size before the pandemic was "unusual".

"What is unusual is that most other countries have seen that labour force participation has reversed itself [since the pandemic] to a greater or lesser extent that has not happened in this country. And that is what marks out the UK".

The government has been investigating the source of the shortage and broadly attributes it to early retirees, carers, students and long term sick.

While the government has downplayed the impact of post Brexit shortages of European workers in certain key sectors, the Migration Advisory Committee is also expected to expand its key Shortage Occupation List soon.

The aim of this series of Budget interventions which could see bespoke strategies for millions of non-workers, is to persuade the Office for Budget Responsibility (OBR) to increase its projections for the size of the workforce and so for its growth forecasts. This could in theory help limit the need for further tax rises or spending cuts.

The OBR has been historically very cautious in assuming the success of such policies.