Hundreds of people in east Kent have been left with no water or low pressure amid soaring temperatures.
Southern Water said power issues on Friday evening caused a reservoir which serves the Broadstairs and St Peters areas to fail.

It said "less than 2,000 homes" were affected for about two hours on Friday evening.

However, a power issue on Saturday has affected the same customers again, and some are still without water.

A Southern Water spokesperson said: "A mitigation has been put in place and many of our customers will already be back in supply.

"We are very sorry for the disruption this has caused, especially during the hot weather."

It comes as the Met Office has issued its first ever red warning for extreme heat, which points to a risk to health.

The warning includes parts of Surrey and Kent.

Earlier this week, residents on the Isle of Sheppey were without fresh water supplies for three days after a main burst.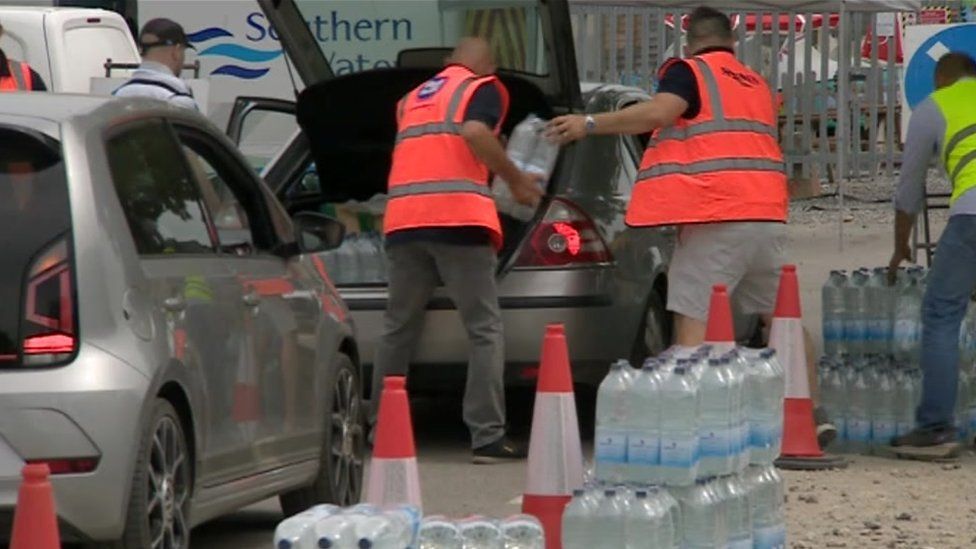 The outage on the Isle of Sheppey affected 24,000 homes

But at 15:45 BST on Friday, the water company said everyone affected was back in supply.

Southern Water said it fully recognised "the emotional and practical impacts" the incident caused and was "extremely sorry".

The outages come as the UK Health Security Agency's top scientist says simple steps such as drinking plenty of water, keeping cool and avoiding the midday sun will help to reduce the number of deaths caused by the heatwave.

Southern Water has warned people they could experience discoloured water as their supply returns, but said this is normal.