Until now, the most expensive residential property sold in the UK was 2-8 Rutland Gate, a 20-room mega mansion overlooking Hyde Park, which sold for a record £210 million in 2020. It was put back on the market in October last year.
Covering 29,000 sq ft, The Holme far surpasses that, with 40 bedrooms, eight garages, a tennis court, sauna, whirlpool, grand dining room and library.
It was built in 1818 by James Burton, a Georgian property developer most famous for his constructions in Bloomsbury and Regent Street. The house was designed by Burton's son, Decimus, and occupied by the Burton family. It was used by Bedford College, before becoming a private residence in the 1980s. The Crown Estate is the freeholder of the land.
"It's the White House in Regent's Park," said a source with knowledge of the project. "It's very special, because you've got the ornamental lake, sweeping lawns and this magnificent rear façade which looks like the rear façade of the White House. It's the most incredible property."
Only a handful of "world exceptional" properties are put on the market every decade and this, they added, was one of them.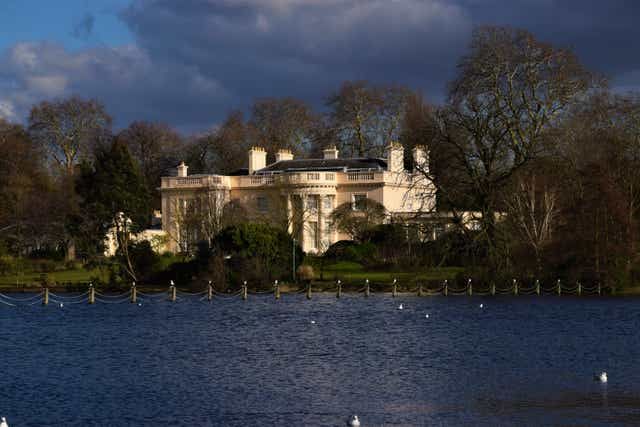 The Holme is likely to attract an international buyer
The Holme's £250 million price tag limits the property to a small number of potential buyers – perhaps around 20 families in the world. It is not just the price of the house, but also the scale of the upkeep —the staff; the cleaning; the landscape gardening—that means only a few can afford it.
If the property was purchased as a second home by an overseas buyer, they would pay more than £42 million in stamp duty alone.
Property tycoon Nick Candy and his wife, the popstar Holly Valance, are said to have viewed the mansion last month. Candy is estimated to be worth £850 million and recently sold his penthouse at One Hyde Park, his luxury development, for £175 million.
According to Trevor Abrahmsohn, who specialises in luxury property sales at Glentree International, maintaining the The Holme could cost "hundreds of thousands of pounds" per year and will go to "one of the wealthiest individuals in the world".
The Holme is likely to attract an international buyer, as the drop in the value of the pound means that London's most desirable addresses are almost 50 per cent cheaper in dollar terms than they were at their peak in 2014.
Last year, Beauchamp Estates reported that London's ultra-prime housing market for multi-millionaire and billionaire buyers rose by 30 per cent in 2022, driven by American, European, Indian and Middle Eastern buyers.
Beauchamp Estates estimate that half of the deals in Prime Central London for homes over £15 million had been to American buyers, who purchased around £620 million worth of luxury property. There were 92 sales of homes over this price bracket last year.