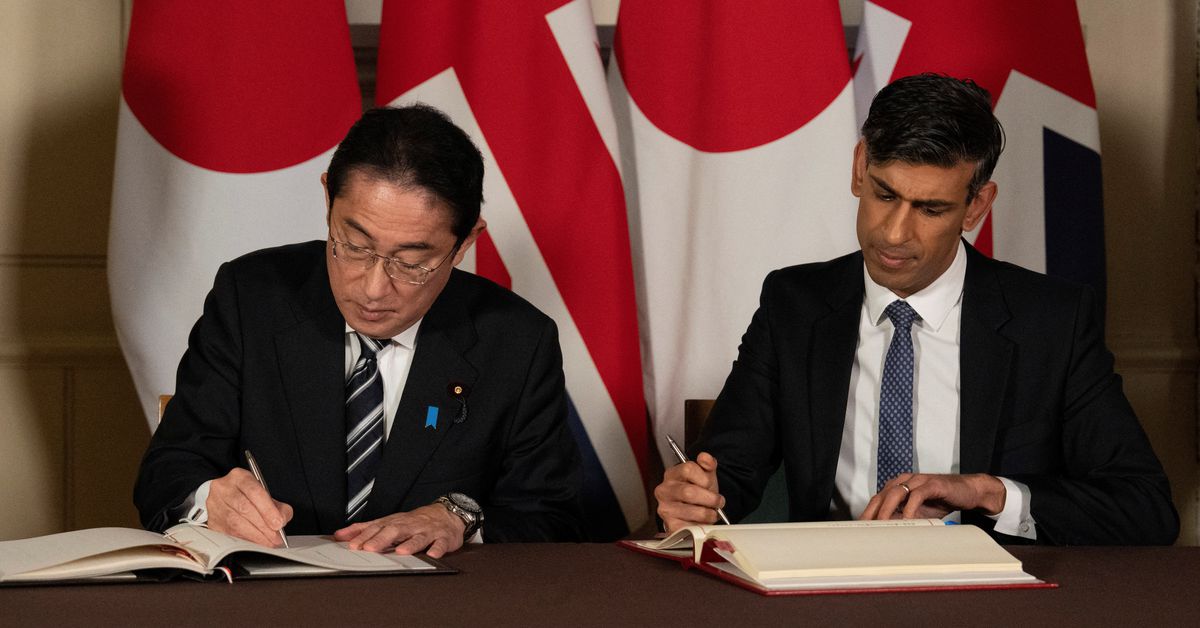 Britain, Japan sign defence pact during PM Kishida visit to London
British Prime Minister Rishi Sunak and his Japanese counterpart Fumio Kishida signed a defence agreement in London on Wednesday that will allow the countries to deploy forces on each other's soil, the latest move towards closer security ties.
Kishida and Sunak signed the reciprocal access defence agreement, agreed in principle last May, a month after the two countries teamed up with Italy on a new fighter jet programme.

The visit and agreement form part of Britain's Indo-Pacific tilt in foreign policy strategy as it builds security and trade ties in the region.

Underpinning the desire for closer ties, Britain and Japan have also both described China as a challenge in the Indo-Pacific region.

"This Reciprocal Access Agreement is hugely significant for both our nations - it cements our commitment to the Indo-Pacific," Sunak said in a statement.

"In this increasingly competitive world, it is more important than ever that democratic societies continue to stand shoulder to shoulder as we navigate the unprecedented global challenges of our time."

Kishida is visiting Britain as part of a tour of Group of Seven (G7) countries including France, Italy, Canada and the United States. Japan currently holds the G7 presidency.

Sunak's office said he had welcomed Kishida's plans to focus Japan's G7 leadership on the impact of the invasion of Ukraine on global food and economic security.

The pair also discussed trade and Britain's accession to the Comprehensive and Progressive Agreement for Trans-Pacific Partnership (CPTPP). In December, Britain and Japan also launched a digital partnership.

"(Sunak) added that future growth and prosperity for all countries would be driven by collaboration and innovation, and both leaders agreed there was huge potential for growth across the two countries' economies," a Downing Street spokeswoman said.

Chinese foreign ministry spokesperson Wang Wenbin said that the region was "not an arena for geopolitical games" and China was a partner for co-operation and "not a challenge".

"The old thinking of bloc confrontation should not be introduced into the Asia-Pacific region," Wang told a briefing in Beijing when asked about Japan and Britain's pact.

Sunak and Kishida met at the Tower of London, a medieval fortress and one-time prison which houses the Crown Jewels and other treasures. Downing Street said the leaders would see some Japanese armour, which was presented to King James in 1613 by Shogun Tokugawa to mark the first trade agreement between England and Japan.