Energy giant BP has reported record annual profits as it scaled back plans to reduce the amount of oil and gas it produces by 2030.
The company's profits more than doubled to $27.7bn (£23bn) in 2022, as energy prices soared after Russia invaded Ukraine.

Other energy firms have seen similar rises, with Shell reporting record earnings of nearly $40bn last week.

It has led to calls for energy firms to pay more tax as people's bills soar.

BP boss Bernard Looney said the British company was "helping provide the energy the world needs" while investing the transition to green energy.

But it came as the firm scaled back plans to cut carbon emissions by reducing its oil and gas output.

The company - which was one of the first oil and gas giants to announce an ambition to cut emissions to net zero by 2050 - had previously promised that emissions would be 35-40% lower by the end of this decade.

However, on Tuesday it said it was now targeting a 20-30% cut, saying it needed to keep investing in oil and gas to meet current demands.

Climate campaign group Greenpeace, whose voice the BBC has included because of the impact of oil and gas production on the environment, said BP's new strategy "seems to have been strongly undermined by pressure from investors and governments to make even more dirty money out of oil and gas".

Energy prices had begun to climb following the end of Covid lockdowns but rose sharply in March last year after Russia invaded Ukraine, sparking concerns about global supplies.
The price of Brent crude oil reached nearly $128 a barrel, but has since fallen back to about $80. Gas prices also spiked but have come down from their highs.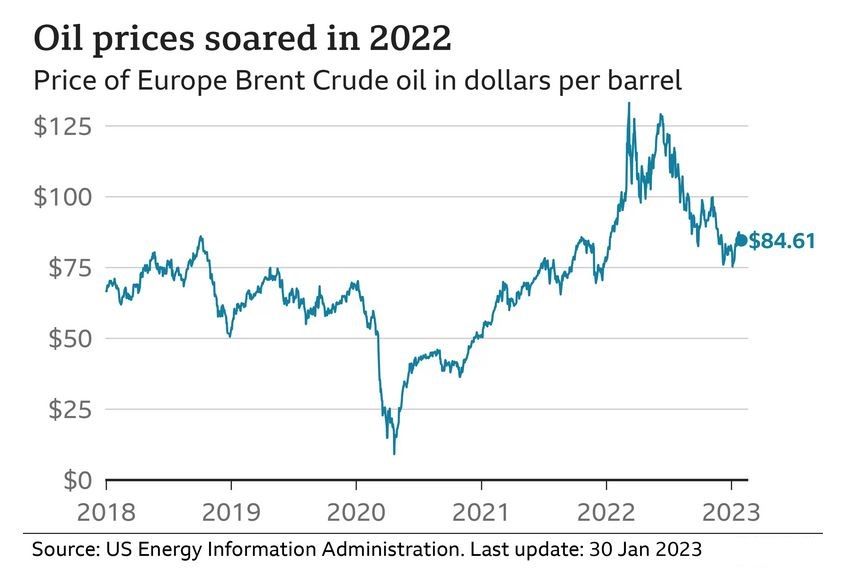 It has led to bumper profits for energy companies, but also fuelled a rise in energy bills for households and businesses.

Last year, the government introduced a windfall tax - called the Energy Profits Levy - on the "extraordinary" profits being made at energy companies.

The rate was originally set at 25%, but has now been increased to 35%, and only applies to profits made from extracting UK oil and gas. Oil and gas firms also pay 30% corporation tax on their profits as well as a supplementary 10% rate, taking their total tax rate to 75%.

However, they can reduce the amount of tax they pay by factoring in losses or spending on things like decommissioning North Sea oil platforms.

BP said its UK business, which accounts for less than 10% of its global profits, will pay $2.2bn in tax for 2022, including $700m due to the Energy Profits Levy.

'Windfalls of war'

Andrew Griffith, Economic Secretary to the Treasury, who the BBC spoke to for the government's position, said the windfall tax struck the "right balance" between helping families with the cost of living and securing the UK's energy supplies. He said its aim was to encourage re-investment of the sector's profits back into the economy

Nick Butler, previously a senior executive at BP and now a visiting professor at Kings College, who the BBC spoke to because of his industry experience, said oil and gas prices would not remain "exceptionally high" forever.

"This is a temporary situation. Oil and gas prices are going down and the windfall these companies are making won't last."

Labour and the Liberal Democrats, who we've included to explain the opposition's point of view, said the profits were outrageous and called on the government to increase the windfall tax.

The government has had to step in to limit household energy bills, with the average home now paying £2,500 a year, although this is still more than double what it was a year ago.

The cap on bills will also rise to £3,000 from April, although analysts expect households to pay less than that due to a recent drop in gas prices.

As well as announcing record profits, BP increased its payout to shareholders by 10%.

BP's results follow similarly strong profits announced by rivals Shell, Exxon Mobil and Chevron last week.