Boris Johnson has filled vacant posts in his cabinet, after a wave of resignations left roles empty and shattered the PM's authority.
Mr Johnson has quit as Tory leader and these ministers will remain in place until a successor is elected.

Greg Clark has been named new levelling up secretary, and James Cleverly as education secretary.

And Robert Buckland returns to the cabinet, as Wales secretary, in the swift reshuffle.

Mr Buckland said the new cabinet would ensure the "day-to-day operation" of the government, with Mr Johnson staying on as "caretaker" PM.

Mr Johnson has pledged not to make major policy decisions before his successor is chosen, with a contest expected to conclude by September.

Shailesh Vara becomes Northern Ireland secretary, Kit Malthouse has been appointed chancellor of the Duchy of Lancaster, and Andrew Stephenson as minister without portfolio.

Mr Johnson has also moved to fill the raft of more junior positions left by the avalanche of resignations that triggered his departure.

Among these Will Quince, who resigned as an education minister over being given "inaccurate briefings" about the Chris Pincher affair, returns to his old position.

And Johnny Mercer, who resigned as a defence minister over the treatment of veterans in Northern Ireland, has returned to government as a Cabinet Office minister with responsibility for veterans.

Edward Timpson becomes the new solicitor general, with Paul Scully and Marcus Jones becoming ministers at the Department for Levelling Up, Housing and Communities.

However, the BBC understands, government whips are having discussions about how to get current legislation through Parliament with so few junior ministers.

'Cling on'

In his resignation speech, Mr Johnson said he had appointed a new a cabinet to serve until a successor is elected to replace him as Tory leader and prime minister.

But opposition parties and some Tory MPs have urged Mr Johnson to go now to avoid government paralysis.

Labour leader Sir Keir Starmer said Mr Johnson must not be allowed to "cling on" in No 10 once he has resigned, and he threatened to use a confidence motion in Parliament to oust him.

Former prime minister Sir John Major said it was "unwise and may be unsustainable" for Mr Johnson to remain in office until a new Conservative Party leader is elected.

Sir John suggested Deputy Prime Minister Dominic Raab could serve as acting prime minister until a new leader is elected.

Or, he said, Tory MPs could elect the new leader who would become prime minister, with party members then asked to endorse the decision.

The newly appointed levelling up secretary said he would do his best to "provide stability".

Mr Clark, who replaced a sacked Michael Gove, tweeted: "We have a duty to ensure that the country has a functioning government in the weeks ahead."

Other cabinet ministers will remain in post, including Foreign Secretary Liz Truss and Home Secretary Priti Patel.

The appointments follow a dramatic 48 hours in which dozens of ministers - including former chancellor Rishi Sunak - resigned and plunged Mr Johnson's leadership into crisis.

Mr Sunak's replacement as chancellor Nadhim Zahawi was later among the ministers urging the PM to quit.

Mr Johnson resisted the calls until Thursday morning, when it became clear that he had lost the confidence of his MPs and that the government could no longer function.

Less than three years ago, Mr Johnson won an historic landslide victory in a general election - but he has been dogged by controversy in recent months, including a fine for breaking his own lockdown laws.

The revolt this week was triggered by revelations about the prime minister's handling of sexual misconduct allegations against former Deputy Chief Whip Chris Pincher.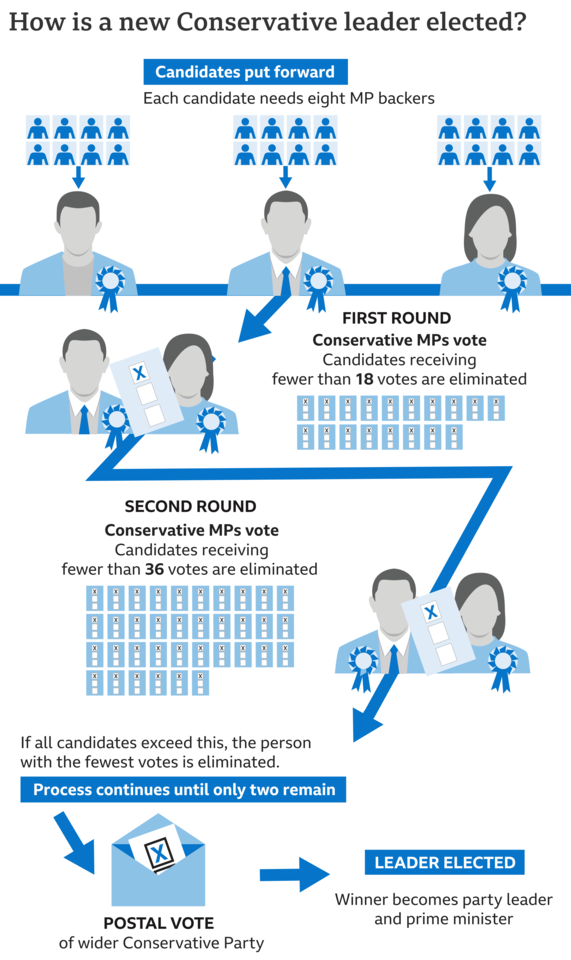 Now Mr Johnson has stood down, a party leadership contest has been triggered and the eventual winner will become the next prime minister.

Sir Graham - the chairman of the 1922 Committee of backbench Tory MPs - is expected to set out the timetable to nominate Mr Johnson's replacement next week.

If there are more than two candidates, Tory MPs will hold a series of votes until only two remain. When two MPs are left, Conservative Party members around the country will vote for the winner.

Tory MP Mark Pritchard, a former joint secretary of the 1922 Committee, told the BBC the process to whittle down the list of candidates to two could be done before MPs break for summer recess on 21 July.

Attorney General Suella Braverman and former Brexit minister Steve Baker have both indicated they will run for the leadership, with more senior Tories expected to throw their hats into the ring in the coming days.

Ms Truss and Defence Secretary Ben Wallace - who are both popular with Tory members - have been tipped as potential frontrunners.