Prince Harry's explosive memoir Spare is finally on sale on Tuesday after a series of incendiary interviews given by the Duke in the lead-up to its release.
The hotly anticipated autobiography was due to be released globally at midnight on Monday, UK time. Bookshops extended their opening hours in expectation of a midnight rush to purchase the book.

With demand expected to be high, WHSmith, the retailer, said it was extending opening hours at a number of its shops to allow readers to pick up an early copy of the 417-page book. Around 10 shops across the country, including those at Heathrow and Gatwick airports and Victoria and Euston railway stations, would stay open into the night to welcome shoppers.

Shocking claims made within its pages by Prince Harry have sparked furore in recent days, after copies of the memoir accidentally went on sale in Spain five days early and their contents released by the press.

Among them was the Duke's allegaton his older brother, Prince William, once physically attacked him; his claim William and his wife Kate were to blame for his donning a Nazi costume for a now-infamous 2005 fancy dress party; and his admission he killed 25 members of the Taliban during the Afghanistan war.

Further fuel was added to the fire on Sunday and Monday, as three television interviews given by Harry to promote his book aired - each containing fresh allegations about the royal family and new details about the Duke's private life.

Publishing experts predicted that the news stories drawn from the book were likely to boost sales along with the pre-launch media blitz whihc saw Harry sit down for a string of interviews.

The first - a sit-down with ITV's Tom Bradby that aired on Sunday night - saw the Duke accuse close members of the royal family of "getting into bed with the devil" by forging relationships with the tabloid press "to rehabilitate their image".

Harry also criticised "family members" for a "really horrible reaction" on the day the Queen died, with leakings and briefings.

While he said he loved his father Charles and brother the Prince of Wales, he added: "At the moment, I don't recognise them, as much as they probably don't recognise me."

"Nothing of what I've done in this book or otherwise has ever been any intention to harm them or hurt them," he added.

Harry's second interview - with CBS show 60 Minutes - saw him turn his fire on his stepmother Camilla, the Queen Consort, describing her as "the villain" and "dangerous".

It has previously been claimed that criticism of Camilla was considered by Charles to be a "red line".

But Harry told broadcaster Anderson Cooper in the US interview: "She was the villain, she was a third person in the marriage, she needed to rehabilitate her image."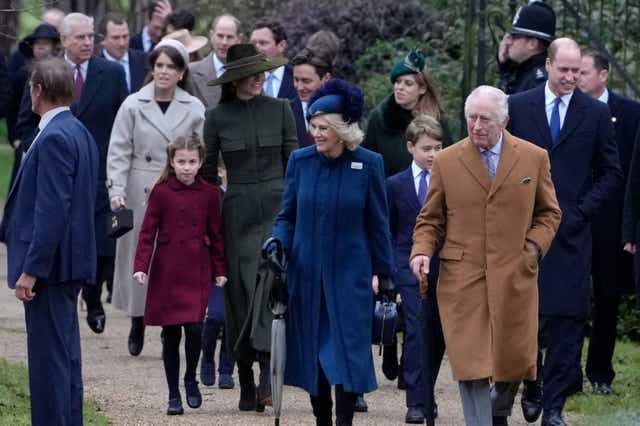 Harry said Camilla's willingness to forge relationships with the British press made her "dangerous" and there would be "bodies left in the street because of that".
He also hinted that he and wife Meghan will never give up their royal titles, asking "what difference would that make?"
He also claimed he was not invited on the royal plane taking family members to Balmoral the day the Queen died, and revealed he has not spoken to his brother or father "in a while".
In his third interview, this time on ABC's Good Morning America (GMA), which aired around lunchtime UK time on Monday, Harry expanded on his current relationship with Camilla, saying they too "haven't spoken for a long time".
He added: "I love every member of my family, despite the differences, so when I see her we're perfectly pleasant with each other.
"She's my stepmother. I don't look at her as an evil stepmother," he added. "I see someone who married into this institution and has done everything that she can to improve her own reputation and her own image for her own sake."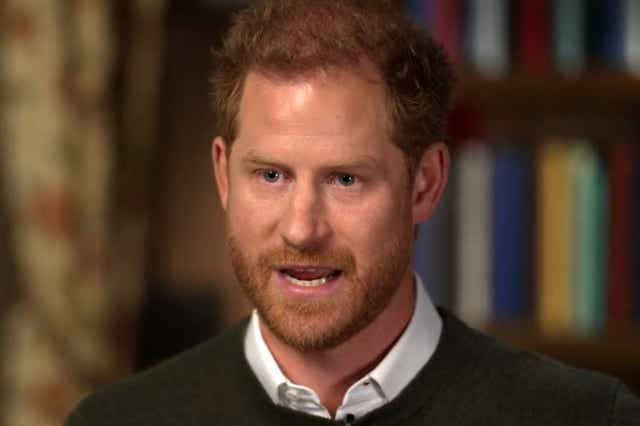 He also insisted that his grandmother, the late Queen, was not angry or upset about his decision to step down as a senior working royal.
"My grandmother and I had a very good relationship," he said. "It was never a surprise to anybody, least of all her.
"She knew what was going on. She knew how hard it was. She never said to me that she was angry. I think she was sad that it got to that point."
He went on to say he "genuinely" believes there is a place for the British monarchy in the 21st century, but added: "Not the way that it is now".
Asked if they need to modernise and if so in what way, Harry said: "I think the same process that I went through with regarding my own unconscious bias would be hugely beneficial to them.
"Not racism, but unconscious bias, if not confronted, if not learned and grown from, that can then move into racism."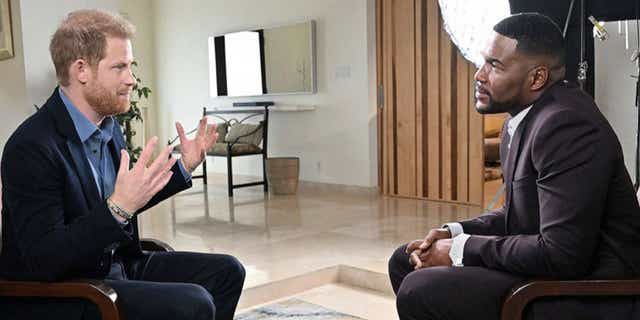 Prince Harry during his interview with Good Morning America

Asked by GMA co-host Michael Strahan about critics who accuse Harry of selling out his family by publishing Spare, the Duke said the only way he could protect his family was to correct mistruths, and writing the truth in one place.

"I fully accept that writing a book is feeding the beast anyway," he added.

Spare - the title of which hints at the deep-seated frustration of being seen as a back-up heir to the throne, in case anything happens to William - is published by Penguin Random House.

In a blurb about the memoir, the publishing house said: "For Harry, this is his story at last.

"With its raw, unflinching honesty, Spare is a landmark publication full of insight, revelation, self examination, and hard-won wisdom about the eternal power of love over grief."

Harry's allegations have undoubtedly caught the public's attention.

The Duke and Duchess of Sussex's recent Netflix docuseries Harry & Meghan attracted a record number of viewers for a documentary debut on Netflix, while Spare ranks as the best-selling book on Amazon's UK, US, German and Canadian websites.