The body of a World War One soldier has been laid to rest more than 100 years after his death, the Ministry of Defence has confirmed.
The remains of Pte Robert Kenneth Malcolm, 23, from Stockton-on-Tees, were found in Belgium in 2019.

He was identified using DNA testing as Pte Malcolm, who was reported missing on 6 August 1917.

His great-great-niece Linda Jordan attended his burial service at the Bedford House Cemetery in Ypres.

Pte Malcolm, a stretcher bearer, was found when unidentified remains were recovered from a shell hole outside a German blockhouse in Fusilier Wood, near Klein-Zillebeke, Belgium.

He was believed to have been killed during shelling.

His medals had been sent to his mother after the war but were not delivered, so were returned to the Army and destroyed, an investigation by the Ministry of Defence's Joint Casualty and Compassionate Centre (JCCC) found.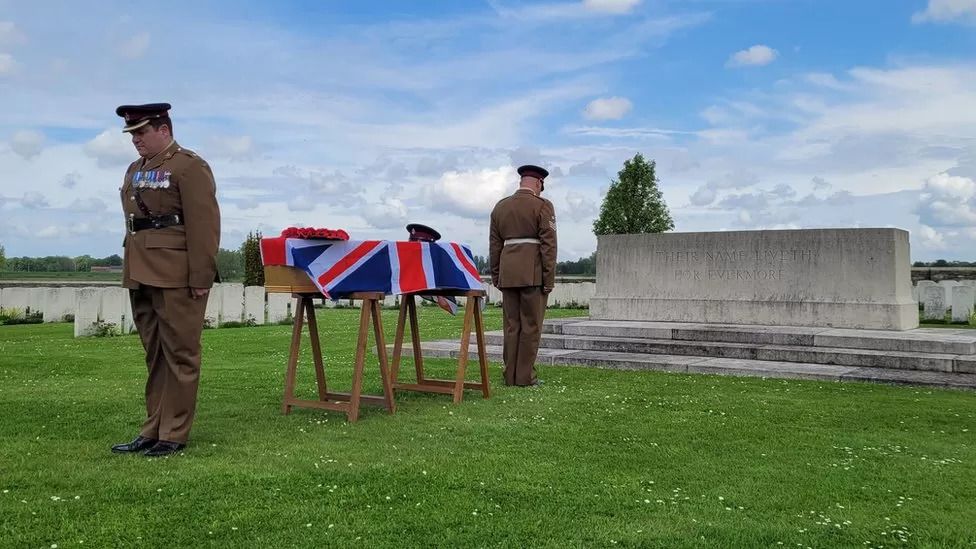 Pte Robert Kenneth Malcolm, 23, was reported missing on 6 August 1917

Ms Jordan, who was one of two family members who provided DNA matches, said it was "quite a shock" to discover she was related to a fallen WWI soldier.

She attended the burial service earlier with her sister and said the family had been unaware their great-grandmother had 11 siblings, one of whom was Pte Malcolm.

"It is fascinating how we were traced and the link confirmed through DNA testing," she said.

"As Pte Malcolm had been missing for so long it was amazing and quite emotional to see the care that all those in the wider Army family have taken to identify and honour him.

"We were privileged to represent his family at his funeral. It is our way of respecting him and acknowledging the sacrifice he, and so many others, made in service of our country."

Pte Malcolm's military honours have been reissued and presented to his family, including his 1914 Star with Clasp - often referred to as the Mons Star - and the British War medal and Victory medal.

'He will be remembered'

Rosie Barron, JCCC case lead, said identifying Pte Malcolm's remains was a "long and - at times - complicated task".

"Stretcher bearers such as Pte Malcolm were vital to the war effort. Without their dedication and bravery, many more men would have died on the battlefields," she said.

"Pte Malcolm came from a large family. His mother and siblings died unaware of his fate and the memory of Pte Malcolm had been lost through the generations."

Ms Barron said it had been "a privilege" to have his great-great-nieces see him laid to rest and "to know that he will be remembered by future generations of his family".