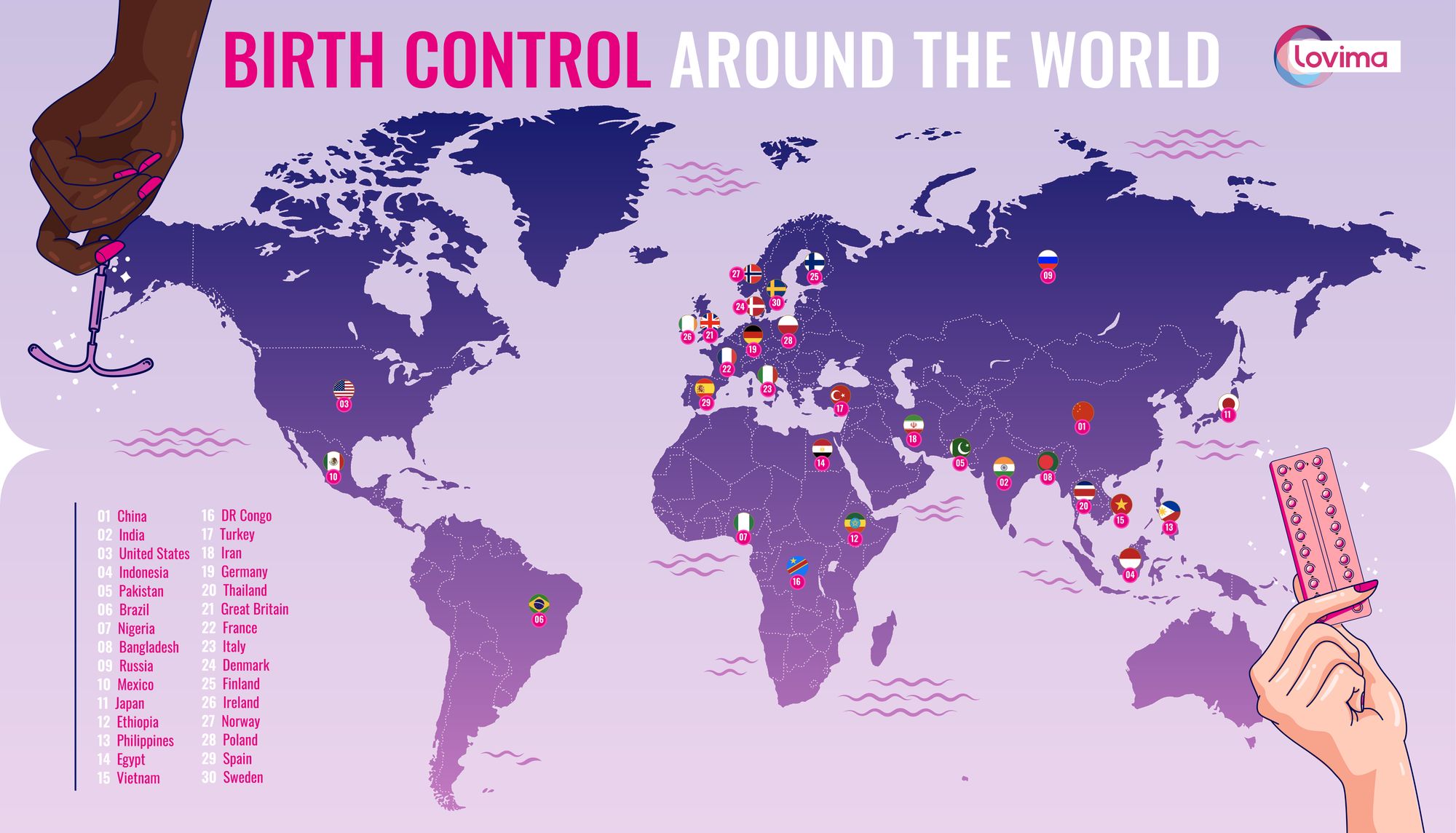 Birth Control Around The World: Which Methods Are The Most Popular Among Women In Relationships - Wellbeing News from Need to See IT Publishing
Norway is the most contraception friendly country among women, a new study finds, with an impressive 88% of females of childbearing age in relationships using some method of contraception.
Norway was closely followed by Finland (85.5%) and China (84.5%), with the UK just missing out on a top ten spot with contraception use being common among 76% of women.

The study comes from Lovima, an over-the-counter oral contraceptive brand, who analysed attitudes towards birth control in 30 countries around the world.

As part of their research, the brand also looked at how popular the different contraceptive options were among women between the ages 15 and 49 currently in a relationship.

Oral contraceptives were most popular in France, being the preferred choice of 37% of women. This was also the highest usage percentage of any contraceptive option across all 30 countries that Lovima analysed.

The pill in general proved to be the most popular option across the different countries, with a slightly higher usage percentage than most other options.The male condom was the second most prevalent option, being most popular in Japan with 31% of women in that country identifying it as their preferred method.

The injection proved most popular in Indonesia, whereas women in Ethiopia preferred the implant and women in Vietnam preferred the IUD method.

Lovima however is keen to stress the importance of using multiple methods of contraception.

Kim Wathall, Senior Brand Manager at Lovima explains: "It's important for women to have options when it comes to their birth control, in order to find which method works best for them and their lifestyle. However, it's worth remembering that different methods achieve different things and it's important that your sexual health is protected as well.

"Methods such as the implant or oral contraceptives will not protect against STDs which is why it's important to couple these options with a barrier method as well such as a condom or cervical cap."

In addition to looking at the popularity of each contraceptive, Lovima also analysed how easily accessible contraception is in each country; in particular looking at whether the countries provided government funding for contraception and the availability of over-the-counter options.

Of the 30 countries included in the study, only seven provided no government funding towards contraception with the remaining 23 either having partial or full accessibility to contraception options through government funding.

Accessibility of over-the-counter options fared a little worse, with only 11 countries providing access without a prescription.

Lovima have created a full breakdown of each country's availability plotted against an interactive world map which can be viewed here.

As part of their breakdown Lovima has included information on the varying abortion laws for each country following the USA's recent decision to overturn Roe vs Wade earlier this summer restricting access to abortion for large parts of the country.