The number of patients waiting more than an hour inside an ambulance to be admitted to hospital in London has risen sharply, according to new figures, as NHS trusts grapple with record demand, strikes and a rise in flu cases.

The latest NHS England figures show that more than one in seven patients arriving in an ambulance (16.2 per cent) waited longer than 60 minutes to be handed over to hospital staff in the week up to December 18 - a rise of over 6 per cent in a month.

Nearly a third of ambulances (32.8 per cent) waited over 30 minutes to hand over a patient in the same period, a rise of 3 per cent on the week before.
The target is for handovers to be completed within 15 minutes. Ambulance chiefs have warned that handover delays are leading to patients dying.

Hospitals are struggling to discharge patients and free up capacity in A&E as many beds are occupied by patients in need of adult social care who have nowhere else to go.

Handover delays in London meant that a total of 3,269 ambulance hours were lost in the week up to December 18, contributing to delays in responding to urgent calls.

The London Ambulance Service (LAS) is not currently publishing its response times as it says the introduction of its computer aided dispatch system has made its data "unreliable".

However, figures leaked to the Health Service Journal earlier this month showed that Londoners waited an average of just under 2 hours for an ambulance following a Category 2 call, which includes strokes or chest pain. The target is around 18 minutes.

The data does not reflect the disruption caused by the paramedics' strike, as this took place on December 21. Nurses working in emergency care did not participate in strike action that affected four London trusts on December 15.

Handover delays were particularly severe at Barts Health NHS Trust, the largest in the capital. More than four in ten ambulances faced a wait of more than 30 minutes on December 14, the figures showed.

In Barking, Havering and Redbridge University Hospitals NHS Trust, over half of ambulances faced a wait of over 30 minutes (51 per cent) on December 18. A third waited more than an hour.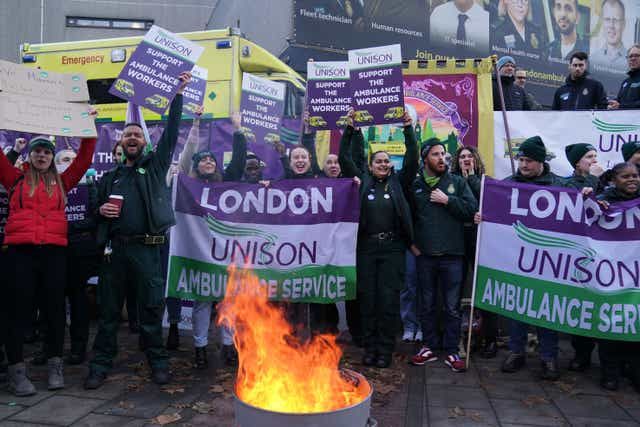 Ambulance workers on the picket line outside Waterloo ambulance station in London
Last week, Barts urged pregnant women who were expecting to give birth to make their own way to hospital ahead of the paramedics' strike. It came after the LAS declared a "business continuity" incident and said Londoners without a life-threatening condition were unlikely to get an ambulance during the strike.
Striking paramedics have cited handover delays, alongside pay, as one of their main reasons for staging industrial action and say it is evidence that the system is collapsing under pressure.
Dr John Martin, chief paramedic at the LAS, said last week that London paramedics were spending entire shifts taking care of patients waiting to be discharged into A&E.
"Hospital handover delays are at the top of the list of issues for our members… they can spend a whole shift outside hospital waiting to hand over a patient. That has a huge impact on paramedics, families and the patients themselves," he told the Health and Social Care Committee.
"We pride ourselves on having great paramedic education. It's really frustrating when you can't use that on patients on your shift."
The South Western Ambulance Service on Thursday declared a critical incident due to "extreme pressures".
As of 11.30am on Wednesday, 482 patients were waiting for ambulances across the South West, with 106 patients awaiting handover at hospitals in the region.
The incident follows the same declaration by North East Ambulance Service on Tuesday due to "unprecedented" pressure after the holidays.
Critical incident status means that ambulance trusts cannot provide usual critical services and patients may face harm.
Saffron Cordery, interim chief executive at NHS Providers, urged the Government to talk to unions as "soon as possible" to avoid further strikes piling pressure on the NHS.
She said: "With ambulance handover delays having increased by a third in the last week, trust leaders are extremely worried as strike action threatens to aggravate an already deeply challenging situation."
Meanwhile, the Standard revealed last week that over a million Londoners were on a waiting list for treatment at the end of October.
More than 30,000 people were waiting longer than 52 weeks for treatment, the figures showed, while 2,025 were waiting longer than 78 weeks. However, the figures did show improvement in some areas with nearly two-thirds of patients (64.6 per cent) seen within 18 weeks, a rise of 0.8 per cent on the month before.
A spokesperson for the NHS in London said: "The NHS in London is experiencing record demand for urgent and emergency care, including an increase in flu and
Covid
hospitalisations, as is the case across the country.
"We have however, prepared for winter like never before with more beds, extra 111 call handlers, expanding the use of 24/7 control centres across the capital for urgent and emergency care and additional respiratory hubs, but with flu hospitalisations and
Covid
cases on the rise the best things you can do to protect yourself and others is to get vaccinated if you're eligible."