Belfast Pride 2022 parade is likely to have been the biggest march of its kind in the city, according to an initial assessment from police.
That would mean the number of people who turned out to march or watch the event was more than the 60,000 who attended the parade in 2019.

Saturday's parade through the city centre was the first Belfast Pride march to take place in three years.

The 2020 and 2021 parades were cancelled because of the pandemic.

Organisers said more groups than ever had registered to take part in the march.

"We are over the moon and really joyous to be back," the event's co-chair Cara McCann told BBC News NI.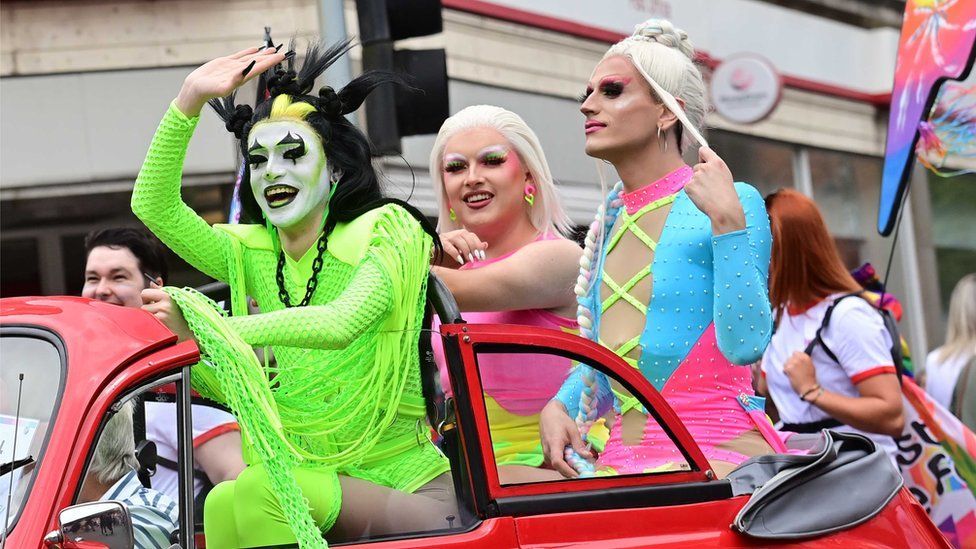 The parade set off through Belfast city centre at 13:00 BST on Saturday

Ulster Rugby and the Ulster Gaelic Athletic Association (GAA) were among the organisations to send official delegations for the first time.

This year the parade was led by a group of asylum seekers and refugees.

Belfast Pride co-chair John O'Doherty said: "We want to send a very clear message that Belfast is a welcoming city for all, not least of all newcomers to our city."

Pride celebrates LGBT+ people and culture and Northern Ireland's very first Pride parade took place in Belfast in 1991.

Due to Covid-19, the festival was forced to move online in 2020 and 2021.

This meant organisers missed the opportunity to publicly celebrate the parade's 30th anniversary last year.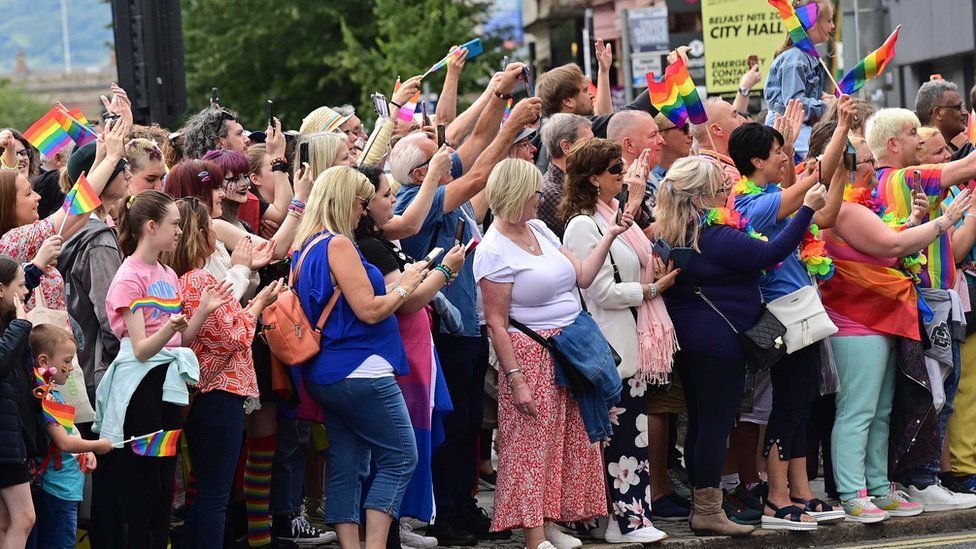 Pandemic cancellations also meant they had been unable to mark the legalisation of same-sex marriage in 2020, which was a landmark moment for the LGBT+ community.

"I think people have been completely disgusted the last couple of years," said Ms McCann.

"They've been stuck indoors, they've been watching stuff online."

Ms McCann said after the restrictions were lifted, organisers were hoping for the "biggest and the best Belfast Pride we've ever seen".

"We've had more groups than ever register to march in the parade which is absolutely amazing," she added.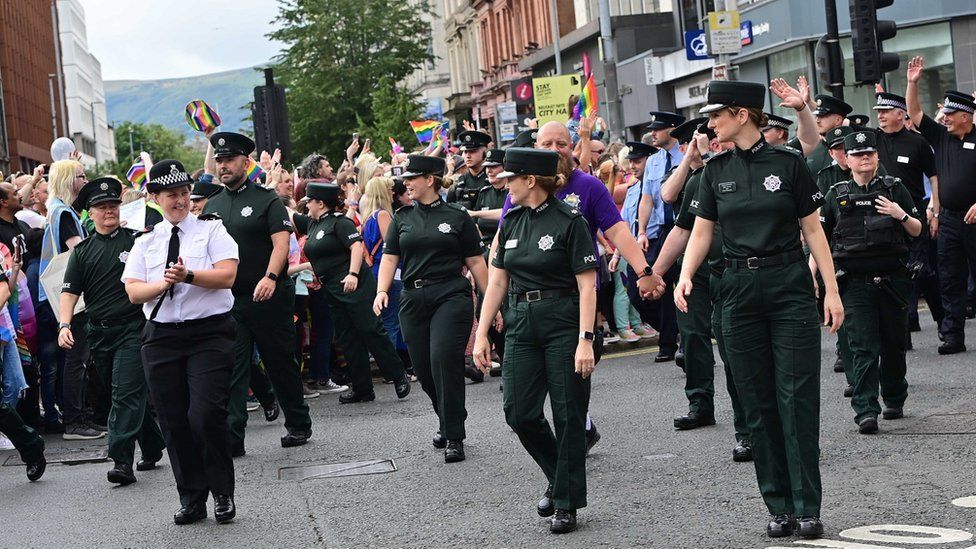 Uniformed police officers waved to the crowds as they marched through Belfast city centre

The Police Service of Northern Ireland (PSNI) has been policing the event for more than 20 years, but it began sending uniformed officers to march in Belfast Pride in 2017.

In a statement, PSNI Supt Gerard Pollock said: "I want to take this opportunity to thank all those involved for their help in making today's Belfast Pride Parade run smoothly.

"This is the first parade since 2019 and our initial assessment is that it was larger than 2019 which would make this year's event, the largest Pride parade to date.

"Pride is an important series of events for those who identify as being LGBT+ and we see this not just as an opportunity to highlight that hate crime, in whatever form, is wrong and the importance of reporting it but also to engage with and show our support for members of the LGBT+ community."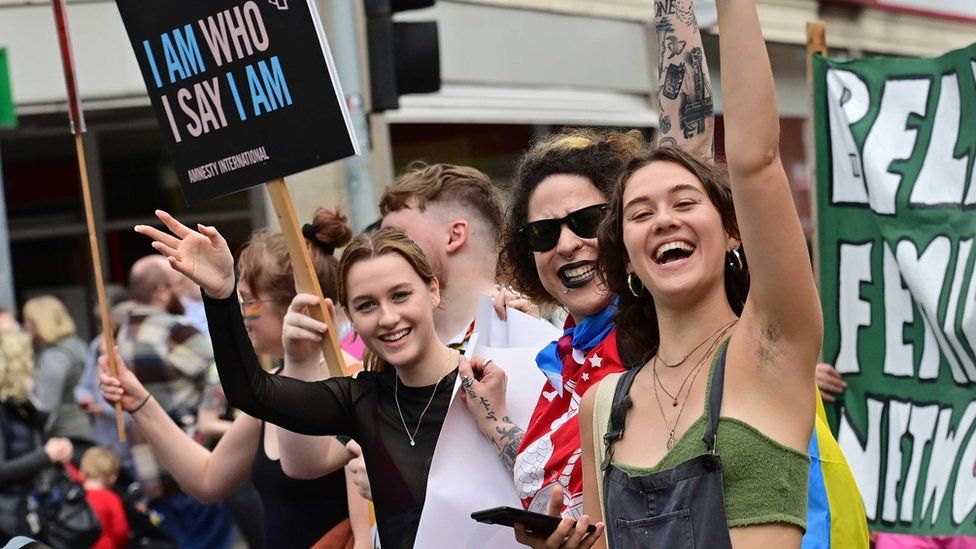 The representation of sports organisations was welcomed by the organisers.

Kimberly Robertson, chairperson of East Belfast GAA, said the club was "all about breaking down boundaries, breaking down barriers and being an accepting organisation for everyone and Pride just encompasses that".

"We are welcoming to everybody, all walks of life, all communities. Everyone is welcome to find a home in East Belfast GAA and we really wanted to represent ourselves at Pride today."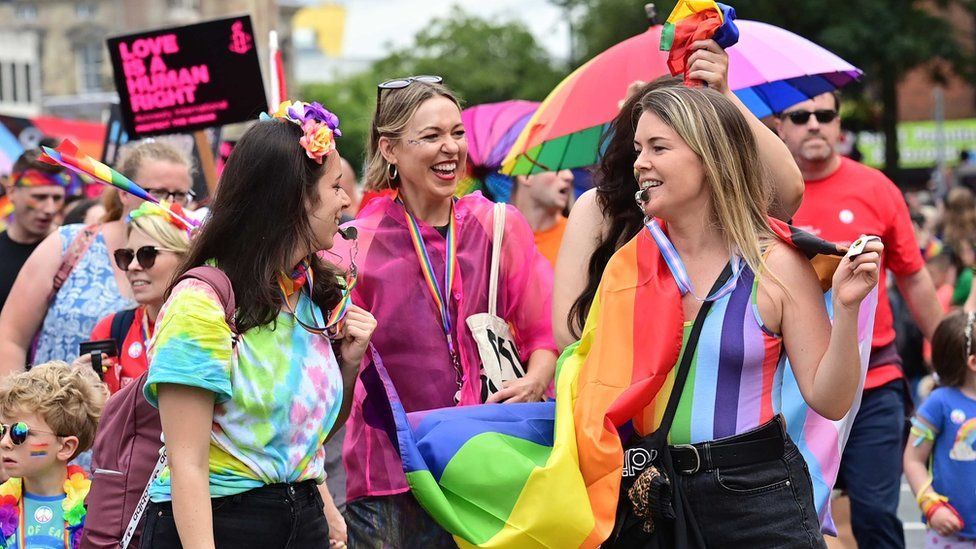 Revellers were awash with colour

The parade got under way at Custom House Square in the city before finishing at Victoria Street.

It is being followed by an evening of entertainment at Custom House Square, including singing and drag queen performances.

A family village has been set up near the Big Fish monument on Donegall Quay featuring face painting, bouncy castles and performances by a local circus school.
Belfast Pride returns to city after three-year Covid absence