The UK is spending almost £7m a day on hotels for asylum seekers - and the cost is likely to rise, MPs on the Home Affairs Committee have heard.
The figure is more than £2m higher than the government said it was spending in February and includes £1.2m to house Afghan refugees who fled the Taliban.

Meanwhile, the head of a watchdog has described conditions in a migrant processing centre as "wretched".

David Neal said he was left speechless by conditions at the Kent site.

Mr Neal, independent chief inspector of borders and immigration, visited the site at Manston Airport on Monday and warned it had already passed the point of being unsafe.

He told MPs he had written to the home secretary about the dangerous conditions at the centre, run by the Home Office.

Migrants are meant to be held at the facility, which opened in January, for 24 hours for checks before being moved to immigration detention centres or asylum accommodation - currently hotels.

'Dangerous situation'

It was designed for no more than 1,600 people but Mr Neal said there were 2,800 living there on the day he visited.

"I spoke to an Afghan family who had been in a marquee for 32 days. So that's in a marquee... with kitmats on the floor, with blankets, for 32 days."

Mr Neal told the committee: "I was very concerned about Manston... It's a really dangerous situation.

"There are risks there in terms of fire, in terms of disorder, in terms of medical and infection."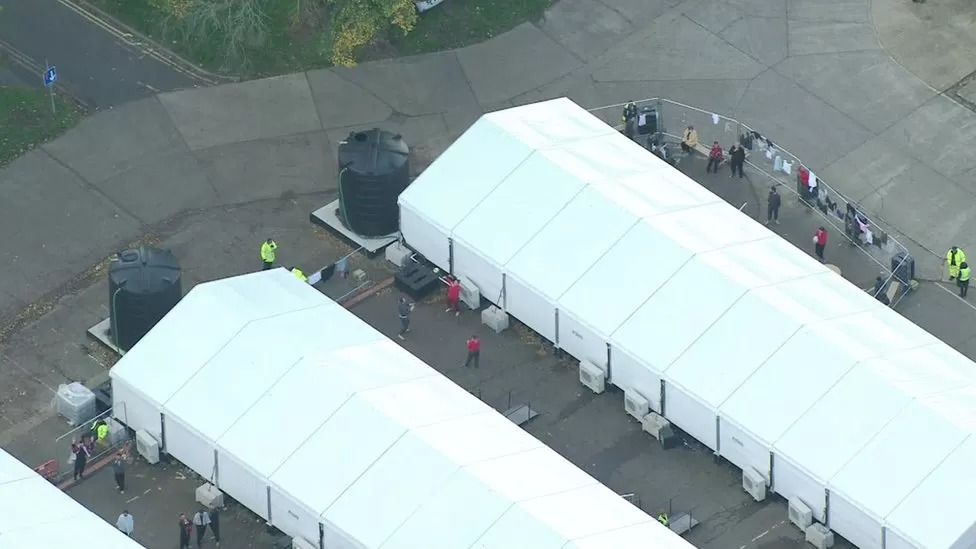 The Manston site is meant to be a short-term holding facility

MPs on the committee also asked Abi Tierney, director general of the passport office and UK visas and immigration, whether the amount spent on hotels for asylum seekers was likely to rise again.

She replied: "Yes."

The wide-ranging session also heard the Home Office had processed only 4% of asylum claims by migrants who crossed the English Channel last year - of whom 85% had been granted refugee or similar status.

Home Office officials told the committee the nationality of those crossing the Channel was changing, with Albanians now the biggest group.

* In 2020 just 50 Albanians arrived in small boats

* In 2021 the number had risen to 800

* This year it is already 12,000 - 10,000 of them men, representing 1% of Albania's adult male population

"The rise has been exponential and we think that is, in the main, due to the fact that Albanian criminal gangs have gained a foothold in the north of France and they've begun facilitating very large numbers of migrants," said Dan O'Mahoney, who runs the Home Office's operations concerning small-boat migrants in the Channel.

Home Secretary Suella Braverman has said she wants to use the Nationality and Borders Bill to prosecute many more migrants illegally arriving in Kent.

Ms Braverman also hopes to expand the stalled scheme to send asylum seekers to Rwanda.

Shadow home secretary Yvette Cooper called last year's processing figures for asylum seekers "shocking and irresponsible".

"It plays into the hands of criminal gangs, leaves refugees without the support they need, means those who are not refugees are not returned and creates long and costly backlogs," she said.