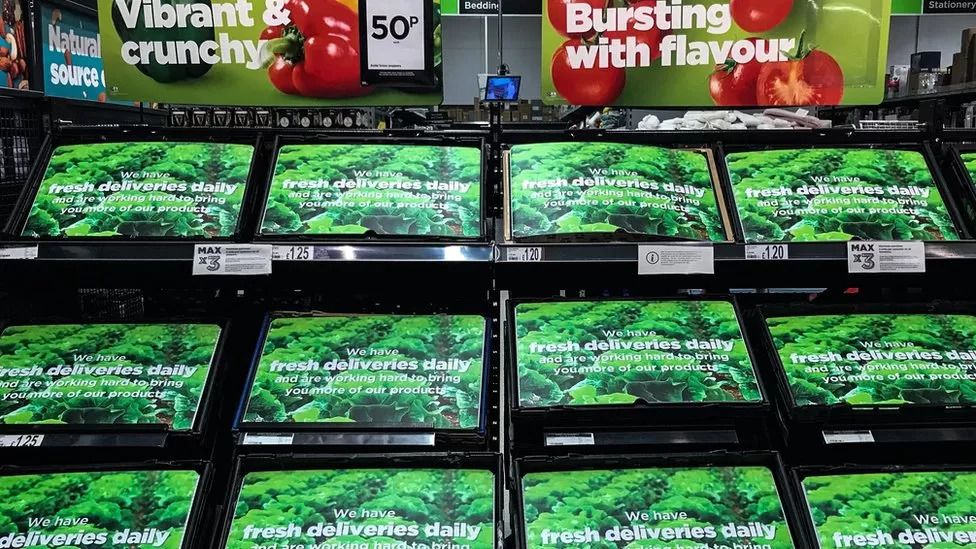 Asda and Morrisons lift limits on some fresh produce
Asda and Morrisons are lifting restrictions on the sale of some fruit and vegetables as supply issues are beginning to ease.
Limits on cucumbers will be lifted at Morrisons, whilst restrictions on lettuce and broccoli will be lifted at Asda.

However, restrictions of three per person on tomatoes and peppers at Asda will remain.

Many supermarkets restricted sales of some vegetables blaming bad weather.

Asda is fully lifting restrictions on cucumbers, lettuces, broccoli, cauliflower, raspberries and salad leaves.

It said that supply of remaining restricted produce is expected to be back to normal within weeks.

Tomatoes, lettuce and peppers are still limited at Morrisons to two per person.

The unusually cold spell of weather in Europe and North Africa affected some harvests which then had a knock-on effect on supply of fruit and vegetables to the UK.

In the winter months the UK imports around 95% of its tomatoes and 90% of its lettuces, most of them from Spain and north Africa, according to trade group the British Retail Consortium (BRC).

The UK also gets some produce at this time of year from domestic growers and the Netherlands, but those supplies have been tighter since farmers in both countries have cut back on their use of greenhouses due to higher electricity prices.

The National Farmers' Union has called for more support for UK growers.

The idea behind the supermarket restrictions was to ensure that as many customers as possible could buy what they need.

Food and farming minister Mark Spencer held a video meeting with representatives from UK supermarkets in late February, aimed at finding out what supermarkets were doing to "get shelves stocked again" and how the UK can avoid a repeat of the current situation.

Mr Spencer had asked retailers to "look again" at how they work with farmers to "further build preparedness for these unexpected incidents".