News of billion-pound profits comes after UK households warned average annual bill could hit £3,850 by 2023
Soaring profits at two of the UK's biggest energy companies have been described as an "insult" to millions of people struggling amid the cost of living crisis, with high oil and gas prices funding multibillion-pound rewards for their shareholders.

A day after households were warned average annual energy bills could hit £3,850 from January, triple the level at the beginning of this year, Shell and Centrica sparked outrage by announcing huge windfalls.

Shell posted record earnings of $11.4bn (nearly £10bn) for the three-month period from April to June and promised to give shareholders payouts worth £6.5bn.

Asked about the stark contrast with punishingly high bills faced by households already struggling amid sky-high inflation, Shell's chief executive, Ben van Beurden, said the company could not "perform miracles" to bring oil and gas prices down, adding: "It is what it is."

At the same time, Centrica, the owner of British Gas, reinstated its dividend, handing investors £59m, after reporting operating profits of £1.3bn during the first half of 2022.

Frances O'Grady, the general secretary of the Trades Union Congress, said: "These eye-watering profits are an insult to the millions of working people struggling to get by because of soaring energy bills.

"Working people are facing the longest and harshest wage squeeze in modern history. It's time working people got their fair share of the wealth they create, starting with real action to bring bills down."

Debt advice charities, businesses and MPs redoubled their calls on ministers to take action now to avoid plunging millions more housholds into financial distress, as concern mounted at the lack of a coherent government plan.

The energy regulator, Ofgem, is due to announce a hike in the energy price cap within days. It will take effect from October, with another increase expected in January. According to forecasts issued earlier this week, unless the flow of Russian gas into Europe increases, average dual-fuel tariffs could soar to £3,850 a year from January.

If the prediction proves correct, average bills will have risen more than £2,500 within a year.

The war in Ukraine, combined with bottlenecks caused by pandemic lockdowns, has led to a surge in oil and gas prices, causing misery for motorists and households as the prices charged for gas, electricity and petrol have reached all-time highs.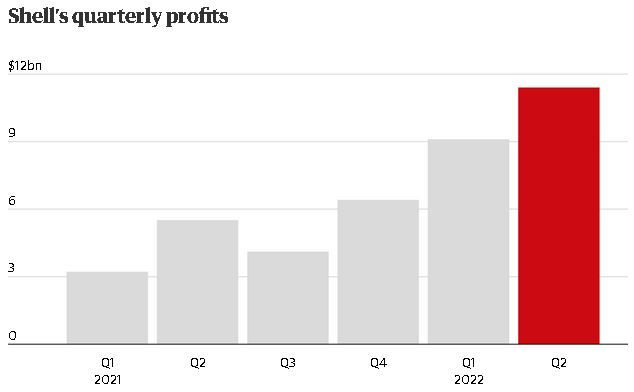 Ed Miliband, the shadow secretary for climate change and net zero, accused the government of being "asleep at the wheel", amid a Tory leadership contest that is pitting the former chancellor Rishi Sunak against the foreign secretary, Liz Truss.

"As profits soar to record levels for oil and gas producers, we face a serious and worsening energy bills crisis, far worse even than a couple of months ago," Miliband said.

He said both Truss and Sunak were "living on another planet" when it came to the "cost of living emergency". In May, the government announced a £400 rebate on bills, which comes into effect in October and will be paid over six months.

But gas prices have since risen further, after Russia dramatically reduced the volume of gas it sends to Europe through its largest pipeline earlier this month.

The £400 rebate was only "scratching the surface", according to experts at the energy analysis firm Cornwall Insight, which has warned that bills of more than £3,500 – or £300 a month – will last "well into 2024". The debt charity the Money Advice Trust said the sum was "unlikely to provide much respite".

Eight million vulnerable households are also entitled to separate support from a £15bn cost-of-living package, worth up to £1,200 each.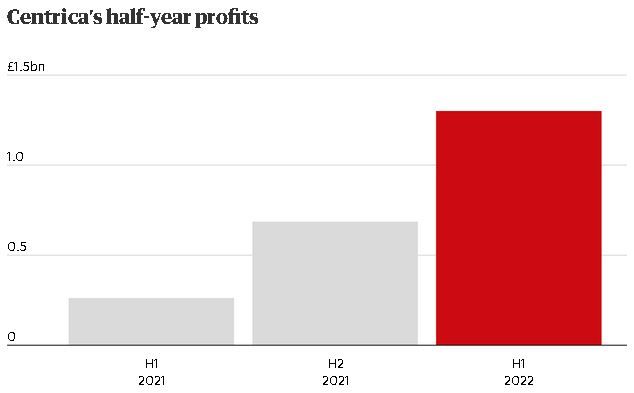 Labour has yet to come up with a comprehensive policy to tackle exorbitant bills. It has called on the government to scrap the 5% VAT rate on household energy, but this would only deliver further savings of £98 a year based on the current price cap, which is set at £1,971.

During the Tory leadership campaign, Sunak has also come out in favour of pausing these VAT charges, something he opposed when he had the power to implement it as chancellor.

Truss, who has said she would impose a moratorium on green levies added to bills, said on Thursday that she opposed windfall taxes on energy firms.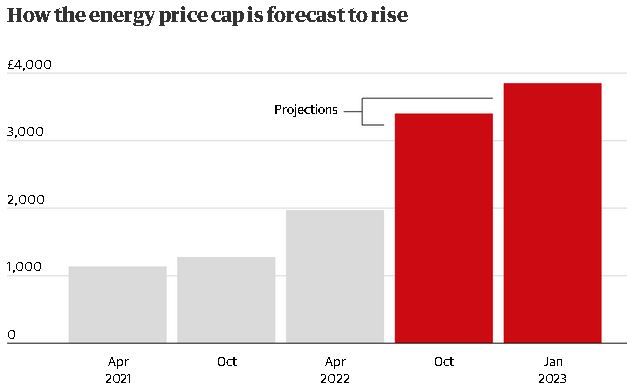 Miliband said Truss "appears to believe that the cost of living crisis can be solved by abandoning renewable energy – the cheapest form of power we have. The government is asleep at the wheel."

Speaking after he unveiled Shell's record quarterly profits, Van Beurden said oil companies were aware of the difficulties that ordinary people faced. "But we cannot perform miracles either," he said. "I'm very mindful that that is a difficult message to hear, but it is what it is."

More than 8m households – one in three in the UK – will fall into fuel poverty after October's price cap rise, according to National Energy Action. Fuel poverty is defined as spending more than 10% of household income on energy.

The Conservative MP Alec Shelbrooke told PoliticsHome on Thursday he had seen "absolute fear" in the eyes of his constituents and was "not sure" how his own family would pay their bills.

On Thursday, the UK's three leading debt charities – Citizens Advice, the Money Advice Trust and StepChange – called on Ofgem to improve protections for consumers who owe money to their energy supplier, including cracking down on "harmful" debt collection practices.

Joanna Elson, the head of the Money Advice Trust, which runs National Debtline and Business Debtline, said: "Further targeted support is needed for the many people already unable to afford their energy bills and for those on the lowest incomes, including significantly raising benefits."

An Ofgem spokesperson said: "Protecting consumers during these very difficult times is our top priority and we are doing all we can to hold suppliers to account on supporting their customers.

"Recently we reviewed all suppliers to make sure they were charging direct debits fairly, have told them to review the highest increases and asked some to make immediate improvements in how they handle them."

Earlier this week, MPs on the business and energy select committee called for the energy price cap, introduced in 2019 in an effort to combat profiteering, to be replaced by a "social tariff". This would involve the poorest households receiving discounted energy, with the cost funded either through taxation or spread between more well-off bill payers.

The MPs said millions of people would be plunged into unmanageable debt without further government help.

The Treasury said its windfall tax on energy profits, announced by Sunak earlier this year, would raise about £5bn in its first year to "help pay for support for millions of the most vulnerable households".

A spokesperson for the Department for Business, Energy and Industrial Strategy said: "We understand that global inflationary pressures are squeezing household finances, which is why the government has introduced an extraordinary £37bn package to help households, including £1200 each for 8m of the most vulnerable households."