Al Nassr manager Rudi Garcia has admitted Cristiano Ronaldo will leave the club in order to finish his career in Europe.
The 38-year-old has his Manchester United contract terminated in November after he gave a controversial interview to Piers Morgan, in which he criticised the club's facilties and said he had a lack of respect for Erik ten Hag.

Ronaldo signed a record-breaking deal with Saudi club Al Nassr that sees the forward earn a reported £175m-a-year.

The two-year deal would take Ronaldo past his 40th birthday if he remains in Saudi Arabia and the Portugal captain certainly had a lack of offers elsewhere before he joined the club.

But former Roma boss Garcia, who now manages Ronaldo in Riyadh, says Ronaldo will return to Europe before he retires.
'Cristiano Ronaldo is a positive addition, as he helps to disperse defenders,' said Garcia.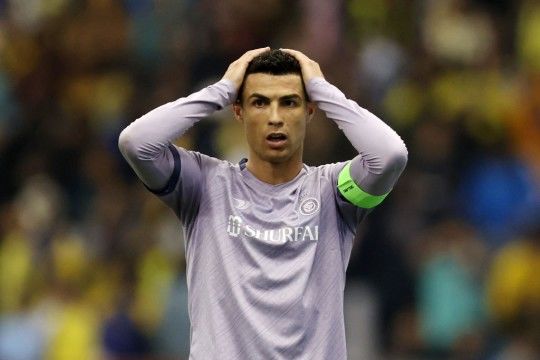 Ronaldo is yet to score for his new club
'He is one of the best players in the world. He will not finish his career at Al Nassr, he will return to Europe.
Ronaldo is yet to score in two appearances for the club and they were knocked out of the cup in the semi-finals by rivals Al Ittihad last week.
Garcia says Ronaldo's new team-mates shouldn't be fixated on passing him the ball and that it's important not to be overawed by him.
'Ronaldo missed a chance on goal that would have turned the game around in the first half but I congratulate Al Ittihad,' said Garcia.
'They were much better than us until the break. So we reacted but we could no longer turn around. We lost the Super Cup but we are still first in the championship.
'It is very important that the players play normally and don't always try to give Cristiano the ball.
'I told them they had to make the right decisions on the field. Obviously, when Cristiano or Talisca are alone and ask for the ball, we have to give them the ball.
'These two players are capable of making a difference. I think sometimes we had good crossing positions, but there were not enough people in the box, sometimes not Ronaldo or Talisca.
'We have to work on it, have one of them in the area and maybe the other will play outside the area.'