Once home to local architect William Wallace Reid and his wife, Paula, the 1953 residence is a fusion of wood, glass, and stone-with no shortage of outdoor gathering spaces.
Though it measures just 1,216 square feet with two bedrooms and two baths, this classic midcentury by architect William Wallace Reid feels larger. Maybe that's because, in classic Southern California fashion, the indoor spaces are just the beginning for this Santa Monica residence. Located only a half mile from the public Will Rogers State Beach in Los Angeles, the home sits on a 5,530-square-foot hillside lot and offers a variety of lush outdoor gathering spaces.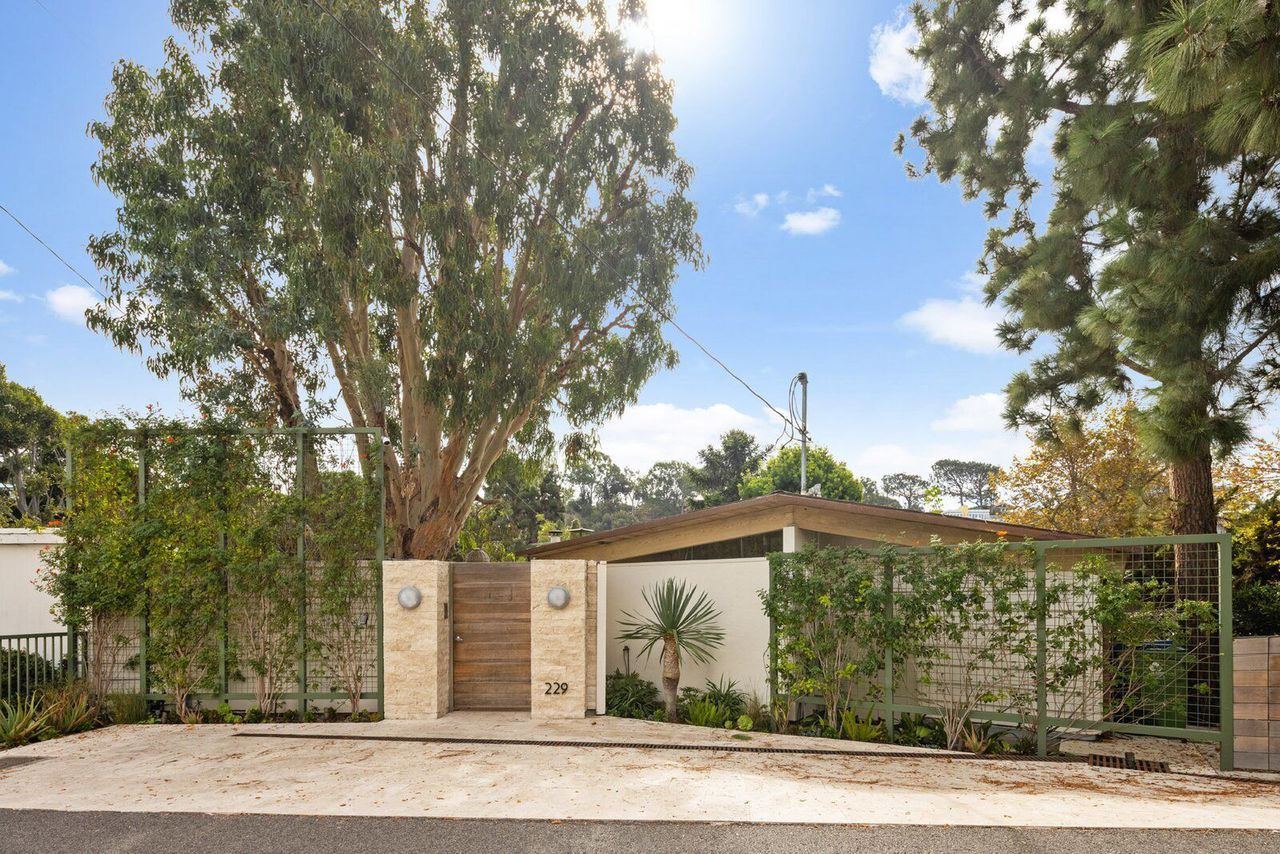 Fencing and trellises provide privacy for the home's numerous indoor/outdoor gathering spaces.

Reid was born in Los Angeles in 1917 to an early-Hollywood power couple. His father, silent-film actor Wallace Reid, was once called "the screen's most perfect lover" and had supporting roles in two major films by director D.W. Griffith: 1915's The Birth of a Nation and 1916's Intolerance. Reid's mother, Dorothy Davenport, began her career as an actress but eventually became a screenwriter, director, and producer. As a child, Reid acted in 10 films between 1920 and 1943. He later became an architect and spent much of his career designing multifamily condominiums and apartments in Los Angeles. The compact dwelling at 229 Amalfi Drive in Santa Monica marks one of the earliest single-family residences of Reid's career. He designed the striking midcentury in 1953 for himself and his wife, Paula.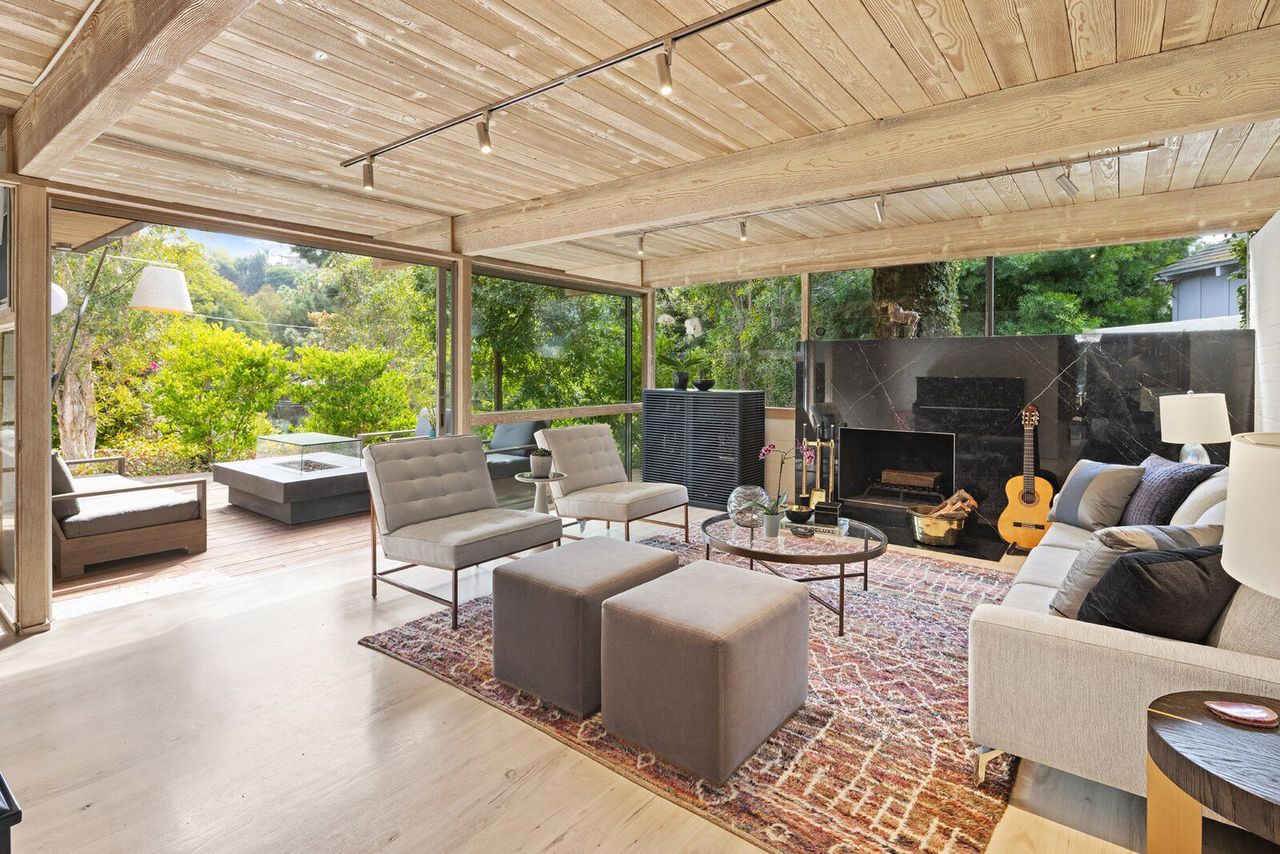 The main living area features a marble-clad fireplace and sliding glass doors that open to the adjacent outdoor deck.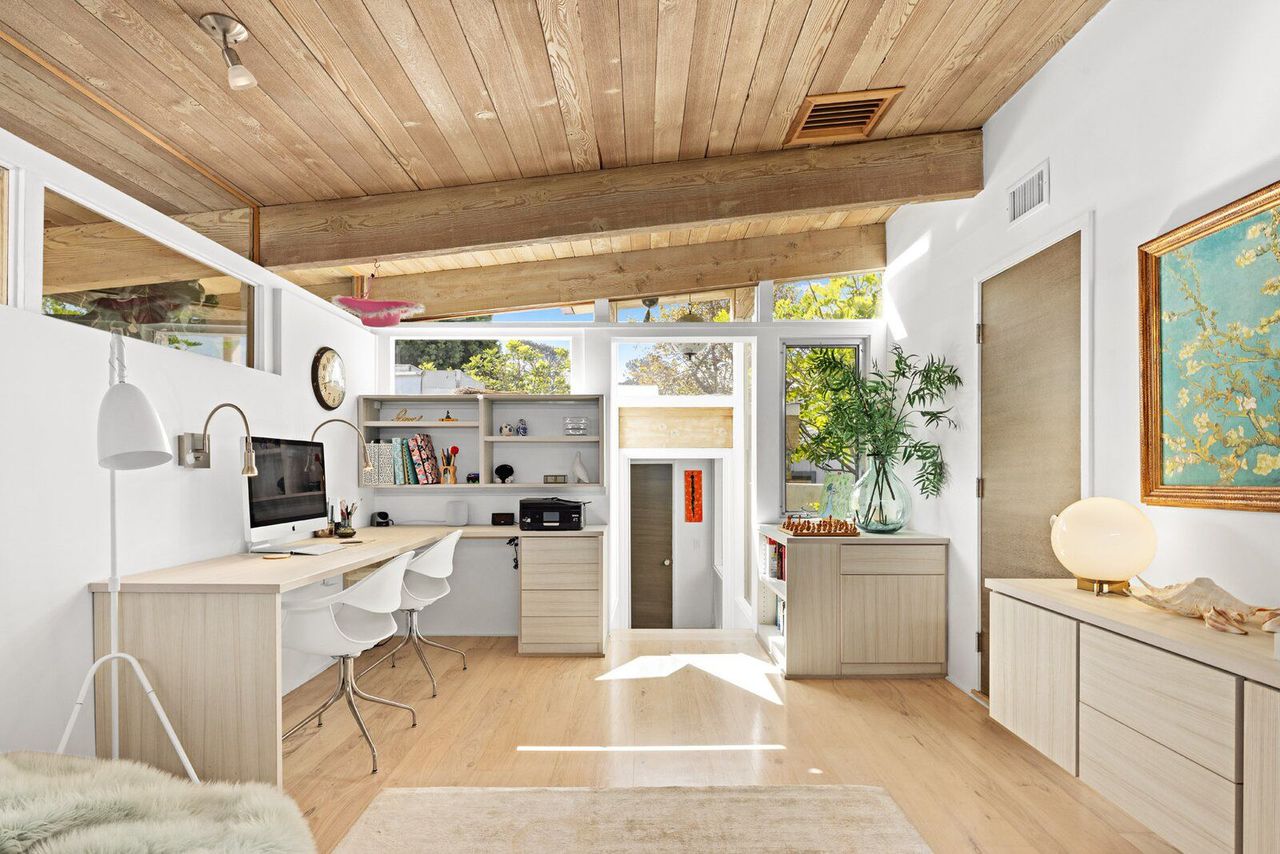 The sloping roofline allows for custom, angled clerestory windows that bring light into the interior.

Viewed from above with a Google Maps satellite perspective, the dwelling is shaped almost like a pinwheel with angled forms that stretch out from the home in multiple directions. Because the south-facing house is situated at an angle to the street, the outdoor spaces emerge from the front, back, and sides of the structure, thus feeling more incorporated with the interior.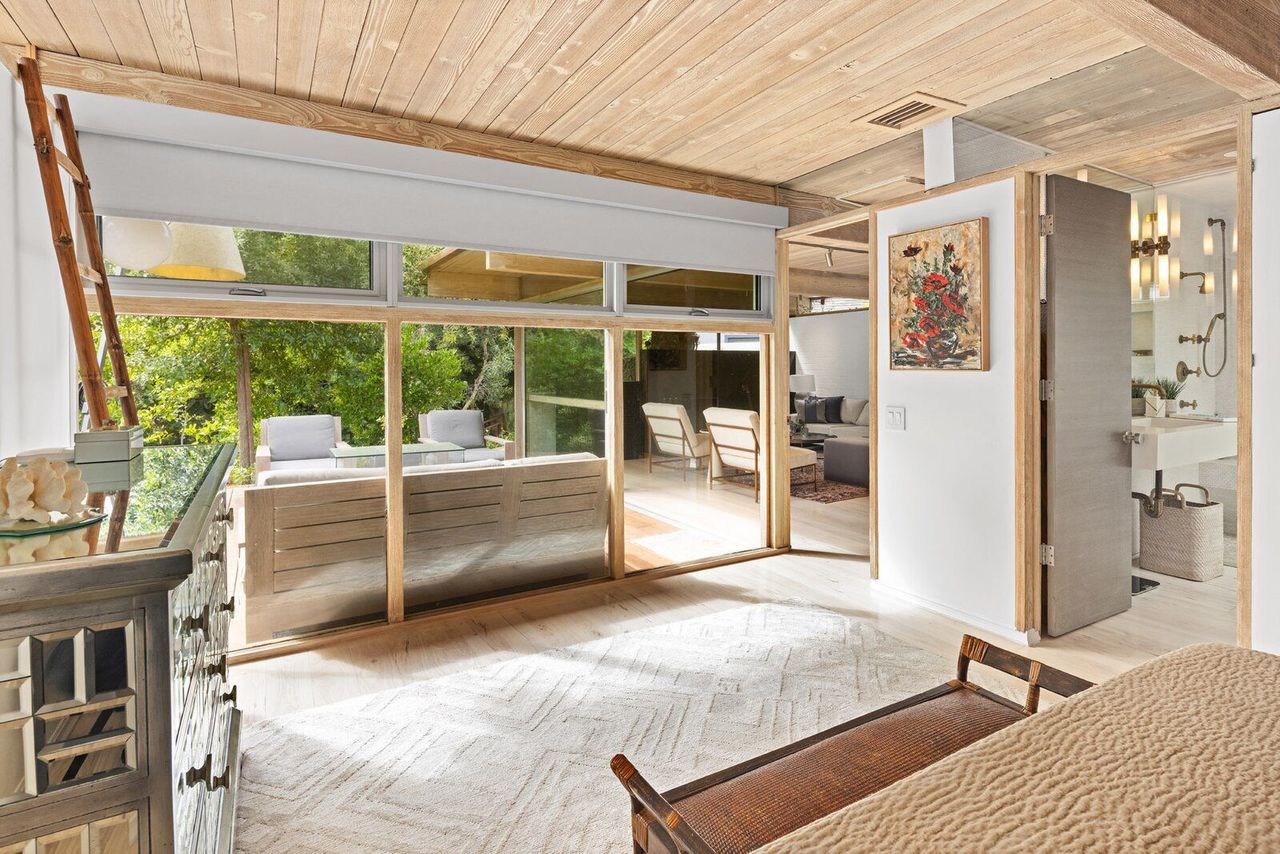 The principal bedroom features a glazed wall that overlooks the main deck. Pull-down shades block out sunlight and allow for privacy.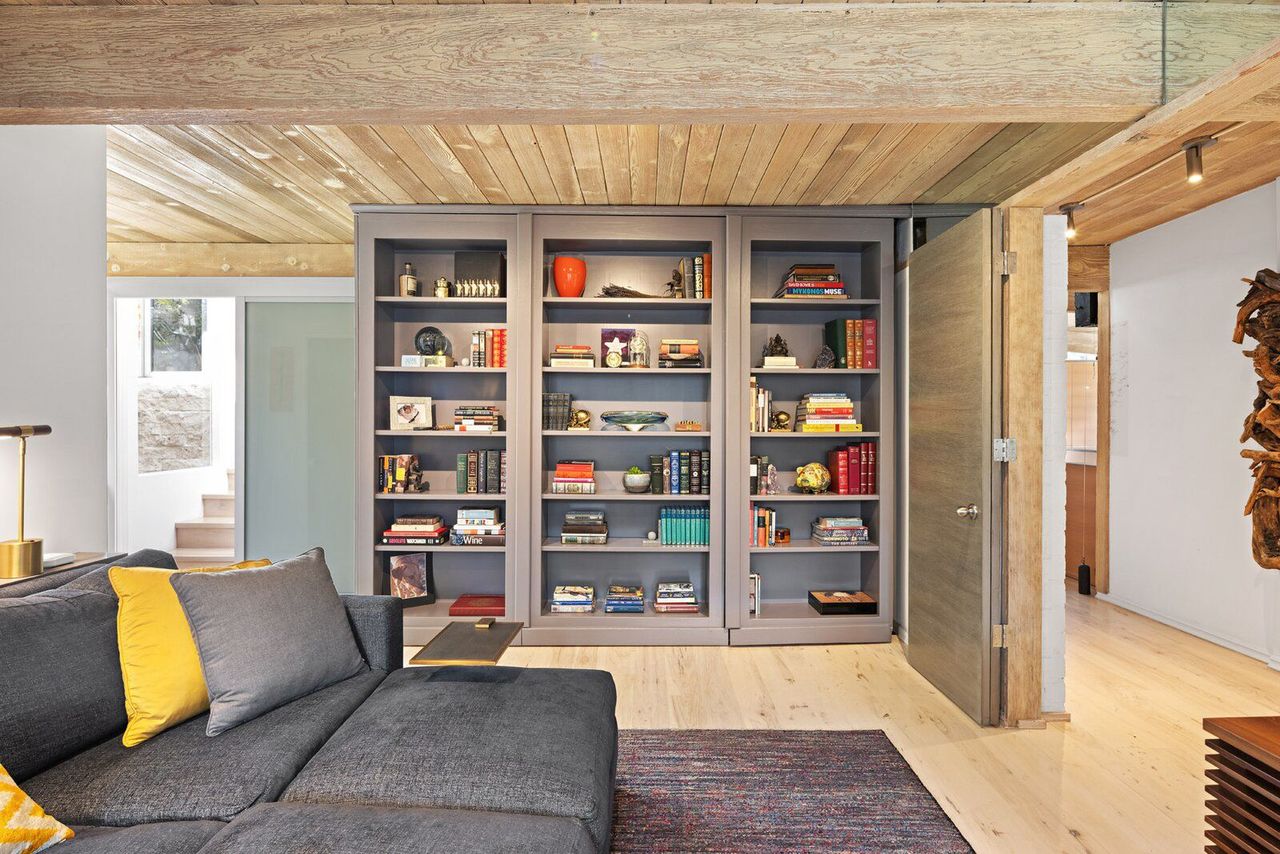 The original carport was converted into an extension that serves as a family room with built-in shelving.

Inside, exposed-beam ceilings and light wooden floors create a sense of warmth. Seamless transitions between the outdoor and indoor areas make the interior feel spacious.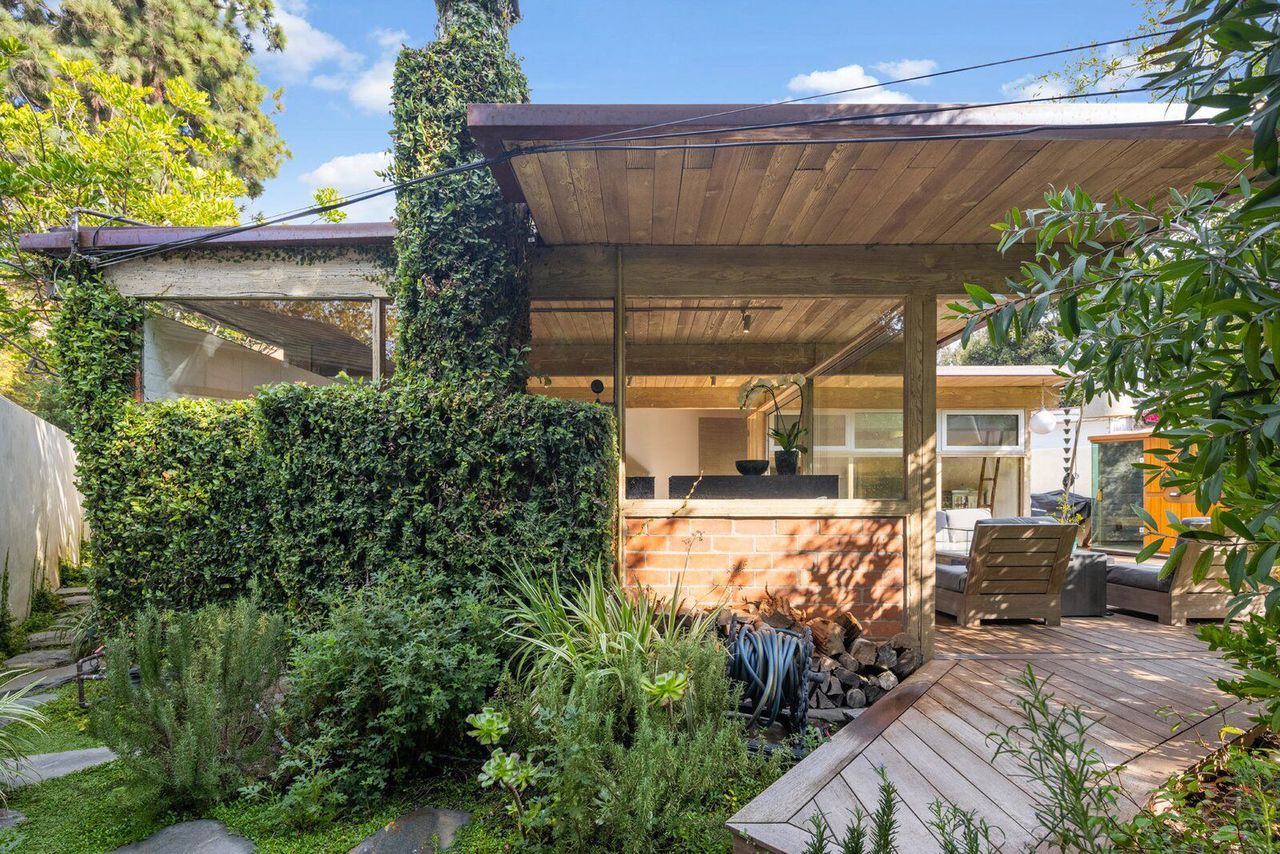 Private outdoor spaces branch out from the front, back, and sides of the home.

"You have these clerestory windows below the sloping roof that run across the whole perimeter of the house," says realtor Frank Langen, a partner with Deasy Penner Podley. "That's a really important quality that makes the home unique."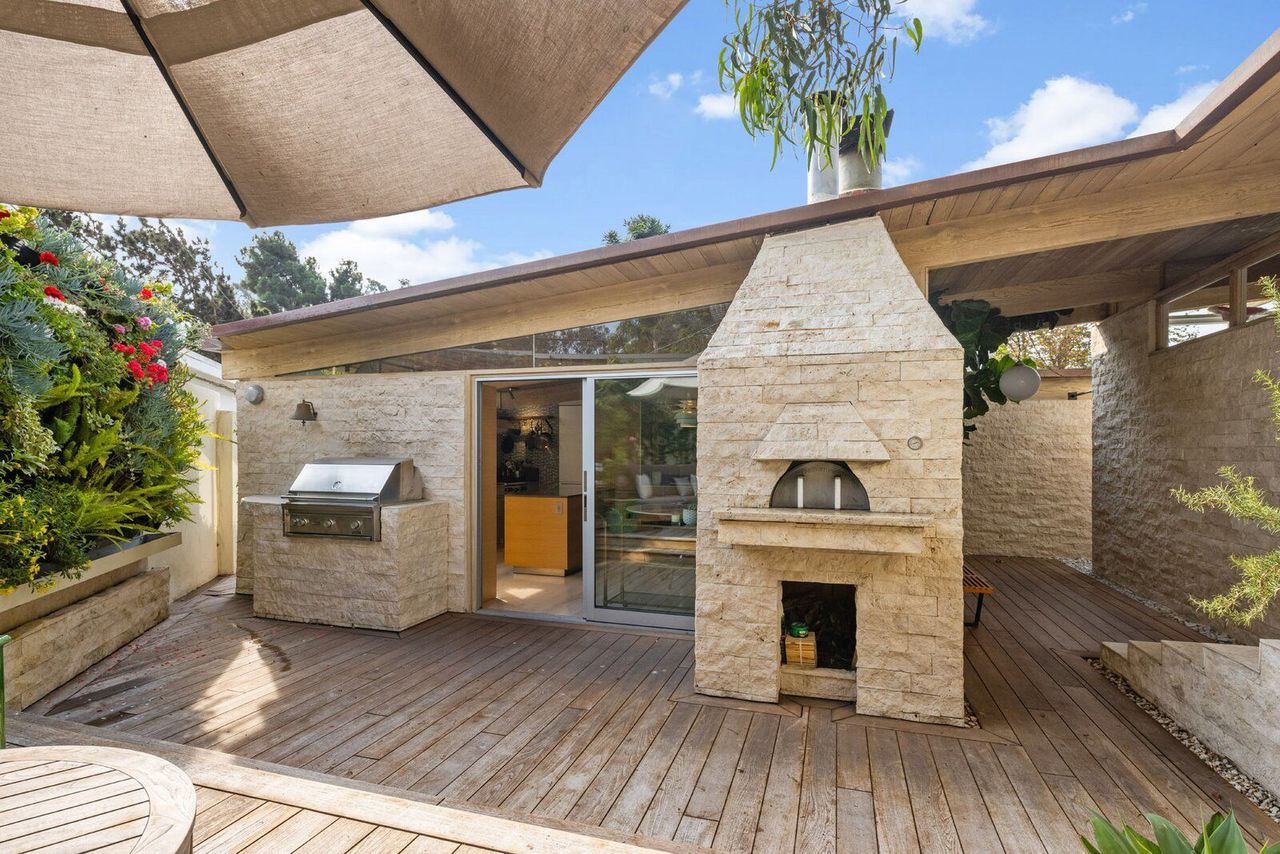 Just outside the kitchen, a patio includes a pizza oven and gas grill clad in Jerusalem stone.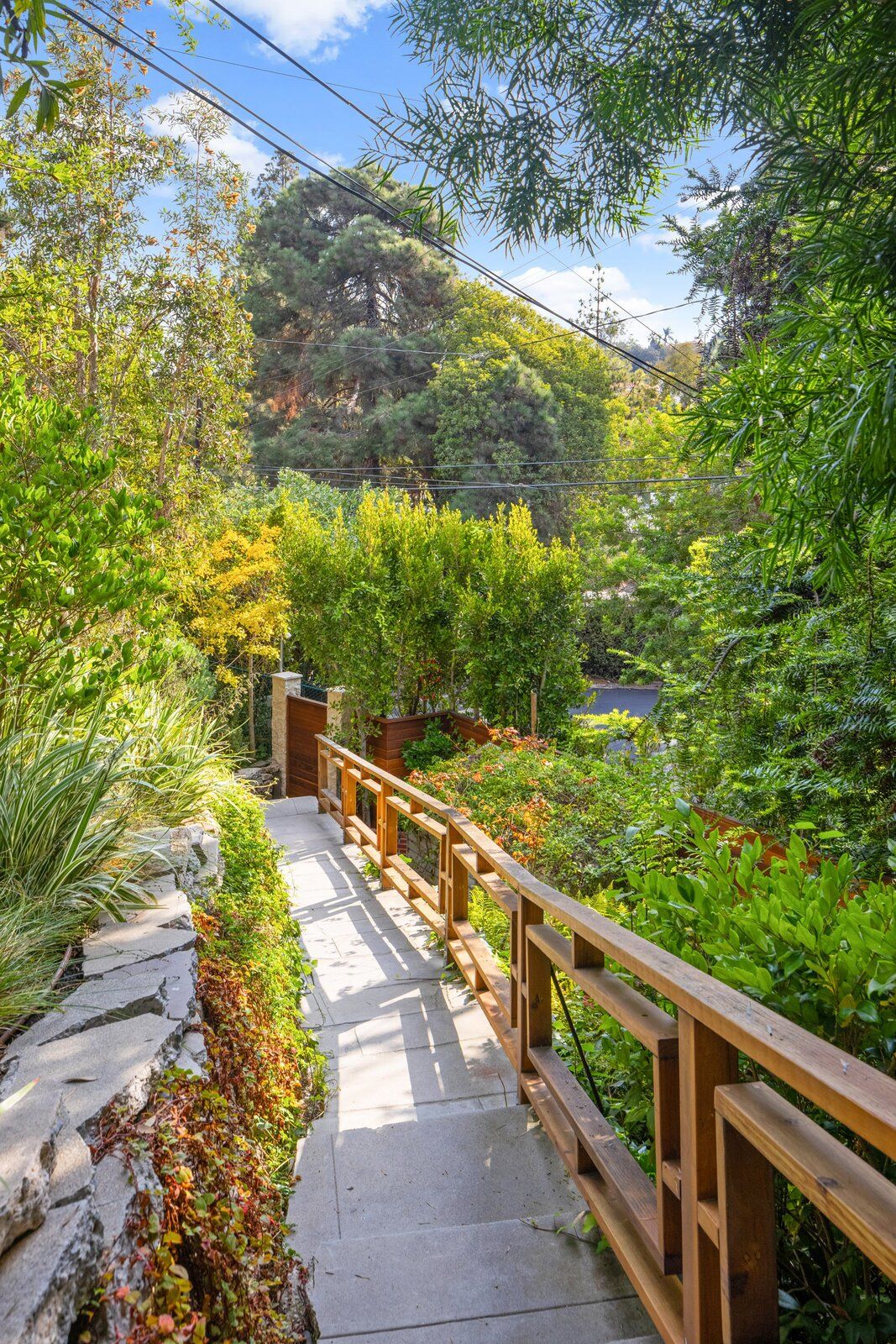 The sloping backyard carves terraced walkways to the street below and leaves plenty of room for lush greenery.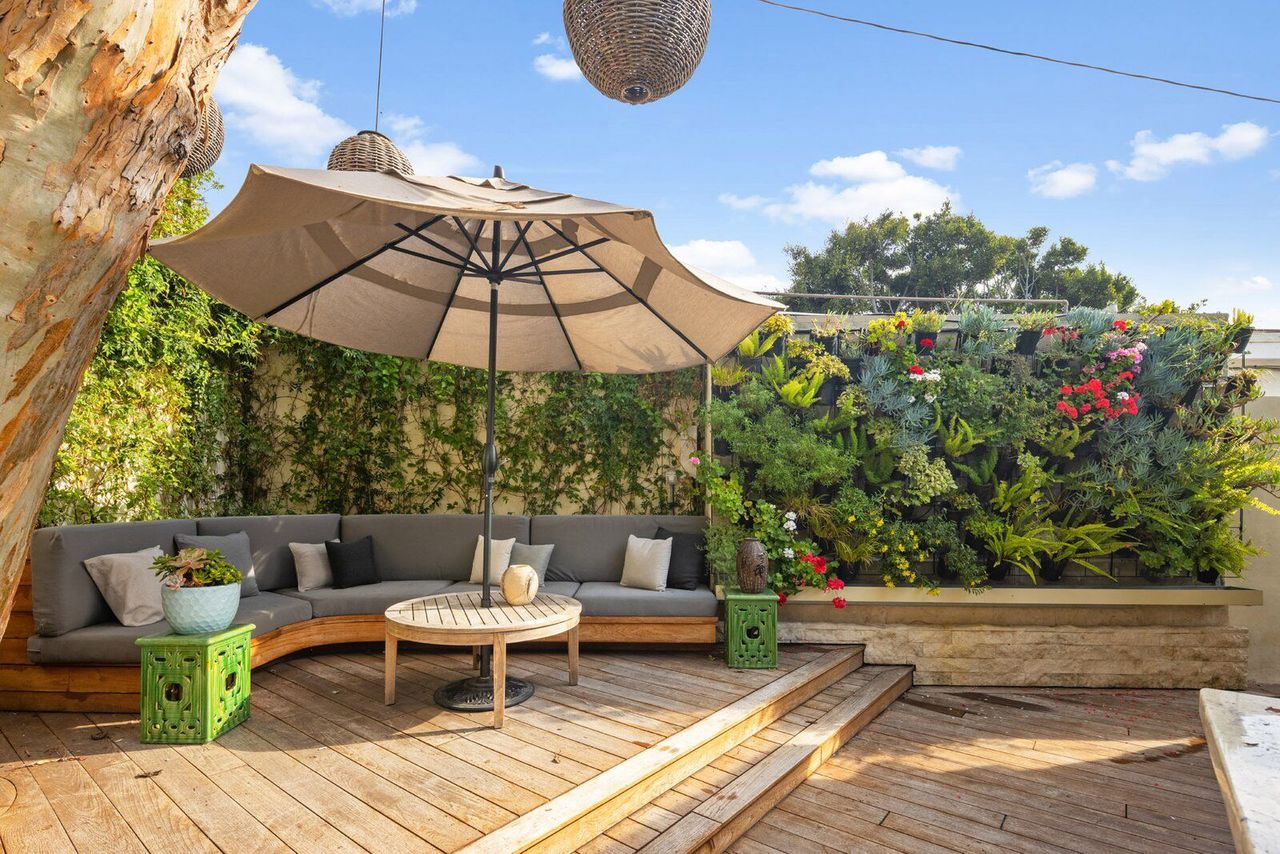 An outdoor seating area near the kitchen is an ideal spot for entertaining.

Just off the kitchen, for example, a private patio with a pizza oven and built-in barbecue is shaded by a century-old eucalyptus tree. On the other side of the home, the main deck is tucked between glazed walls in the living room and principal bedroom. In the back, the property slopes down to two different levels of gardens.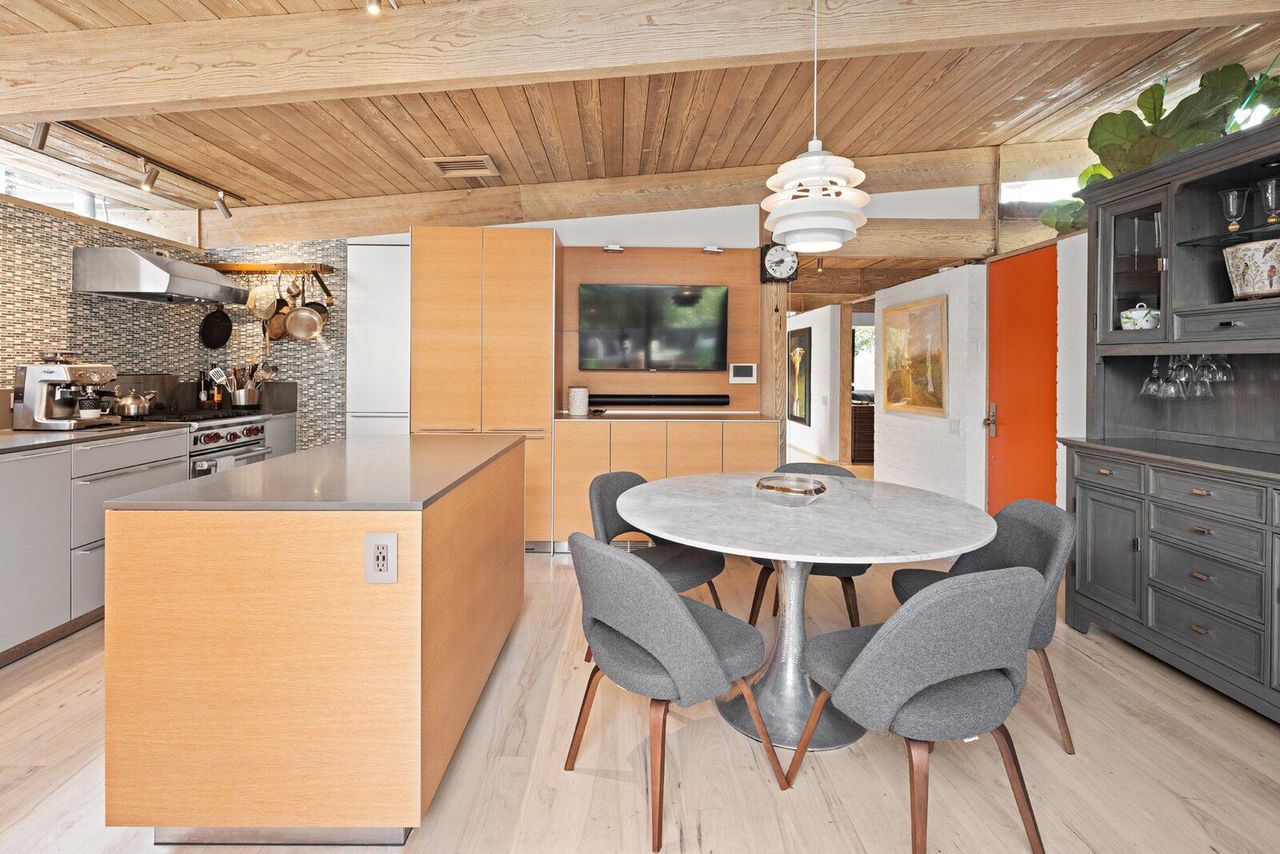 The house is being sold furnished with items including the vintage hutch and Saarinen table in the kitchen (pictured above).

The house has undergone some changes since its initial construction. The former three-bedroom, two-bath configuration was rearranged to create a larger principal bedroom and bath, and the carport was converted into an extension that now serves as a family room. In a redesign overseen by Amazing Grace Design for the current owners, the original stucco siding was replaced by Jerusalem stone reminiscent of the nearby Getty Museum's exterior.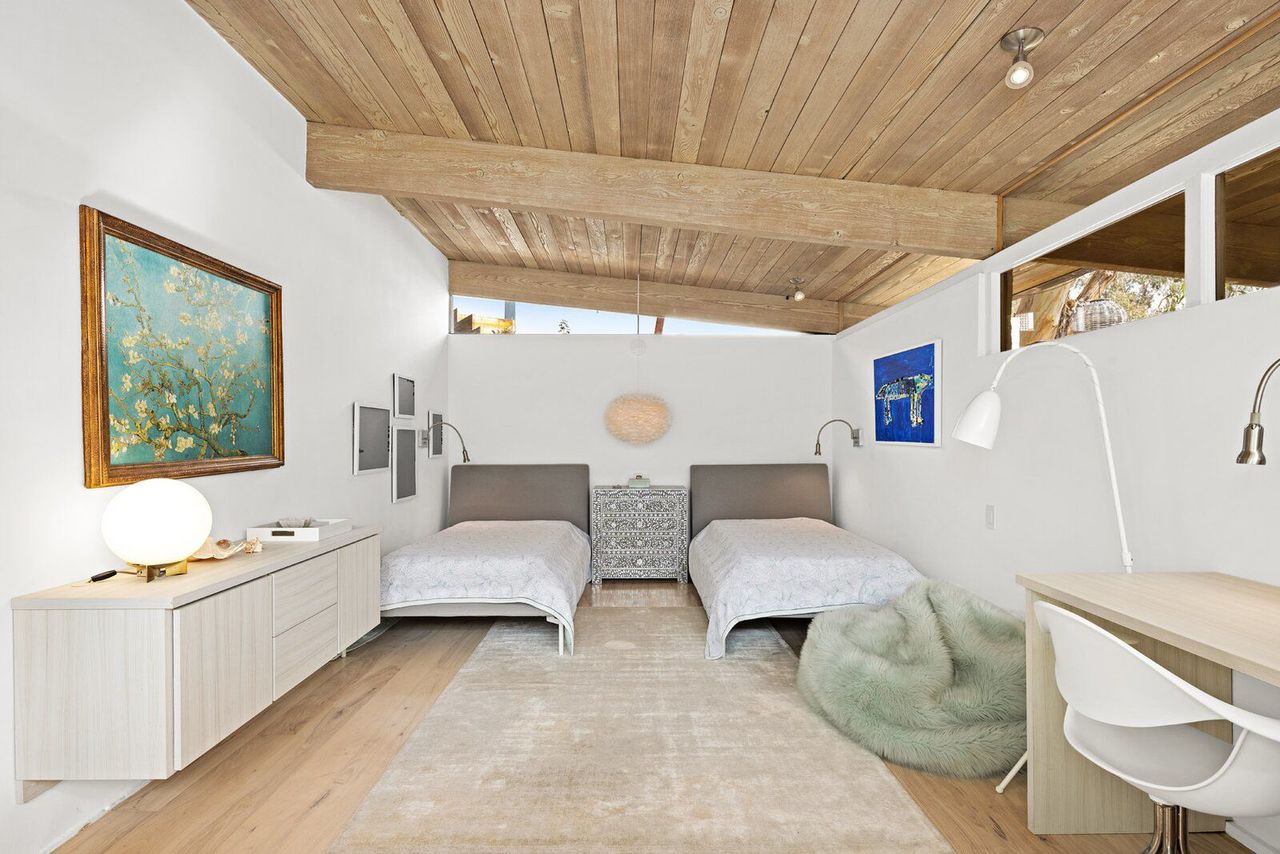 A second bedroom is full of light thanks to strategically placed clerestory windows.

"This is the third house I've been involved with selling over the last 10 years that Wally designed-they called him Wally," says Langen of the architect, who died in 1990 at age 72 when the kit airplane he was piloting crashed into Santa Monica Bay. "This house was given another life," Langen continues. "And it's still respecting Wally."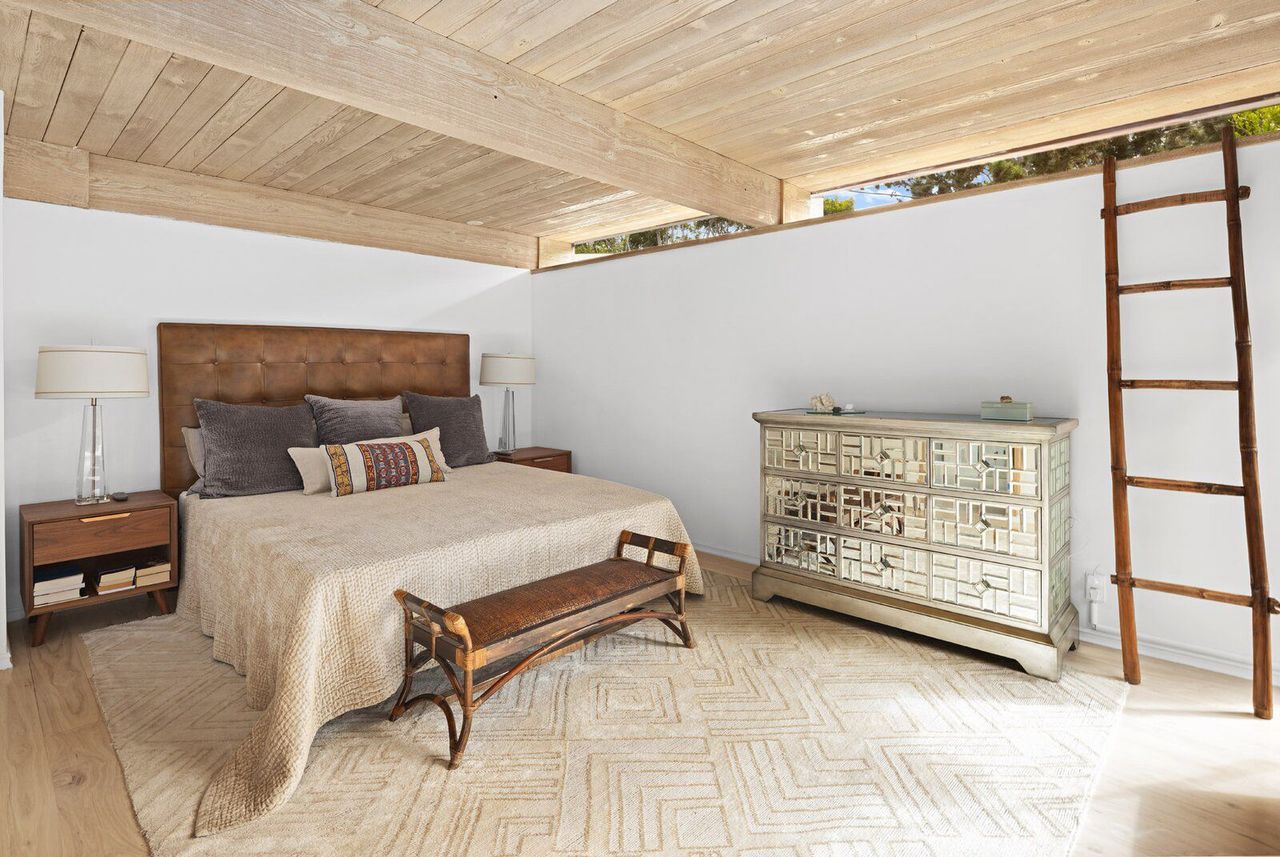 Located only a half mile from Will Rogers State Beach in Los Angeles, the 1,216-square-foot home sits on a 5,530-square-foot hillside lot and offers a variety of outdoor gathering spaces.

The house is being sold fully furnished and includes rights to an expansion plan for a potential two-car garage and accessory dwelling unit (ADU) that would increase the home's interior space by 500 square feet.