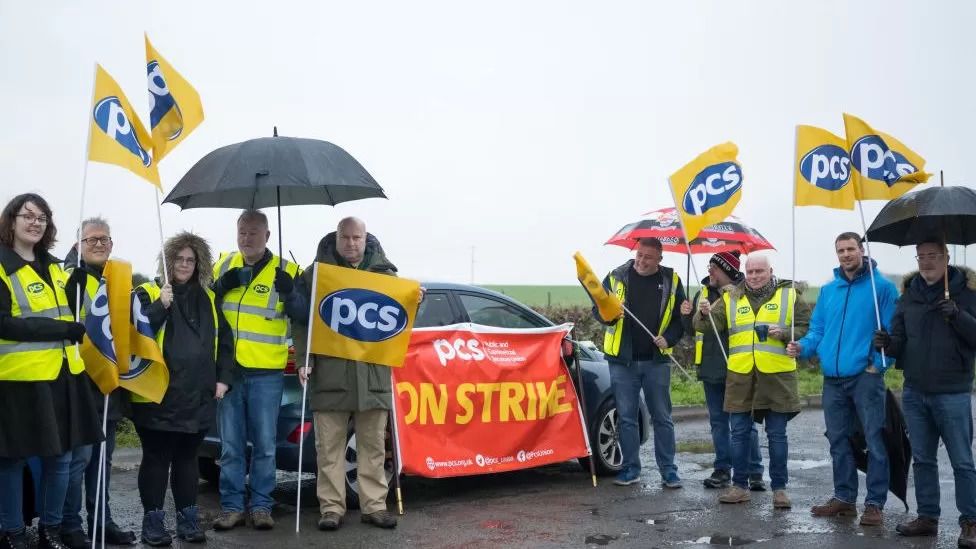 100,000 civil servants to strike on 1 February
Around 100,000 civil servants are to strike on 1 February, the Public and Commercial Services union has announced.
Union members in 124 government departments along with several other bodies will walk out.

The action is an escalation of a long-running dispute over pay and conditions.

PCS has been calling for a 10% pay rise, better pensions, job security and no cuts to redundancy terms.

It said a further 33,000 union members in five more government departments, including HMRC, are re-balloting next week to join the strike action.

Mark Serwotka, general secretary of the PCS, said he would have a meeting with Cabinet Office minister Jeremy Quin.

If that led to the government putting "some money on the table" there was a "chance" the dispute could be resolved.

"If he doesn't, then he'll see public services from benefits to driving tests, from passports to driving licences, from ports to airports, affected by industrial action," he said.

"We warned the government our dispute would escalate if they did not listen - and we're as good as our word."

Employees of public sector bodies including Department for Work and Pensions (DWP), the Driver & Vehicle Licensing Agency (DVLA), and the Department of Health and Social Care (DHSC) will take part in the action.

The PCS also represents thousands of workers who will strike at organisations such as Ofsted, the Maritime and Coastguard Agency, and the Home Office.

The PCA said the action would be "the largest civil service strike for years", adding it coincided with the Trade Union Congress's "protect the right to strike" day, which was announced on Tuesday to protest against new powers in strike laws.

If the dispute is not resolved, there could be further days of strike action on this scale, the BBC understands.

This announcement marks a significant escalation in strike action by the PCS union.

Its 100,000 members voted to strike back in November. But since then only a fraction - around 5,000 - have walked out.

They've included Border Force officials, driving examiners and National Highways Agency staff. But this latest action on 1 February will involve all of the membership.

The dispute is predominantly over pay. The government has offered civil servants a 2% to 3% pay rise, but the union has been calling for a rise of 10%, in line with inflation.

For weeks, Mark Serwotka has been threatening to escalate strike action if the government did not enter pay negotiations.

The union says it is setting up a multi-million pound strike fund which it says could sustain its members over months of industrial action. The membership has been invited to pay £5 a month into the fund.

Border Force staff, who are also represented by the PCS union, went on strike over Christmas and Mr Serwotka said then action could go on for months.

There has been a wave of strikes across the UK in sectors ranging from healthcare to railways as pay rises fail to keep pace with high inflation.

Thousands of ambulance workers held a second day of strikes on Wednesday, while many schools in Scotland were closed due to teachers walking out.