Dozens of flights at Heathrow have been cancelled while Southern and Southeastern train services have suffered disruption
Scores of flights were cancelled at Heathrow, Gatwick and Stansted airports as freezing fog and heavy snow descended over London - with the wintry weather set to cause chaos for Monday rush-hour travellers.

The Met Office issued a yellow fog warning for the capital on Sunday morning, which it said could cause delays to bus and train services as well as flight cancellations.

And a separate warning for snow and ice is in place for most of London and some of south-east England covering 6pm on Sunday to 9am on Monday.

More than 90 flights at Heathrow were cancelled by early evening due to the fog.

A Heathrow spokesperson told the Standard: "Poor weather conditions are forecast across the UK today and we want to reassure passengers that our colleagues are working in close collaboration with our airline and air traffic control partners to get them safely away on their journeys as quickly as possible. We encourage passengers to check their flight status with their airline for the latest information."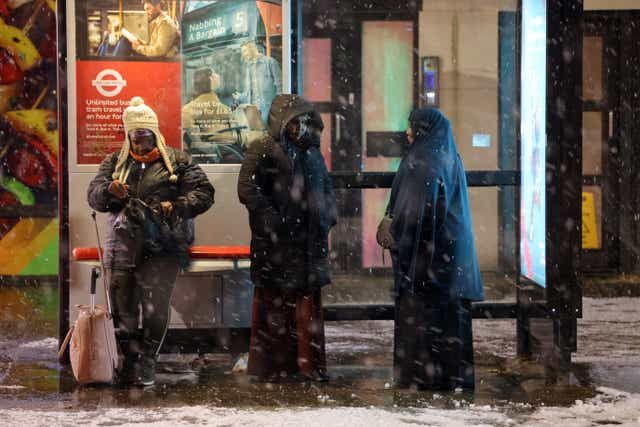 People wait at a bus stop as snow falls in Fulham
Meanwhile Stansted closed its runway to allow for snow clearance due to weather conditions resulting in the suspension of flights.
"Delays to flights were experienced earlier due to de-icing of aircraft which is a ground handler's responsibility and safety of aircraft and passengers is paramount," the airport added.
"Passengers are advised to check with their airline for current status of their flights."
Snow and ice was disrupting travel at Gatwick airport with one runway forced to close for about two hours in the evening.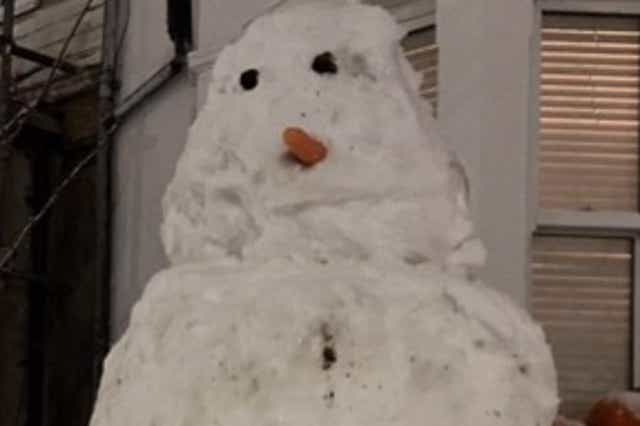 Snow fell heavily in south east London allowing locals to build the capital's first snowman of the winter.

Gatwick said on Twitter: "Snow and freezing weather may cause disruption at the airport. Passengers are advised to check flight status with their airline - and also local travel conditions - before departing for the airport."

Responding to customers it added: "Some flights were delayed due to a shortage of 'de-icing rigs'.

"This situation has improved however continued freezing weather is causing further delays and some cancellations."

There was also major disruption to all Southern rail services running between Eastbourne and London Victoria.

The rail operator said: "Due to ice preventing trains from getting electricity from the third rail lines between Lewes and Seaford/Eastbourne/Hastings, all lines are disrupted.

"Trains running to/from these stations may be cancelled or delayed by up to 60 minutes".

The disruption on the railway line was expected to last until 6pm.

Southeastern has said that ice is preventing trains from getting electricity in East Kent. No services via Dover Priory or Canterbury East are running until at least 5pm, they added.

Heavy snow on Sunday evening caused chaos for motorists in London, with numerous accidents reported on untreated residential streets.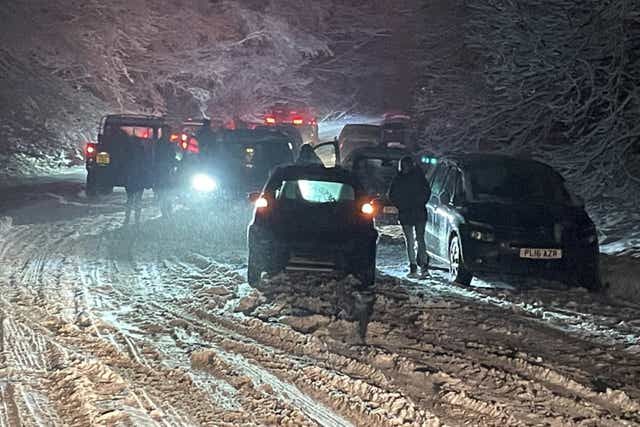 Cars being abandoned on the A22 near East Grinstead

Outside of the capital, motorists were forced to abandon their cars near East Grinstead as they became stuck in the snow.

Snow began to fall in south east London at around 8pm with Plumstead among the areas blanketed in white. There were also flurries in east London and the snow moved to west London where boroughs including Ealing were covered.

Earlier, retired British Olympic rower Pete Reed OBE tweeted spectacular pictures of the blanket of fog hanging over London's skyline as he flew in to the capital on Sunday morning.

The Met Office is predicting London will be hit with snow overnight into Monday - the first of the season in the capital - with temperatures expected to plunge to -3C.

The temperature is unlikely to climb above 2C or 3C during the day on Monday and the rest of the week with overnight frosts expected.

Further north, temperatures are expected to drop to -10C or even lower in some places.

Met Office Chief Meteorologist Steve Willington, said: "It is staying cold with daytime temperatures remaining only a few degrees above freezing in many places over the coming days and overnight temperatures dropping to -10°C or lower in isolated spots.

"Although below average, these temperatures are not that unusual for this time of year."
Met Office

meteorologist Rachel Ayers said: "It will continue to be a very cold day, with maximum temperatures of 1C to 4C on Sunday, and, as we head into the evening, we see persistent rain, sleet or snow in the far South East of England, which is what we have a yellow warning out for from 6pm on Sunday.

"We could see 2cm to 5cm (of snow), perhaps up to 10cm in some places, with Kent and Sussex most affected, with areas most exposed such as North and South Downs and higher ground going to see the more significant accumulations.

"There will be ice forming, particularly near to the coast where there is rain and sleet, and freezing temperatures which could cause some travel disruption to start Monday with that valid until 9am."

Ms Ayers said that although cold temperatures, freezing fog and wintry showers are expected through the week, cloud cover could prevent some of the more extreme temperatures experienced in recent days.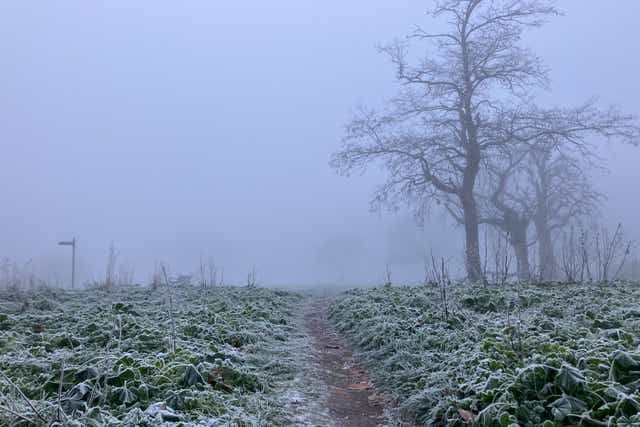 Plumstead Common, Greenwich, on Sunday morning

She added that there is a possibility of slightly milder conditions arriving next weekend but it is too early to be certain.

The AA has advised motorists to adjust their driving to the freezing conditions on Monday morning.

Sean Sidley, AA patrol of the year, said: "On a frosty morning, hazards like black ice can prove lethal if you don't adjust your speed and driving style in colder weather.

"Always leave plenty of space behind other vehicles as stopping distances can be 10 times longer on icy roads.

"Allow extra time, as there may be delays to your normal routes, and make sure you pack winter essentials in the car such as warm, waterproof layers, a shovel, a torch, fully charged mobile phone and a flask of hot drink.

"Take heed of warning lights in your vehicle and make sure you check it regularly if you drive less in the winter. Flat batteries are one of the top breakdowns we attend in cold weather and can be avoided by regular car maintenance."

The severe conditions have been causing travel disruption with Manchester Airport temporarily closing both runways on Saturday morning due to "heavy snow".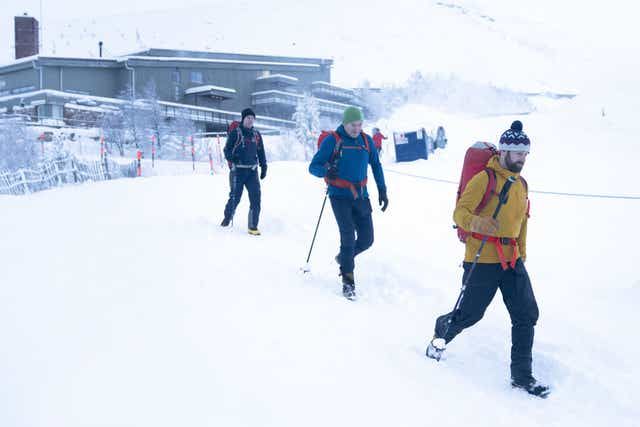 Walkers in snowy conditions in the Cairngorms National Park near Aviemore.

The RAC and North West Motorway Police both issued warnings about driving in the wintry conditions as the latter responded to traffic accidents on several major roads.

The Met Office said the conditions could lead to more travel disruption, especially on Monday morning, and a small chance of some rural communities becoming cut off along with a possibility of power cuts and mobile phone coverage being affected.

Elsewhere, the UK Health Security Agency (UKHSA) sent out a level three cold weather alert covering England until Friday, keeping extended the alert from Monday.

The agency is advising people to look out for friends and family who are vulnerable in the cold and to ensure they have access to warm food and drinks, adding that people should maintain indoor temperatures of at least 18C (64.4F).

Dr Agostinho Sousa, consultant in public health medicine at UKHSA, said: "Cold weather can have serious consequences for health, and older people and those with heart or lung conditions can be particularly at risk.

"If you have a pre-existing medical condition, you should heat your home to a temperature that is comfortable for you.

"In rooms you mostly use such as the living room or bedroom, try to heat them to at least 18C if you can. Keep your bedroom windows closed at night. Wearing several layers of clothing will keep you warmer than one thicker layer."

Darren Clark, severe weather resilience manager at National Highways, said gritters would be out to keep motorways and major A-roads open.

He said: "National Highways is committed to treating every road which needs to be treated – whenever it is needed."

Meanwhile Residents in Cornwall are being advised not to travel on Sunday or Monday due to the treacherous weather.

The Cornwall Fire and Rescue Service control centre dealt with more than 300 reports of road traffic accidents linked to ice over the weekend.

Cornwall Council's highways contractor is working around the clock to salt major routes throughout the county.

As temperatures are set to plumet to minus seven degrees Celsius overnight on Sunday, residents are being asked to avoid travel unless essential and parents and carers are being warned schools could be closed.