Tackling the backlog in the NHS is the biggest public services emergency, Rishi Sunak has said, as he and Liz Truss vie to become the UK's next prime minister.
More than 6.6 million people in England are waiting for hospital treatment.

Mr Sunak plans to eliminate one-year waiting times by September 2024 and get overall numbers falling by next year.

Meanwhile, Ms Truss has announced plans for a "bonfire" of EU laws retained after Brexit.

She has promised to scrap or replace laws that she argues hinder growth by the end of 2023.

Speaking in Kent, where she was meeting Conservative party members, Ms Truss said it was time for "bold action" to drive the economy forward.

"I would make sure that people who work hard are rewarded, I'd make sure that businesses have incentives to invest in Britain so that we can get the jobs and growth we need to succeed at the next election and to drive Britain forward in the future."

The pledges come as the two remaining contenders in the contest to be party leader and the next prime minister step up campaigning, with Conservative Party members due to start receiving ballot papers this week.

The winner will be announced on 5 September.

In a campaign speech in Grantham, the hometown of former Tory PM Margaret Thatcher, Mr Sunak said tackling the NHS backlog was the biggest public service emergency.

"We need a fundamentally different approach," he said. "We will take the best of our Covid response and apply those lessons to clearing the massive backlog in the NHS."

Without a radically different approach, the NHS will come under unsustainable pressure and break, Mr Sunak says.

As part of a number of measures, he is promising to offer more diagnostic services - such as MRI and CT scans - in repurposed empty High Street shops.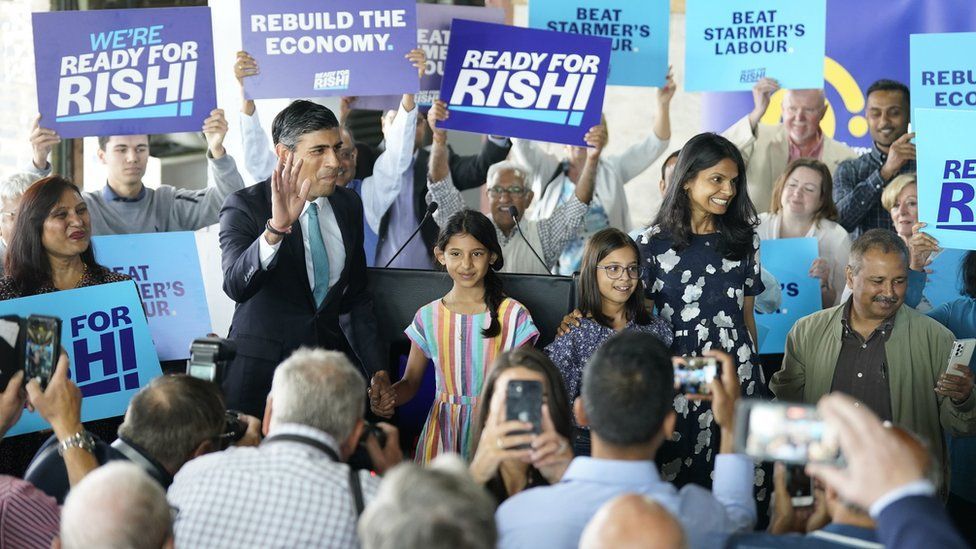 Mr Sunak told his wife and children he had never been prouder to say he loved them all

Mr Sunak admitted he was the "underdog" in the race to become prime minister.

The former chancellor claimed there were "forces" in the Tory party who wanted the contest to be a "coronation" for his rival, Ms Truss, tipped as favourite among Conservative party voters.

He went on to criticise her plans for tax cuts, saying there was "nothing noble or good about wracking up money" on credit.

He said no amount of undeliverable promises would change that, in another swipe at Ms Truss.

Speaking to the Times earlier, Mr Sunak said a "business-as-usual mentality isn't going to cut it" when it comes to dealing with challenges that are "staring us in the face", including the economy, migration as well as the NHS.

"From day one of being in office I'm going to put us on a crisis footing."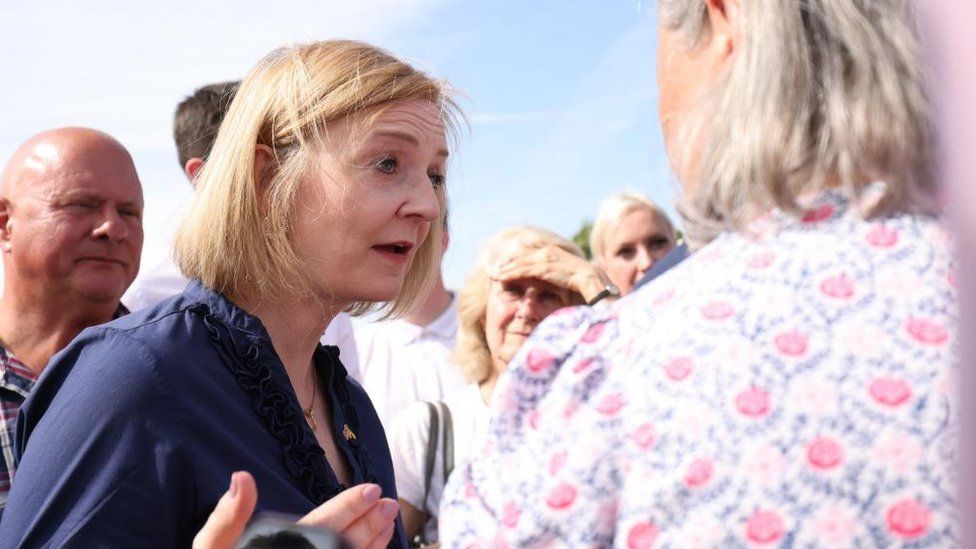 Liz Truss, pictured here in Kent, is hoping to woo party members with a pitch to scrap EU laws

Ms Truss rejected Mr Sunak's criticism that it would be wrong to raise government borrowing to fund tax cuts - a major policy difference between the candidates.

She is pledging around £30bn in immediate tax cuts, arguing they will boost growth, while Mr Sunak has said immediate cuts could fuel already-soaring inflation.

The foreign secretary said: "We know fuel bills are higher. We know that food bills are higher. And what my changes would do is help people with the cost of living, but also drive growth in the economy that's going to lead to higher tax revenues so we can pay back that debt."

Ms Truss added: "I'm being very honest about the situation. We face the biggest economic crisis we have for a generation and now is not the time for business as usual."

Of Mr Sunak's suggestion that she was the frontrunner, Ms Truss said: "I'm not taking anything for granted. I want the support of Conservative members."

Earlier on Saturday she outlined her own pitch to be leader, describing herself as an "insurgent" who wants change, in an interview in the Daily Telegraph.

She said after two decades of low growth and now the economic shock from the Covid pandemic and the war in Ukraine, the UK was facing a "pivotal moment".

Ms Truss, among the ministers who did not resign from Boris Johnson's government earlier this month, has announced a plan to review thousands of laws inherited from the EU after Brexit.

Although she campaigned to stay in the EU at the 2016 referendum - unlike Leave-voting Mr Sunak - she has since embraced Brexit and is now seeking to argue she is best placed to ensure it delivers economic benefits.

She has promised to scrap or replace by the end of 2023 EU laws deemed to hold back the economy.

Ms Truss has specifically said she would scrap the EU's Solvency II regulation, which sets rules on how pension savings can be invested and is already subject to a government review.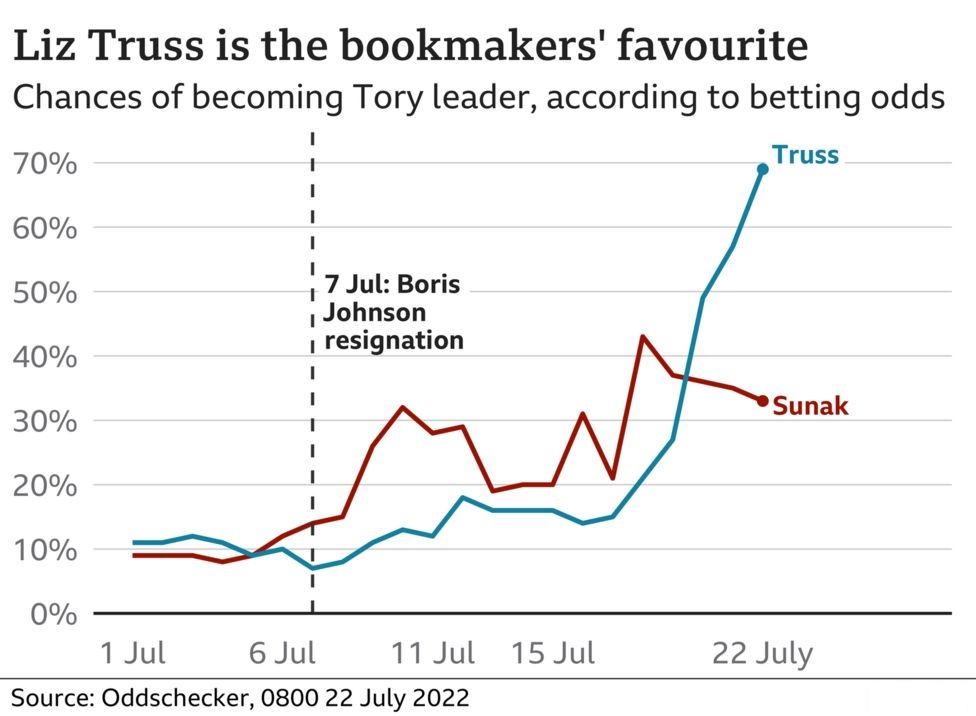 Mr Sunak, who quit as part of the cabinet mutiny against Boris Johnson, has clashed repeatedly with Ms Truss over economic policy during the campaign so far.

Mr Sunak topped the MPs' ballots to qualify for the final run-off with Ms Truss, but polls currently suggest the foreign secretary is the favoured candidate of party members, who decide the leader.

It is thought a significant chunk of the 160,000 or so Tory members will vote in the coming weeks.

Hustings will take place throughout July and August, and the two candidates will square off in a live BBC TV debate on Monday, followed by another hosted by The Sun and TalkTV on Tuesday.