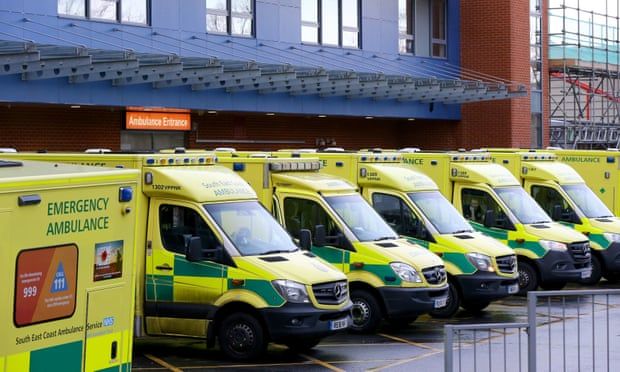 Three UK health unions call off strikes and agree to pay talks
GMB, Unison and Chartered Society of Physiotherapy take up offer of talks after government concessions
Three health unions have agreed to call off strike action planned for next week and enter into pay talks with the health secretary, Steve Barclay, after the government made significant concessions in an attempt to end the protracted dispute.

The GMB, Unison and the Chartered Society of Physiotherapy have all decided to take up an offer of fresh talks, after Barclay wrote to them offering to discuss pay, including a one-off cost of living payment for this year.

However, Unite has opted to remain outside the talks and continue with an ambulance strike next week, citing the preconditions the Department of Health and Social Care placed on the talks.

Rachel Harrison, the GMB national secretary, said: "This is a huge shift from the government, who for months have refused to consider negotiations on pay. Now, they are saying they are willing to sit down and talk. The government has given assurances of additional cash for both years above existing budgets and that any deal will respect the existing Agenda for Change structure."

The government's determination not to reopen the current year's pay deal had long been a sticking point with NHS unions. Barclay had previously infuriated Unison, the GMB and Unite by opening exclusive negotiations with the Royal College of Nursing (RCN), which has already suspended its own strike action in order to take part in "intensive" talks.

RCN members are part of a much wider bargaining unit, called Agenda for Change, which covers more than 1 million NHS staff, including ambulance workers, physiotherapists and support staff as well as nurses.

It is understood the other NHS unions have been reassured that the RCN will not be offered a different deal, and instead will be involved in this new round of talks, which will take place under the auspices of the NHS Staff Council, the usual body for setting NHS pay.

The GMB had warned it was escalating action by ambulance staff from next week, with the impact in many areas expected to be that only the most serious calls would receive a response.

Unions were told they must agree to recommend any deal reached to their members before they could enter negotiations – a condition that Unite found troublesome.

The Guardian understands Unite was also concerned about the fact that any extra payment for this year would be "non-consolidated", so not added to salaries permanently.

Unite's national lead officer, Onay Kasab, said:. "The NHS is on its knees and morale is at rock bottom, yet the government somehow thinks that after weeks of strike action for a better deal, workers will meekly sign up to talks that will not tackle the issue of a decent pay settlement for 2022-23."

The government has also tabled legislation imposing minimum service levels on strike days, in a move unions claimed was aimed at blunting the effect of future industrial action.

Ambulance staff represented by GMB had been due to strike on Monday, and more than 30,000 Unison members, most in the ambulance service, were due to take action next Wednesday.

Unison's head of health, Sara Gorton, said: "Whether the talks signal the beginning of the end of the current dispute will emerge in the coming days. If a deal can be reached, strikes can end and everyone can work together again to ensure the NHS gets back on track.

"However, when we get in the room, we'll quickly learn whether the talks can be meaningful. If not, Unison will be forced to resume strike action. Nobody wants that."

NHS bosses voiced relief at the unions' decision but warned that the three-day-long strike by up to 61,000 junior doctors in England is still scheduled to take place on 13-15 March.

"Trust leaders will be hugely relieved that the government are coming round the table with more unions to talk about pay, and that much of next week's strike action has now been called off," said Sir Julian Hartley, chief executive of NHS Providers, which represents health service trusts.

"But while progress is now being made in talks with some NHS unions, the prospect of a three-day walkout by junior doctors continues to loom large. We hope today's breakthrough will pave the way for similar negotiations with all other unions planning strikes.

"We are urging the government and unions to pull out all the stops and begin talks immediately so that further disruption to patient care can be avoided."

A spokesperson for the Department of Health and Social Care said: "We want to start these talks as soon as possible and are ready to meet over the weekend. We want to find a fair and reasonable settlement that recognises the vital role of NHS workers, the wider economic pressures facing the UK and the prime minister's priority to halve inflation."

Rishi Sunak's government appears to have taken a more conciliatory approach to pay talks in recent days in an effort to end months of debilitating strikes across the public sector. Ministers had previously taken a combative tone towards the NHS action, accusing striking ambulance workers of putting lives at risk.

Disputes remain ongoing in education, with teachers due to take more action in the coming weeks, and across a string of government departments, from Border Force to the Environment Agency.