A 48-hour strike by nurses, which will include emergency care, will "present serious risks and challenges", an NHS boss has said.
The Royal College of Nursing has rejected the pay offer for England while Unison workers accepted it.

Sir Julian Hartley, from NHS Providers, which represents NHS workers, said the May bank holiday strike would mark an "unprecedented level of action".

The government said it was "based on a vote from the minority" of nurses.

The award on the table was a 5% pay rise for 2023-24. And there was an extra one-off lump sum of at least £1,655 to top up the past year's salary. But on Friday, the RCN announced its members had rejected the offer by 54% to 46%.

The walkout from 20:00 BST on 30 April to 20:00 on 2 May will involve NHS nurses in emergency departments, intensive care, cancer and other wards.

Nurses have already walked out twice this year on 6 and 7 February and on 18 and 19 January - but on those dates there were exemptions so that nursing cover was maintained in critical areas.

The announcement comes just as the NHS is getting back to normal after a four-day walkout by junior doctors - who are demanding a 35% pay rise - which ended at 07:00 on Saturday.

Sir Julian, chief executive of NHS Providers, said during the strike by junior doctors gaps had been filled by consultants and other staff, but he warned if nurses went ahead with their action this might be more difficult to deal with.

"But with nursing staff, obviously that represent a significant proportion of the workforce, taking action in those areas as well that will present an unprecedented level of action, that we haven't yet seen from nursing stuff and therefore the challenges with that, the organisation and all the work that go into managing and mitigating that will be enormous," he said.

When asked about the prospect of nurses and junior doctors striking on the same day, he added: "They are central, pivotal to the delivery of care across all sectors, hospitals, community services, mental health services.

"So obviously the prospect of both groups being out at the same time would present enormous challenges to the service and that would be really really the most difficult challenge ever faced yet if we had to deal with that scenario."

The RCN's director for England, Patricia Marquis, when asked by BBC Newsnight about coordinated strike action, said it was having conversations with the British Medical Association but not specifically around coordinating strikes.

"That's obviously something that would have to be considered, least because we're all in the same space. We all work in the same places", she said.

"And therefore there may be an issue where our strikes do at some point either coordinate or overlap in someway."

Nick Hulme, chief executive of Colchester and Ipswich Hospitals said recent strike action had been a "massive distraction from the work we should be doing" including reducing waiting times - and urged all parties to find a quick solution.

Speaking to BBC Radio 4's Today programme, Mr Hulme said he would be concerned if the currently separate strike action by nurses and junior doctors was co-ordinated at any stage.

"It just fills me with a lot of anxiety and it's almost something I can't comprehend," he said.

"Being able to run services safely without those two clinal groups of staff I think would be very, very difficult indeed and would increase the risks to patients."

Chancellor Jeremy Hunt urged members of the GMB and Unite unions - which represent smaller numbers of NHS staff - to join Unison in accepting the government's offer because it would be "best for patients and best for staff".

The British Medical Association, which represents junior doctors, said it was "not ruling in or out" of co-ordinated action with other unions - such as nurses' unions.

Dr Vivek Trivedi, the co-chairman of the BMA junior doctors committee, said that if the government refused to negotiate "we are prepared to strike again", adding: "We will consider all options available to us."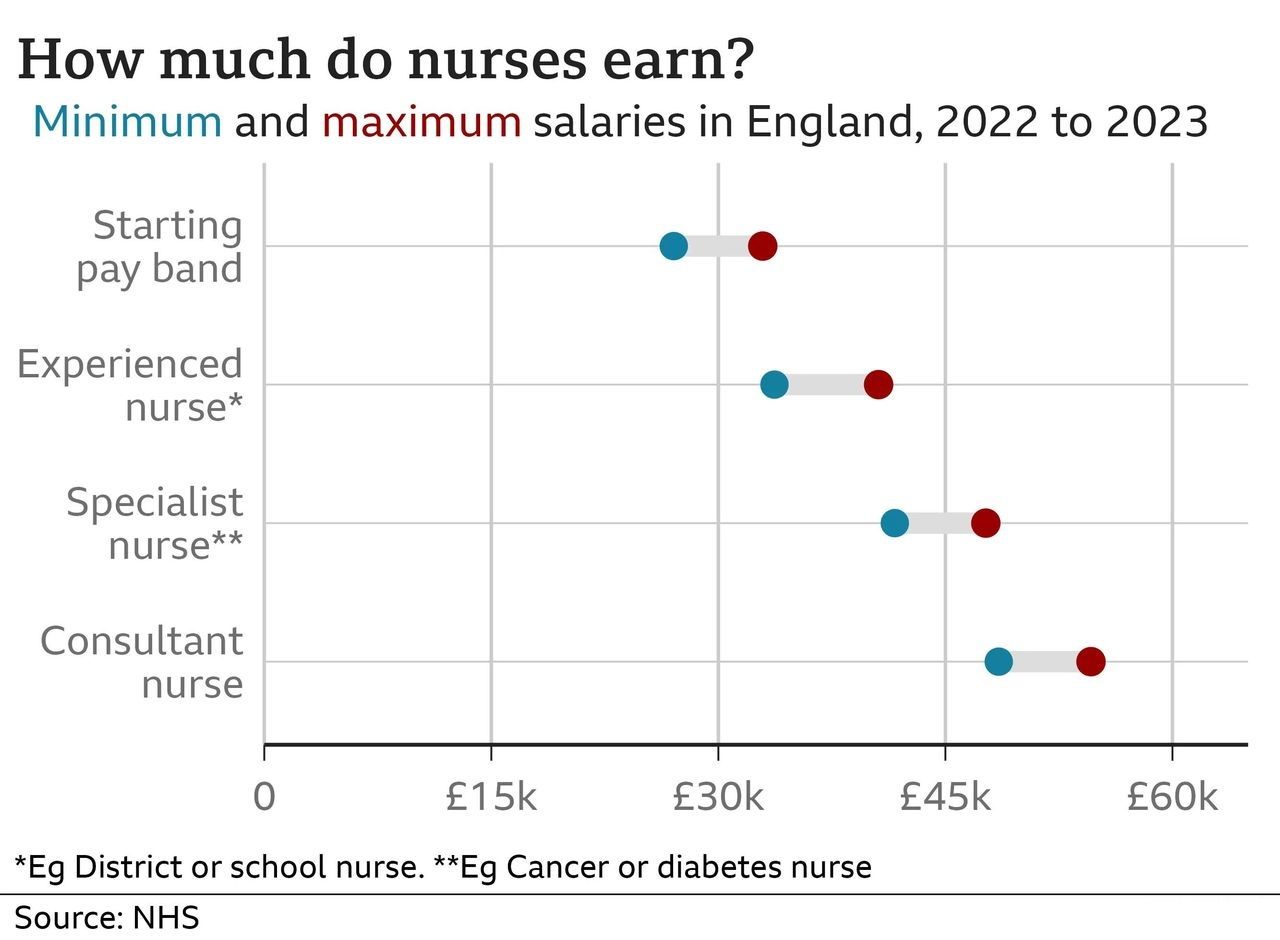 Clint Cooper who is a nurse at Scarborough Hospital said he believed in the principles of what his colleagues were doing, but he decided to vote against strike action in the RCN ballot.

"Last week I had two patients who were very poorly and I wonder if I hadn't been there and escalated it, would they still be alive if I had walked out and that's my conscience talking to me," he said.

Meanwhile, fellow RCN member Diane Cawood voted to reject the government's latest pay offer, describing the staffing situation as "dire" and inpatient care as "dangerous" at the moment.

The mental health nurse, whose NHS trust did not meet the threshold to strike, said she enjoyed her work but "the day may come when I can't afford to stay in this job".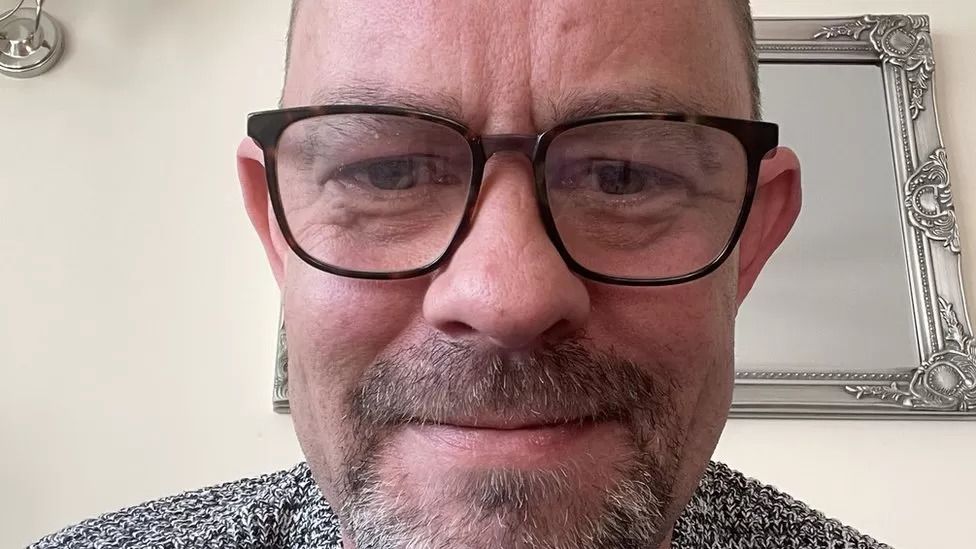 Nurse Clint Cooper said it was not just about pay but"about the future of the NHS"

A Unison member who has worked as a nurse for 30 years and voted to accept the government's pay offer said the pressure on staff was "unsustainable" but pay was not the fundamental issue.

The specialist nurse, who wishes to remain anonymous, said that instead retention and recruitment "presents the greatest challenge to the profession".

Pat Cullen, RCN general secretary and chief executive, said that until there was a significantly improved offer, RCN nurses would be forced to go back to the picket line.

She said the government "needs to increase what has already been offered and we will be highly critical of any move to reduce it".

The Unison union, which represents some nurses and ambulance crews, voted overwhelmingly in favour of the government's pay offer.

Sara Gorton from Unison said health workers would have wanted more "but this was the best that could be achieved through negotiation".

Members have "opted for the certainty of getting the extra cash in their pockets soon", she added.

Hundreds of thousands of NHS staff from other unions are still voting on the same pay deal over the next two weeks.

In Scotland, union members have accepted an offer worth an average 6.5% for 2023-24. Health unions in Wales and Northern Ireland are still in negotiations with their governments over pay