Nursing unions have criticised an improved pay offer from the Scottish government, saying a strike vote will continue.
The proposed deal is for a flat rate of £2,205 per person, backdated to April.

The Royal College of Nursing (RCN) said it was a real-terms pay cut and accused the government of not listening to staff concerns.

Ministers said the offer reflected the "hard work" of NHS staff and would help during the cost of living crisis.

The RCN had asked for at least 5% above inflation which rose to 10.1% in September.

The new offer means an average salary increase of 7% with the lowest paid gaining more than 11% and qualified nursing staff receiving up to 8.45%.

Other non-financial elements are still to be finalised.

RCN Scotland director, Colin Poolman, said: "The Scottish government has failed to listen to our members' concerns for the safety of their patients.

"This offer fails to recognise the clinical skill, expertise and leadership of registered nurses.

"It will do nothing to address the staffing crisis, the life-threatening delays we are seeing at emergency departments or the lengthy waiting lists for treatment across Scotland's NHS."

He said striking was a "last resort" but a real possibility and said the ballot would continue.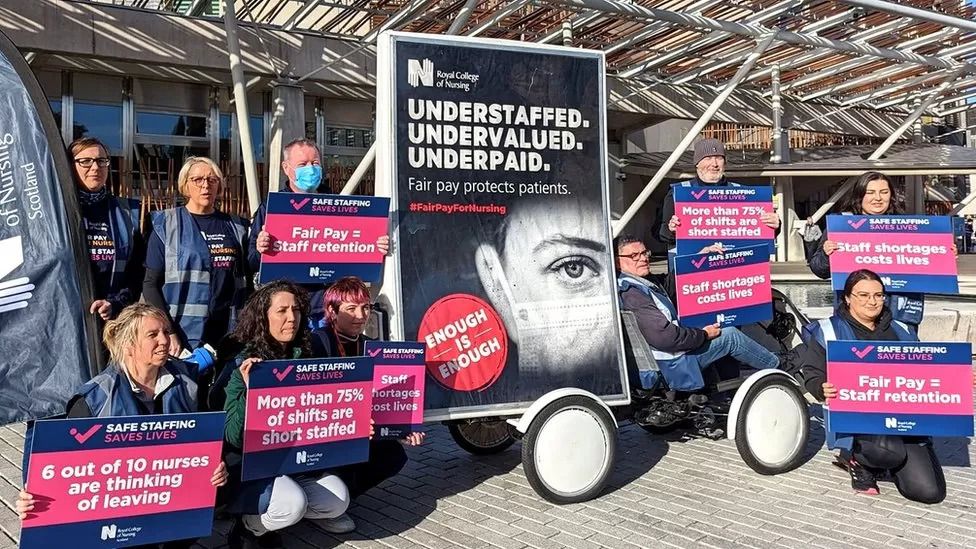 Staff have been protesting and calling for a better deal

Union chiefs at Unison said they would put the improved offer to members and would meet next week "to consider next steps".

Wilma Brown, chairwoman of the union's health committee, said: "Unison believe that a flat rate offer will help all staff meet at least some of the cost of living crisis.

"In the meantime, we are still urging all Unison members to vote for industrial action."

Alex MacKenzie of the council of the Chartered Society of Physiotherapy welcomed the additional support for the lowest paid but said it was "simply a kick in the teeth to come back with an offer that is actually lower than the one already rejected for a substantial number of our members."

The Royal College of Midwives described the offer as "deeply insulting".

The pay deal, which amounts to £480m, would be paid to more than 160,000 employees including nurses, paramedics, allied health professionals and healthcare support staff.

'Constructive discussions'

Health Secretary Humza Yousaf said he was grateful to trade union colleagues and NHS employers for constructive discussions on pay.

"This has been another exceptionally challenging year for our health service and we have a difficult winter ahead," he said.

"But I am pleased that we are able to recognise the service and dedication of our healthcare and support staff with this pay offer.

"We owe NHS staff a debt of gratitude for leading us through the greatest public health crisis in recent history.

"This improved pay offer - which is the largest of its kind since devolution - reflects their hard work and will go a long way to help them through the cost of living crisis."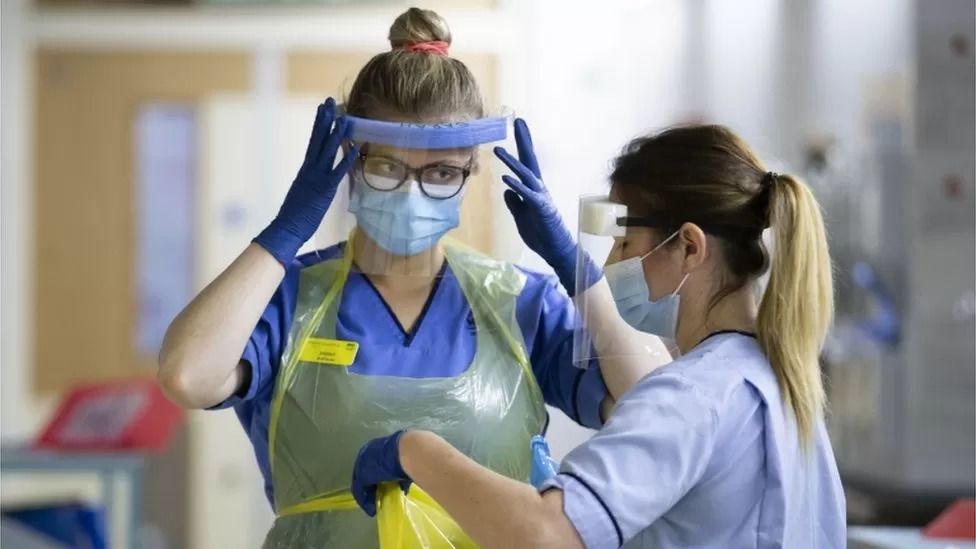 Humza Yousaf thanked NHS staff for seeing the country through the pandemic

Opposition parties called for more action to address staffing issues.

Scottish Labour's health spokeswoman Jackie Baillie said: "This SNP government does not understand the seriousness of the situation.

"As the RCN has said, Humza Yousaf is showing that he has no idea about the scale of the staffing crisis or about the impact that it will have on workers and the safety of patients."

Scottish Conservatives shadow social care minister Craig Hoy said: "Our NHS is already heading for a catastrophic winter due to Humza Yousaf's inaction and that will only worsen if these strikes go ahead.

"He must urgently get a grip of this situation and ensure our nurses get what they deserve for going above and beyond to support patients and our health service."

Lib Dem spokeswoman Christine Jardine said: "We need a new pay offer and a serious investment in workforce planning to fix the foundations of our NHS, alongside an urgent burnout strategy prevention plan to protect staff welfare.

"If we don't get that, we need a new health secretary."