Rishi Sunak will establish a series of firsts when he becomes prime minister - including becoming the first British Asian person to hold the office, and being the first prime minister appointed by King Charles III. But much of the process of the next few days will follow choreography set by decades of tradition.
So what happens now and what can he expect when he does formally become prime minister?

A final word... or two

Liz Truss will hold her final Cabinet meeting at 09:00 BST on Tuesday. As Rishi Sunak is not currently in the Cabinet, he will not be present.

Like many a departing prime minister, she will then deliver a final speech outside 10 Downing Street at about 10:15.

Ms Truss will then be driven to Buckingham Palace to offer her resignation to the King.

This means Ms Truss will miss out on her chance of a goodbye in the House of Commons, as she announced her departure after last week's Prime Minister's Questions, but is being replaced before this week's takes place at noon on Wednesday.

In the past that has provided an opportunity for a standing ovation or a tearful farewell from supporters. Last month it gave Boris Johnson the chance to tell the Commons "Hasta la vista, baby".

Kissing hands

Once Ms Truss has departed the scene - and the UK is temporarily without a prime minister - Mr Sunak, as leader of the largest party in the Commons, will be invited to Buckingham Palace by the King.

The King will ask Mr Sunak if he believes he can form a new government, before the politician is appointed through a tradition called "kissing hands".

In his autobiography, Tony Blair - who was operating on only one hour's sleep following his election victory - admitted to being a bit confused when a royal official told him: "You don't actually kiss the Queen's hands in the ceremony of kissing hands. You brush them gently with your lips."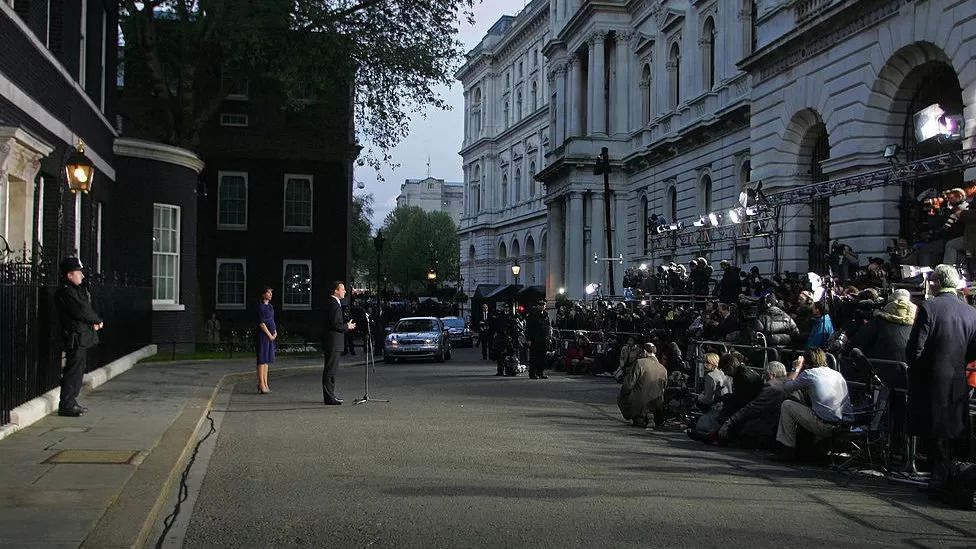 David Cameron gave his first speech as prime minister in dying light

Having been formally appointed as prime minister, the new leader will head to 10 Downing Street - his new workplace and (usually) his new home - although in the past, Tony Blair swapped with the living quarters above No 11 to accommodate his family more comfortably.

Here, at about 11:35, Mr Sunak will make his first prime ministerial speech with the aim of explaining what he wants to do in government.

Margaret Thatcher promised to bring "harmony... where there is discord", Gordon Brown vowed to "try his utmost", Theresa May spoke of tackling "burning injustices" in society, while Boris Johnson warned that "the doubters, the doomsters, the gloomsters" would "lose their shirts".

The plans are for the speech to be outside No 10 - but becoming prime minister in October means there is a persistent risk of rain, so Mr Sunak's team might be anxiously checking the weather.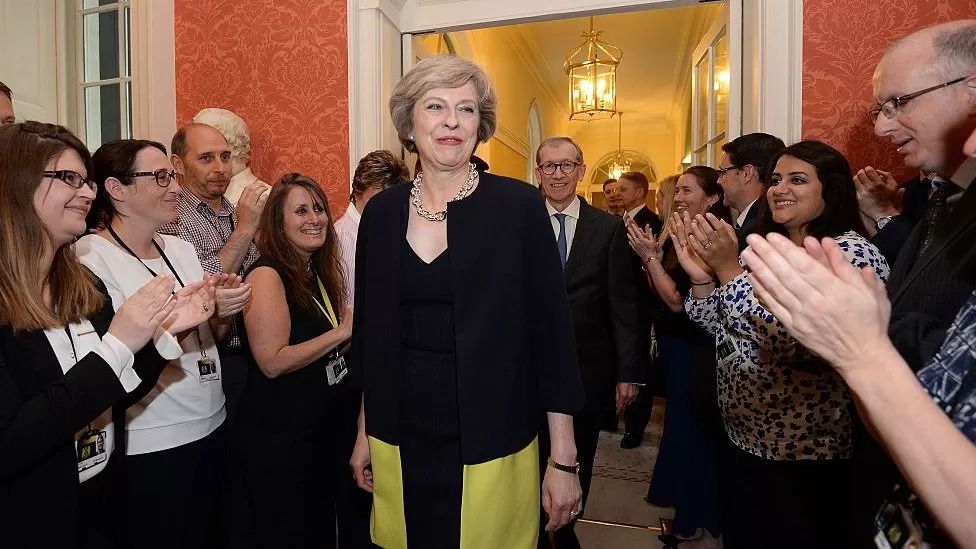 Downing Street staff greet a new boss with applause, but they will have just bid farewell to a predecessor

The new prime minister will then enter through the famous black door to be greeted by Downing Street staff, who traditionally line up to applaud their new boss. Usually it is all smiles, but not always.

When he arrived, Mr Blair noticed one of the secretaries was in tears. Lord Robin Butler - the most senior civil servant at the time - recalls that Mr Blair asked if she was OK. "Well, Mr Blair, you are welcome," she replied "but I did so like that nice Mr Major [Mr Blair's predecessor]."

Who's up, who's down and who's out?

There is not much time for anxious introspection as a prime minister must immediately begin appointing senior ministers, some of whom can prove to be surprisingly elusive, just at the moment the party leader wants to sound them out about accepting a promotion.

Dealing with angry or even eager colleagues is to be expected for a prime minister on their first day. Mr Sunak has yet to set out how he plans to bring together a party riven into factions that have driven out two prime ministers in three months.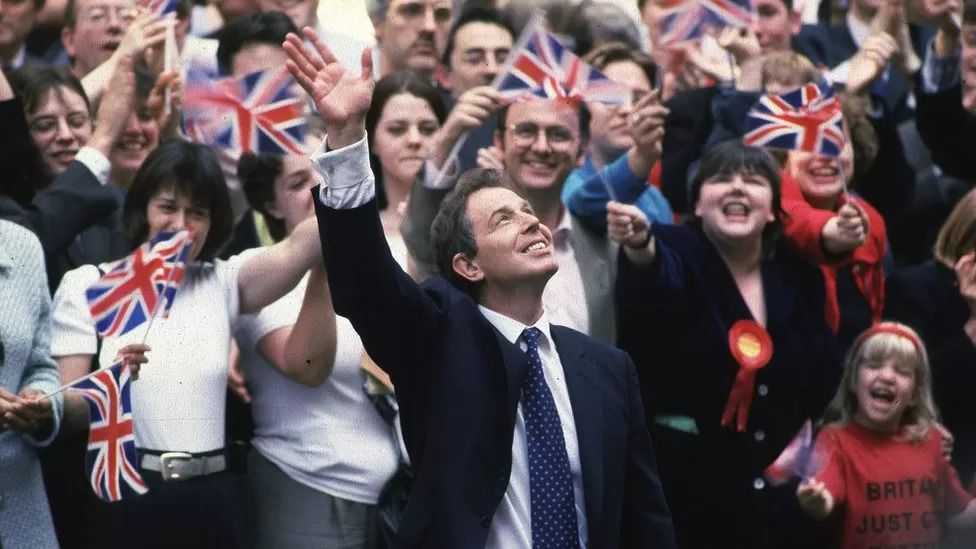 Tony Blair made it into Downing Street - but his team struggled to get pizza in

Civil servants - government workers who are not politically appointed so do not change with a new prime minister - will have been monitoring the candidates' various policy pronouncements throughout the leadership campaign and preparing advice.

Mr Sunak has not publicly updated his policy platform since the summer, when he last ran for leader. Since then the economic picture has changed.

Government borrowing costs have increased following weeks of market turmoil set off by Kwasi Kwarteng's mini-budget.

On his first day in the job, Mr Sunak will be presented with briefs from civil servants setting out how his policy plans can be put into action.

"It is a very big pile of paper," says Lord Robin Butler, who led the civil service under Ms Thatcher, John Major and Mr Blair.

"You want them [the new prime minister] to feel that everything has been thought of."

Those nuclear codes

At some point during his first few days, the prime minister will have to do something that will put everything else into perspective.

He will sit down and write letters to the four commanders of the UK Trident submarines with instructions about whether he should retaliate in the event the UK suffers a nuclear attack. The letters are stored in a safe on board the submarines, and only opened if contact with the UK is lost.

James Callaghan - prime minister from 1976-1979 - is the only former leader to reveal what he would have done in the event of a nuclear attack.

"If we had got to that point where it was, I felt, necessary to do it - then I would have done it," he told a BBC documentary in 1988. "I've had terrible doubts of course about this. And I say to you that if I had lived after having pressed that button, I would never, never have forgiven myself."

In 2013, political historian Lord Peter Hennessy told BBC Radio Four: "This is the moment they know what being prime minister is all about - no other job can prepare you for this."

Phone a friend

The first days of the prime minister's term are normally filled with phone calls from foreign dignitaries.

President Biden is looking forward to speaking with Mr Sunak in the coming days, the White House Press Secretary said. But they added that it was "protocol for the president to wait until after an incoming British prime minister has met with the monarch and been invited to form a new government to offer his congratulations".

The congratulations have already started rolling in, though.

Indian Prime Minister Narendra Modi tweeted "Special Diwali wishes" to Mr Sunak and "the 'living bridge' of UK Indians, as we transform our historic ties into a modern partnership".