Food prices are rising at their fastest rate for 45 years, with the cost of basics such as milk, cheese and eggs surging.
Food price inflation hit 16.2% in the year to October, up from 14.5% in September, latest figures show.

Energy and fuel costs also rose sharply, pushing the overall inflation rate to its highest level since 1981.

The surging cost of living is squeezing household budgets, leaving many people facing hardship.

The Office for National Statistics (ONS) said it was hitting poorer households hardest, as they spent around half of their income on food and energy, compared to about a third for those on middle incomes.

October's overall inflation rate, of 11.1%, is the highest for 41 years and up from 10.1% in September.

The latest figures come ahead of Thursday's Autumn Statement, in which Chancellor Jeremy Hunt is expected to announce billions of pounds worth of public spending cuts and tax rises.

Mr Hunt said his plans would aim to bring spiralling price rises under control, adding that he would take "tough but necessary decisions" to get the economy back on track.

But Labour's shadow chancellor Rachel Reeves said the surging inflation rate would "strike more fear in the heart of families across Britain" and blamed "12 years of Tory economic failure".

Inflation is a measure of the cost of living and to calculate it, the Office for National Statistics (ONS) keeps track of the prices of hundreds of everyday items, known as a "basket of goods".

The ONS said that food prices had risen sharply in October with milk, pasta, margarine, eggs and cereals all going up.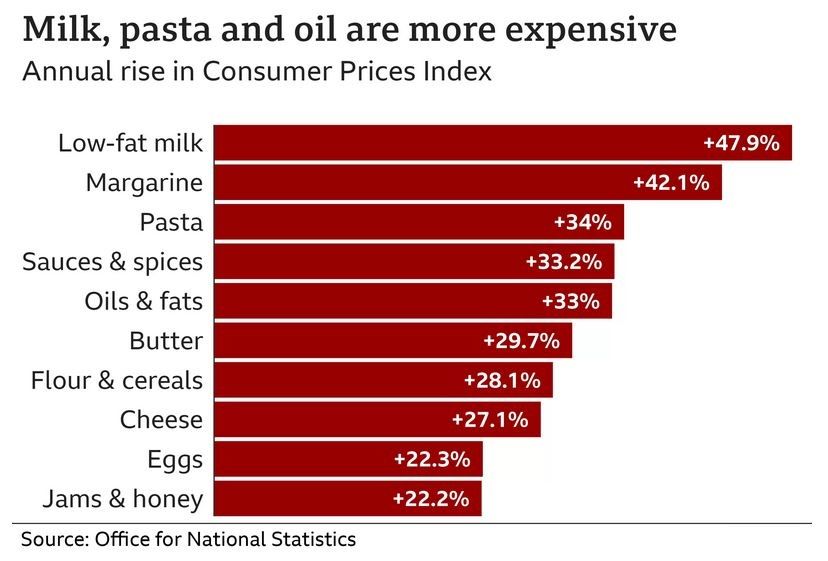 However, gas and electricity prices were still the main drivers of inflation after bills climbed again last month.
The government's Energy Price Guarantee scheme did mitigate those rises, limiting the average household bill to around £2,500 a year.
But the ONS said gas and electricity prices were still up by nearly 130% and 66% respectively compared with a year ago.
Without the government's support, however, it said overall inflation would have risen to as high as 13.8%.
Greg Pilley is the founder of the Stroud Brewery & Taproom in Gloucestershire, which supplies beer to pubs and shops. He told the BBC his business has been hit by a 10% rise in costs.
"Electricity has doubled over the last year," he said. "We're paying £70,000 a year compared to £30,000 in the previous year, but also raw materials are going up by between 10-15%."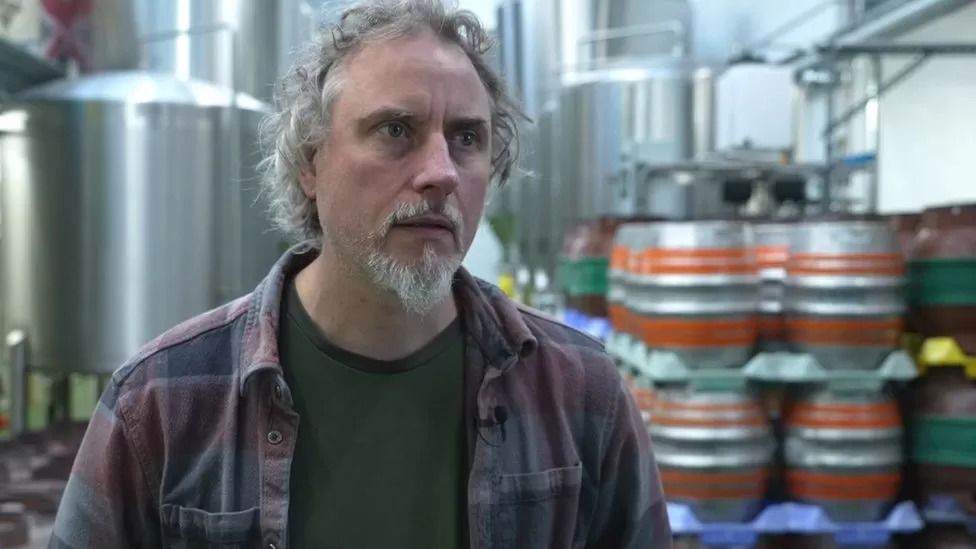 He said he'd had to put his prices up, while he was also paying much more in wages.

"The future is fairly unpredictable," Mr Pilley said. "We've got to sell three times as much beer... just to stay in the same place."

Energy and food prices have been rising since last year because of the war in Ukraine and the impact of the Covid pandemic.

Rising prices have led to workers across a number of sectors calling for pay increases in line with the higher cost of living, with some industries such as the railways, staging strikes.

However, some economists suggest October's 11.1% inflation rate could be the peak.

Paul Dales, chief UK economist at Capital Economics, said prices could begin to slow down "if the government continues to freeze [energy] prices in some way".

"There is growing evidence that the upward pressure on core inflation from global factors is now fading," he added.

Dame Deanne Julius, former member of the Bank of England's Monetary Policy Committee which sets interest rates, also said some of the elements driving inflation - aside from energy bills and food prices - were stabilising.

If inflation falls, it won't mean prices will come down, it means prices will rise at a slower rate.

The Bank of England has put up interest rates to 3% in a bid to cool inflation. It hopes that by making borrowing money more expensive, people will spend less, demand will decrease and the pace of price rises will be curbed.

But higher rates are driving up the cost of mortgages and other loans.

The squeeze on spending is dragging on the UK economy which is likely to enter a recession at the end of the year.

Latest figures showed the economy contracted by 0.2% between July and September and the Bank of England has warned the UK is facing a tough two-year downturn.

A recession is defined as when an economy shrinks for two three-month periods in a row. It's a sign an economy is performing badly, with companies often making less money and unemployment rising.

Countries around the world are experiencing higher inflation. The rate in Germany is higher than in the UK, at 11.6%, while prices rose by 7.7% in the year to October in the US.

However, the UK is performing worse economically than other major nations, with its economy smaller than it was before the Covid pandemic.