Chancellor Jeremy Hunt has insisted Liz Truss is still in charge of the government, after a series of U-turns left her premiership in jeopardy.
Some Tory backbenchers have been talking privately about how to remove the PM, after market turmoil led her to abandon her flagship tax policies.

Mr Hunt urged the party to unite behind her, as the pair held crunch talks to thrash out plans on tax and spending.

But three Tory MPs have since broken cover and called for Ms Truss to go.

Mr Hunt replaced Kwasi Kwarteng on Friday, after the former chancellor was fired following financial turbulence in the wake of last month's mini-budget and a backlash from a number of MPs in his party.

A key test of the government's moves so far will come when markets reopen early on Monday, with ministers facing a nervous wait to see if the rise in UK government debt costs over recent weeks continues.

Measures already jettisoned from the £45bn package of unfunded tax cuts announced last month include scrapping the top income tax rate, and a freeze in corporation tax.

Despite overseeing a dramatic change in Ms Truss's flagship policy, Mr Hunt insisted that "the prime minister's in charge"and denied media speculation that he has become the most powerful member of government.

"She's listened. She's changed. She's been willing to do that most difficult thing in politics, which is to change tack," he said in an interview with the BBC's Laura Kuenssberg.

Mr Hunt also ruled himself out of any future leadership contest, saying his desire to lead the party had been "clinically excised" after two previous failed attempts.

Instead, he urged Conservative MPs to come together and back Ms Truss, noting that the "worst thing would be another protracted leadership campaign".

However, some Tory MPs have reportedly opened talks about how to remove her from power, despite current party rules preventing a formal leadership challenge for a year.

Tactics reportedly under consideration include submitting no-confidence letters in a bid to force party bosses into a rule change, or changing the rules to allow MPs to bypass party members and pick a new leader themselves.

On Sunday, three MPs in the party broke cover to become the first to call for Ms Truss to go since she sacked Mr Kwarteng.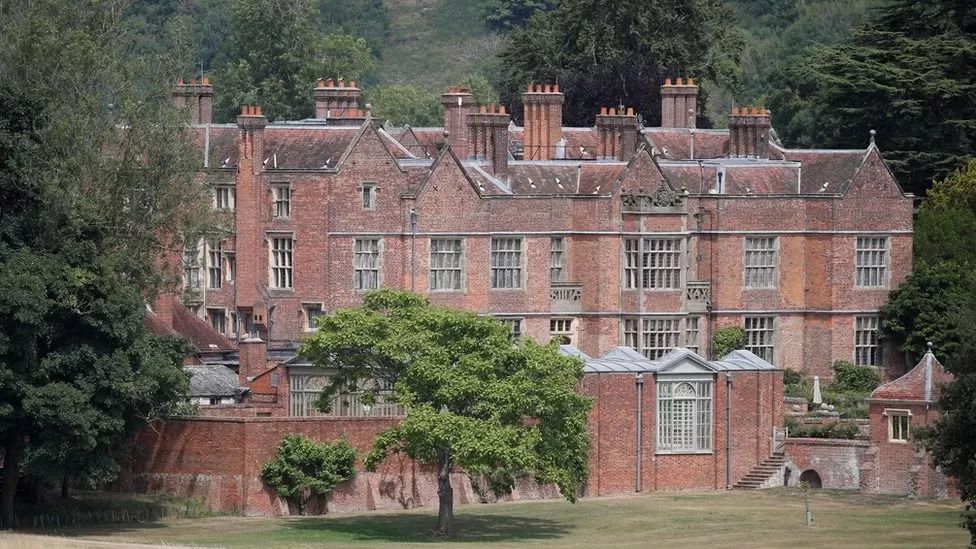 Mr Hunt held talks with the prime minister at Chequers, her official country residence, on Sunday

The former minister Crispin Blunt was the first, telling Channel 4 that "the game is up and it's now a question as to how the succession is managed".

"If there is such a weight of opinion in the parliamentary party that we have to have a change then it will be effected."

Then later on Sunday, Andrew Bridgen became the second, telling the Daily Telegraph: "We cannot carry on like this. Our country, its people and our party deserve better."

And Jamie Wallis said Ms Truss had "undermined Britain's economic credibility and fractured our party irreparably".

A letter shared on Twitter said: "Enough is enough. I have written to [her] to ask her to stand down as she no longer holds the confidence of this country."

Earlier, senior backbencher Robert Halfon told Sky News that MPs across the party "are unhappy with what is going on", adding that "we're all talking to see what can be done about it".

He said he was not calling on Ms Truss to go, but called for a "dramatic reset" in the government's direction.

Sir Geoffrey Clifton-Brown, who sits on the 1922 Committee that organises Conservative leadership contests, confirmed it would be possible to change the rules that currently prevent another race.

But he told BBC Radio 4's Broadcasting House that doing so would require the support of a "large majority" of Conservative MPs - "probably sixty to seventy percent".

Former cabinet minister Nadine Dorries, a key ally of former leader Boris Johnson, warned "serial back-stabbers" against trying to depose Ms Truss.

"Our core supporters will not vote for a feuding party that throws its leaders overboard in every storm," she wrote in the Sunday Express. "She has had a rough start but we must give her the chance to put things right".

Biden weighs in

Meanwhile, in a further blow to the prime minister, US President Joe Biden has criticised tax cuts from her mini-budget.

In an unusual intervention, he told reporters during a campaign visit that the outcome was "predictable" and "I wasn't the only one that thought it was a mistake".

He added that he had disagreed with "the idea of cutting taxes on the super wealthy", but it was up to the UK to "make that judgment, not me".

In his BBC interview, Mr Hunt said every government department would be asked to make savings, ahead of the 31 October economic statement.

However, he insisted the changes would not be "anything like" the period of austerity which began in 2010, when predecessor George Osborne oversaw large cuts in public spending.

Asked who was running the government, he said "the prime minister's in charge", insisting she remained committed to boosting economic growth but had changed "the way we're going to get there".

"She's listened, she's changed, she's been willing to do that most difficult thing in politics which is to change tack," he added.

According to reports, Ms Truss is also preparing to delay by a year her 1p cut to the basic rate of income tax.

And Mr Hunt, who held talks with Ms Truss at her official Chequers country retreat, has not ruled out further U-turns as he seeks to restore UK economic credibility.

He warned of "difficult decisions both on spending and on tax," as he prepares to deliver an economic statement on 31 October to convince investors he has a plan to get debt under control.

Labour's shadow business secretary Jonathan Reynolds said any further public spending cuts would be entirely because of government "incompetence".

"I'm not even sure what this government's economic policy is at the moment. I don't know which bits of the budget still apply, and I don't know what we will hear next week," he told the BBC.
WATCH: Hard decisions ahead, says Jeremy Hunt
Watch: Joe Biden voices his disagreement to cutting taxes for the UK's "super wealthy"