Amy Cregor, a drama student at the University of Leeds, was on her way to campus for a crunch-time rehearsal when she heard the antisemitic slur.
The next thing she knew, her hair and clothes were covered with barbecue sauce. Then her attackers drove away.

"I was a bit in shock," she said. "I had a bit of a cry to myself, but I was just like, 'Pull yourself together'."

Amy had been wearing a Star of David necklace that day, which all four of her grandparents had clubbed together to buy her when she was a baby.

She doesn't wear it around her university city any more.

The Union of Jewish Students (UJS) says it has lost confidence in the UK's top student activists to fight for the rights of its members like Amy - after a series of controversies at the National Union of Students (NUS).

A report into claims of antisemitism within the NUS is due out in the coming weeks. The UJS hopes it will bring about change, and the NUS says it is prepared to take action.

The controversies that sparked investigations this year include a planned appearance by "the UK's most political rapper" at an NUS event, and the election of a president who had made controversial comments in the past. They relate to tensions rumbling on more than 2,000 miles away - between the state of Israel and Palestinians who live in East Jerusalem, Gaza and the West Bank.

The rows have centred on what constitutes criticism of Israel, the world's only state with a majority Jewish population, and what can be described as antisemitism.

The investigations are adopting the International Holocaust Remembrance Alliance's definition of antisemitism, which, in part, describes it as "a certain perception of Jews, which may be expressed as hatred towards Jews".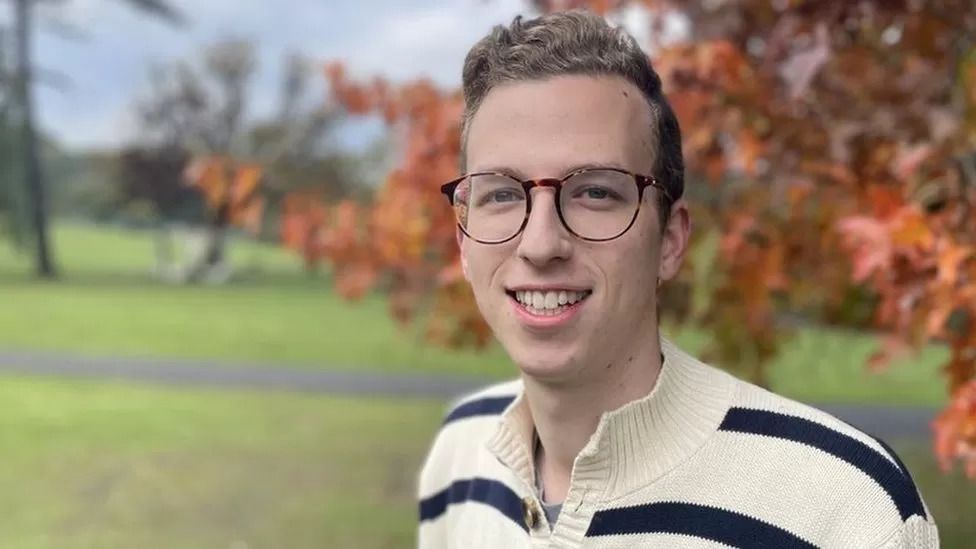 Joel Rosen says the NUS seems to have "abandoned proud anti-racist traditions"
Amy's university says it encourages students to report incidents, but she says she didn't think she had enough information to do so.
"For every traumatic incident that gets reported, there are many that go unreported," according to Joel Rosen, president of the UJS.
These are accompanied by what he sees as "more subtle, more insidious cases of political antisemitism" relating to the Israel-Palestinian conflict, he says - an antisemitism that he believes has been present in the NUS in recent years.
"It's an antisemitism that sees all Jewish students as being agents of a government many of them have no connection to, and many certainly don't support," he said.
"There is an exclusionary political culture within NUS where Jews are marginalised within student discourse. The prejudice they face is denied. They feel ostracised."
The row over antisemitism allegations prompted the NUS to launch two independent investigations, both led by a lawyer, Rebecca Tuck KC.
While students await the results of a wider investigation into accusations of antisemitism in the NUS as a whole, former president Shaima Dallali was dismissed last month after the first inquiry examined claims against her, and found what the NUS described as "significant breaches" of its policies.
Its findings are confidential and her lawyers told the BBC her dismissal is under appeal.
Ms Dallali had been criticised over a tweet she posted in 2012, which referenced what has been described as a massacre of Jews in the 7th Century, and which she has since apologised for.
Another controversy included an article published under her name, in which a Muslim cleric who once described suicide attacks on Israelis as "martyrdom", was described as a "moral compass".
Ms Dallali's critics say these comments went beyond legitimate criticism of Israel and amounted to anti-Semitism. Ms Dallali disputes this and told the Guardian in April that it was absolutely not true she didn't like Jewish people.
Her lawyers have previously said she rejects the allegations and the panel's findings. They maintain she was discriminated against because of "her beliefs concerning the plight of the Palestinian people" - and because she is a black Muslim woman. They added that the news of her dismissal was leaked to news outlets before she was told about it.
They declined a BBC request for comment, and for an interview with Ms Dallali.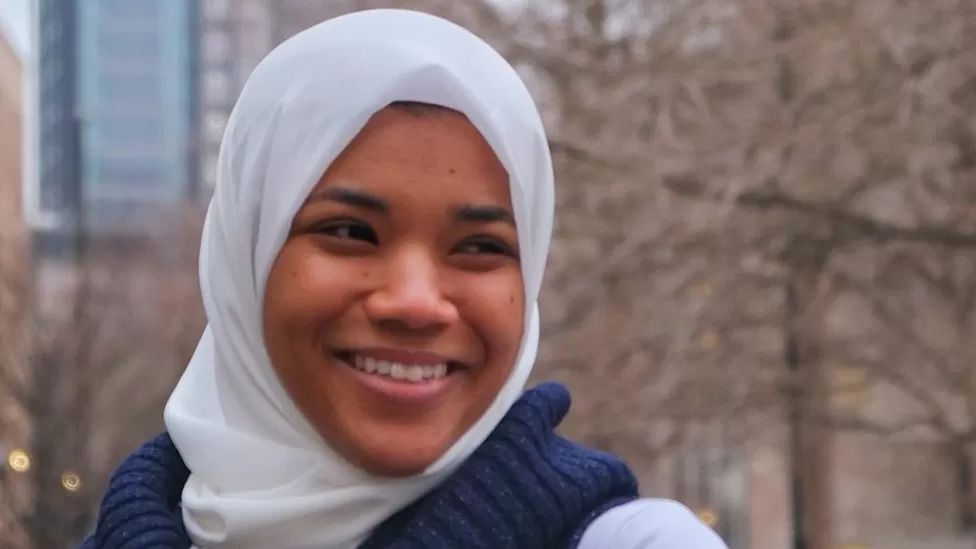 Shaima Dallali, who was elected as president in March, was dismissed in November over antisemitism allegations

One element of the wider report will look at how the NUS handled complaints about its invitation of the rapper, Lowkey, aka Kareem Dennis, to its conference in March.

Lowkey, whose tracklist includes a song called Long Live Palestine, has previously called the state of Israel a "racist endeavour".

He hosts a podcast about stories he says are "routinely ignored by the mainstream media".

In one episode, which aired shortly before the NUS conference, he said the media had "weaponised the Jewish heritage" of Ukraine's president Volodymyr Zelensky in an effort to "stave off" questions about the presence of extremists in the country's Azov battalion.

Last year, the rapper defended a professor who was sacked from the University of Bristol after making a series of comments, which included telling the Jewish Chronicle that Israel was using Jewish students "as political pawns". An investigation cleared Prof David Miller of unlawful speech but MPs accused him of "inciting hatred against Jewish students". Lowkey said Prof Miller was sacked following "pressure from the Israel lobby".

Jewish students who complained about Lowkey's scheduled appearance were allegedly told they could "segregate themselves" in a separate room, according to a list of allegations in the Terms of Reference for the NUS investigation.

Lowkey's appearance did not go ahead. The rapper told the BBC this was "part of a far wider campaign to deplatform" him.

Mr Rosen thinks the invitation itself demonstrated "just how disconnected NUS has become from Jewish students".

"If the most senior elected student officials in the country are allowed to act with impunity, that creates a culture of impunity that trickles down," he claimed.

"How can I turn around to a student union and say 'that's unacceptable', if that thing is allowed to fly in the NUS? It makes the fight against antisemitism much harder."

Josh Cohen, the 20-year-old president of Nottingham Trent University's Jewish Society, says he is tired of people making "digs" about the Israel-Palestinian conflict when they find out he is Jewish.

"It's something Jews have kind of just got used to," said Mr Cohen, who is also on the UJS national council.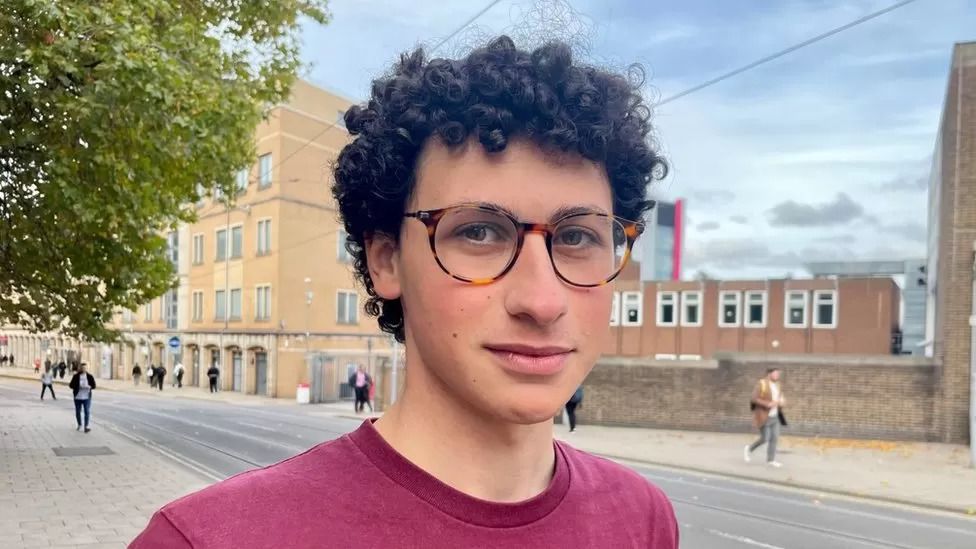 Josh Cohen says "the last thing he wants" is for student politics to be "empty of Jews"

Mr Cohen feels that Jewish students have been "edged out of democratic spaces" like the NUS and some student unions.

"It matters a lot, because those are the spaces where Jewish issues get discussed, whether it's voting or campaigning on how a university responds to antisemitism... or even just something as simple as campaigning to get sort of religious provision on campus," he said.

"If it's seen as a bit of a no-go space for Jews, you're not accurately representing everyone. And actually also you're missing out on students who could be really engaged."

A spokeswoman for the NUS said the organisation knew that antisemitism was "real within society, and within education and the student movement", and was "deeply concerned about the hurt and pain being expressed".

"We are prepared to be accountable, to listen, and to take action," she said - including through complaints processes, education, and culture change.

"This is not Jewish students' fight to take on alone, and we want to play our part. There is no place for antisemitism within NUS because Jewish students have the right to feel safe and welcome in every corner of our movement - and our society."

The wider NUS investigation will look at incidents that have arisen since an NUS inquiry back in 2005, when the organisation was criticised over its handling of complaints, but cleared of demonstrating apathy towards antisemitism.

It is likely to look at how the NUS dealt with controversies in 2016 and 2017, relating to comments made by an earlier NUS president - who denied being antisemitic, saying at the time that her comments were a criticism of media outlets and their reporting of the Israel-Palestinian situation.

'Sidelined'

The NUS has continued to campaign this year, supporting university staff strikes in November and publishing research into students struggling with the rising cost of living.

But students have said it has been distracted by the investigations.

A former NUS employee, who asked to remain anonymous, said issues like the cost of living appear to have been "sidelined" while the NUS has been grappling with the fallout.

"Hopefully there is a productive outcome, a path outwards," he said. "There is a lot of work to do... proving that the NUS is relevant."

The Federation of Student Islamic Societies has accused the NUS of being "absent" while students struggle with finances. It has called for an investigation into Islamophobia within the NUS over the investigation into Ms Dallali.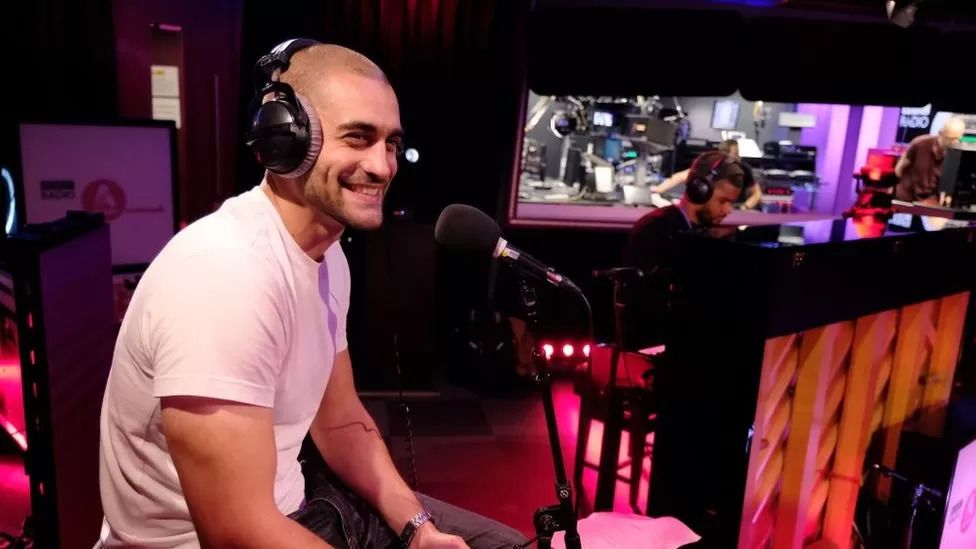 Lowkey performing on BBC Asian Network

The Palestine Solidarity Campaign has defended Ms Dallali since her dismissal. It said there had been a "conflation of antisemitism with legitimate critique of Israeli oppression", which has been "utilised to silence Palestinians and those who support their rights".

In February, the group accused Nadhim Zahawi, who was education secretary at the time, of trying to "chill and delegitimise activism for Palestine", after he reportedly said that student activists who chanted "from the river to the sea, Palestine will be free" should be reported to the police.

The NUS, in a joint statement at the time, called on Mr Zahawi to withdraw his comments, which it said were part of "a wider attempt to silence" activists.

Mr Rosen said the student movement had a "proud history of standing together, Jewish students along with other marginalised groups, and fighting racism", adding: "I really hope that can be recovered".

"Jewish students don't just want another investigation," he said. "We want to see action."