Eurozone figures are expected to show inflation slowed down in December, bringing hopes of relief to consumers and governments.
Inflation in the eurozone is expected to have fallen sharply at the end of 2022, giving some reprieve to people struggling to pay bills — and to leaders feeling their wrath.

Record-high rates are expected to have returned to single digits in December, with national data from Germany, France and Spain in recent days showing price increases easing more quickly than forecast. In Italy, inflation also came off its peaks.

Hotly anticipated figures for the eurozone as a whole are released on Friday.

Government programs to limit gas prices as well as falling energy costs and a stronger euro contributed to signs that Europe may be able to start putting the worst of the cost-of-living crisis behind it. That will come as a relief to leaders battling pan-European waves of public discontent, protests and strikes.

Before national data trickled in, a Reuters survey of analysts pointed to inflation slowing to 9.7 percent in December from 10 percent in November. More recent estimates, including those of Pantheon Macroeconomics' economist Claus Vistesen, put the figure around 9 percent.

Slower price rises will be welcome in Berlin, where government popularity has fallen massively ahead of key regional elections. Increasing numbers of voters fear inflation will undermine private wealth, a key survey showed. Germany's ruling coalition is falling in opinion polls and is on track to lose its majority in the parliament.

In France, the government is keeping a close watch on inflation as it prepares to launch a highly sensitive pension reform next week, framing it as part of a broader effort to improve the country's economy and boost growth. While price rises in France have been lower than in most eurozone countries thanks to massive government support, the cost of living remains people's No. 1 concern for the new year, according to opinion polls.

The government this week announced new measures to help small businesses, including the country's cherished bakeries, cope with soaring energy bills.

Still, President Emmanuel Macron on Thursday struck a cautionary tone. "We're probably not at peak inflation yet," he said. "We will have prices that go up."

European Central Bank President Christine Lagarde has sounded equally circumspect.

She has said inflation may jump again in January and February, when previous spikes in energy prices are expected to reach the retail level, before coming down more sustainably later this year.

ECB forecasts from December still show inflation averaging 6.3 percent this year.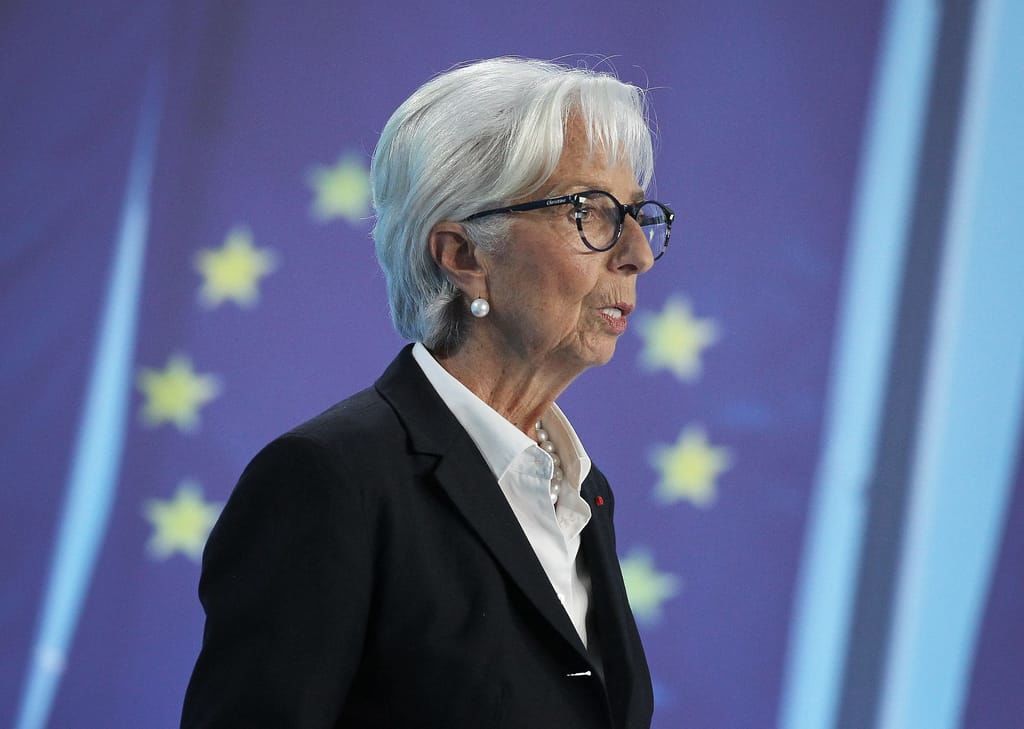 European Central Bank President Christine has come under fire from governments fearing the central bank's tightening will push the eurozone economy into a deeper than necessary recession
And while governments may feel pressure on them is easing, the same can hardly be said for the ECB.
Lagarde has come under fire from governments fearing the central bank's tightening will push the eurozone economy into a deeper-than-necessary recession, adding to the economic hardship of disgruntled voters.
Falling inflation at the same time as slowing economic activity will expose Lagarde to heftier criticism against her tightening course. Italy, under new Prime Minister Giorgia Meloni, has been particularly outspoken, with senior ministers attacking December's 0.5 percent interest rate hike and ECB pledges to do more as "baffling," "crazy" and "worrying."
While inflation coming down faster than expected may allow the Governing Council to raise interest rates less aggressively overall, the central bank will not shy away from further tightening as core inflation — which filters out volatile components such as food and energy — may still be on the rise and is running at more than three times the ECB's 2 percent target.
ING economist Carsten Brzeski said the current inflation environment will likely see the ECB raise rates at the next two meetings by a total of one percentage point. It is only after new inflation forecasts become available in March that there could be momentum to pause the hiking cycle, he added. Markets are currently betting on a policy rate of 3.5 percent by mid-year, up from 2 percent now.
As Lagarde put it in December: "Anybody who thinks that this is a pivot for the ECB is wrong. We're not pivoting, we're not wavering."