The former chief executive of Trinity Mirror has apologised for wrongdoing at the company's newspapers, and said she "deeply regrets" what happened.
But Sly Bailey, who ran the company between 2003 and 2012, said she had "no knowledge of these activities".

She told the High Court "untrue claims" were being made about her.

Mirror Group Newspapers (MGN) accepts information was gathered unlawfully but says that senior executives did not know.

Ms Bailey was being cross-examined by David Sherborne, barrister for the four claimants in the long-awaited trial, including Prince Harry.

Mr Sherborne said she had never apologised for illegal activities at her company's newspapers.

"I'm deeply regretful and I do apologise on behalf of the company. I hope people will understand I had no knowledge of these activities," she said.

The barrister said Ms Bailey had not investigated what had happened, to which she replied: "I'm not a policeman".

Mr Sherborne then accused her of only regretting "smears" on her reputation rather than press intrusion.

"I have personally had things written that are untrue - I have personally suffered from press intrusion," she said.

'Blagging league table'

Mr Sherborne asked Ms Bailey about a series of moments during her time at the newspaper when the scale of what was going on was made public.

In 2006 the Office of the Information Commissioner (ICO) published a report, "What Price Privacy" detailing the commercial trade in personal information.

The report contained a "league table" of payments to one investigator, Steve Whittamore, who ran a network of "suppliers" who were experts in "blagging" - a term for obtaining someone's information without their consent.

The Daily Mail was top of the table, but MGN ranked second with more than 1,000 commissions, the court heard.

"Why wasn't an editor held responsible and dismissed? Why didn't you investigate?" Mr Sherborne asked.

Ms Bailey said repeatedly that the paper had "no further information" and would not have been able to take further action.

Mr Sherborne said Ms Bailey talked "time and time again" about "robust corporate governance", but that this was a "concrete example" of wrongdoing.

The barrister then produced two large ring-binders of invoices sent to MGN by Mr Whittamore requesting payments for his services - they covered 1,600 transactions involving 120 MGN journalists.

"I've never seen these invoices before," Ms Bailey said, questioning whether some of the payments made were for stories justified in the "public interest".

Following the ICO report in 2006 she did hold a meeting with executives and editors, the court heard.

According to her witness statement, at this meeting she "reiterated to our editors that Trinity Mirror's policy was not to break the criminal law."

"I believed at the time that we did not break the criminal law, but I nonetheless wanted to take the opportunity to reiterate the policy."

The court heard that due to the perceived lack of evidence, the company adopted the position that it would have a zero-tolerance policy of future wrongdoing, rather than addressing the past.

Leveson Inquiry

Ms Bailey - who stood down from her role in June 2012 amid falling sales figures - gave a statement to the Leveson Inquiry into press standards, which took place in 2011 and 2012, in which she denied there had been unlawful activities.

In her latest witness statement to the High Court hearing, she said it had been "alleged that senior executives misled both the public and the Leveson Inquiry by falsely denying their existence".

"If it is intended to allege that I was guilty of any of these things, I categorically deny that. I also categorically deny lying to or misleading the Leveson Inquiry."

She added that she did not get involved in editorial decisions or how editorial teams spent money.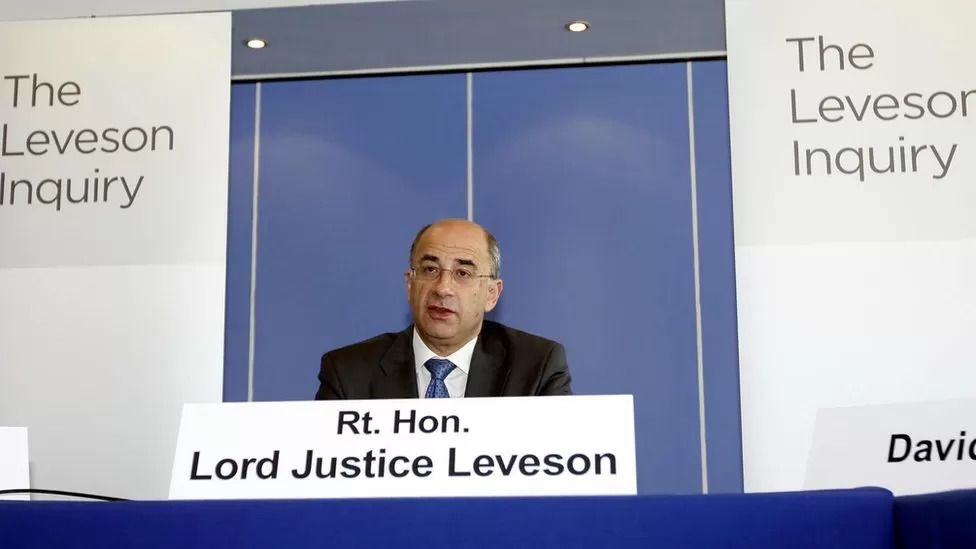 The Leveson Inquiry looked into standards in the British press

"If the board had become involved in the nuts and bolts of editorial spend, we would fall into the trap of trying to edit our newspapers. Editors were appointed to edit and make the necessary decisions to do so."

"It was simply not a board matter," she said, adding that editors were granted "an enormous amount of freedom and responsibility".

She said she did not remember ever discussing payments, which the claimants estimate totalled more than £9m, to private investigators, made by MGN.

She said this "does not strike me even with hindsight as a large sum of money that would have been the subject of discussion at board level".

When a News of the World journalist, Clive Goodman, and private investigator Glenn Mulcaire were convicted of phone hacking 2007 she held a meeting with editors, she said.

"Each editor gave me their confirmation that they were not engaged in criminal conduct."

This position fell apart in 2015 when MGN published an apology for unlawful information gathering.

"It was unlawful and should never have happened, and fell far below the standards our readers expect and deserve," the apology said.