JCVI decision comes two weeks after body recommended against routine vaccination of children
Covid vaccines will be offered to all 16- and 17-year-olds without needing the consent of their parents, after government experts reversed their advice from just two weeks ago.

The Joint Committee on Vaccination and Immunisation (JCVI) said older teenagers should be offered their first dose of the Pfizer/BioNTech jab and advice on when to offer the second dose would come later.

Ministers are to accept the recommendation and the NHS will soon be instructed to start giving first doses to about 1.4 million children.

It represents a sharp change in the guidance from just two weeks ago, when the JCVI said vaccines should not routinely be given to children unless they were over 12 and clinically extremely vulnerable or living with someone at risk.

Vaccinations for healthy 12- to 15-year-olds will not be recommended in this phase but advice could change in the coming months as more evidence is studied.

The JCVI is independent but ministers had asked it to keep its advice under review, while publicly signalling they were in favour of older children getting vaccinated before the winter to help head off the risk of another wave.

Their new recommendation on Wednesday also came after the four chief medical officers of the UK wrote to the JCVI asking it to look again.

New data released by the Office for National Statistics shows that 94% of the adult population in England now has Covid-19 antibodies. In Wales the figure was 93%, in Scotland 92% and in Northern Ireland 91%. In England, 80% of those aged 16-24 had antibodies in the week of 12 July.

Announcing the change, Prof Wei Shen Lim, the chair of the group's Covid-19 subcommittee, said: "While Covid-19 is typically mild or asymptomatic in most young people, it can be very unpleasant for some and for this particular age group, we expect one dose of the vaccine to provide good protection against severe illness and hospitalisation."

The deputy chief medical officer, Prof Jonathan Van Tam, said the programme would not start immediately.

"Children are going to start going back to colleges and sixths forms from September, and in Scotland that will be slightly earlier, so there is no time to waste in getting on with this," he told a press conference.

"I want us to proceed as fast as is practically possible. That isn't going to be tomorrow, I don't think it is likely to be early next week … I would expect this programme will start in a very short number of weeks."

The health secretary, Sajid Javid, said he had asked the NHS "to prepare to vaccinate those eligible as soon as possible". He said the JCVI would "continue to review data and provide updates" if more age groups would be added to the recommendations.

"I encourage everyone who is eligible to come forward for both their jabs as quickly as possible," he said.

Lim said 16-year-olds would not need their parents' permission. "A person who is 16 years and above is deemed able to consent for themselves," he said.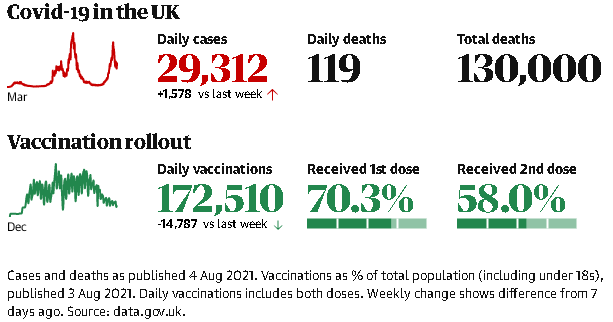 He said that although there were cases of severe illness in younger children, the vast majority had serious pre-existing conditions. Vaccinations have been recommended for under-16s who have severe neurodisabilities and those with underlying conditions that result in immunosuppression.

However, Van Tam said that list of conditions was likely to be expanded, saying it was "more likely rather than less likely that that list will broaden over time as data become available".

Lim hinted it was likely that vaccination would be opened up for 12- to 15-year-olds when more data was available. "We will obviously want to try to protect them with vaccination as well, but that's a decision we can't make at this point or prefer not to make at this," he said.

Older teenagers are in one of the groups with the highest levels of Covid infections, so offering vaccinations to children aged 16 and 17 could have a significant impact on dampening transmission.

Scientists on the JCVI have previously expressed some reticence about vaccinating children, saying the very small risk of side-effects had to be weighed against the extremely low risk that Covid infection poses to children.

The JCVI said it had considered reports of heart inflammation among some younger adults who had the jab, but officials said this was considered to be "extremely rare", affecting about one in 100,000 people vaccinated, with effects that were "mild" with a short recovery period.

Others, including the body's chair, Prof Andrew Pollard of the Oxford Vaccine Group, which helped develop the AstraZeneca vaccine, have expressed doubts about whether healthy children in the UK should be prioritised when many high-risk adults across the world are yet to receive a vaccine.

Many countries with high vaccination rates, including Ireland, France, Germany and the US, have all recommended vaccinating over-12s and the Pfizer vaccine has been approved for use for 12- to 17-year-olds by the UK's Medicines and Healthcare products Regulatory Agency.

The decision has been welcomed by a number of scientists. Dr Stephen Griffin, a virologist from the University of Leeds, said: "More than 9m doses have been given to adolescents in the US and more elsewhere, and while there's obviously a need to understand certain adverse reactions including myocarditis [heart inflammation], the risk to children from Covid is clearly greater.

"This risk is even greater because of the high prevalence of the Delta variant in the UK at present, which may rise again in the autumn when schools return.

"In the absence of appropriate mitigations being established in English schools, I would suggest that vaccinating children is essential as a minimal duty of care. Over 5,000 under-18s were hospitalised in July 2021 alone, and the risk of long Covid remains unacceptable."

Two members of a Sage subcommittee and several members of Independent Sage said they had submitted evidence to the Lancet that they claim shows benefits clearly outweigh risks for all 12- to 17-year-olds.

But the 18 scientists who submitted a "risk-benefit" paper – which has not yet been reviewed – said the decision could be "too little, too late" and put younger teenagers needlessly at risk.

Alex Richter, professor of clinical immunology at the University of Birmingham, said: "Vaccinating our 16- to 17-year-old young adults is the logical next step. We know the vaccines are highly efficacious and this is another piece in the jigsaw for the UK returning to some kind of normality."

Dr Peter English, a retired consultant in communicable disease control, and former chair of the BMA public health medicine committee, said the JCVI appeared to be adopting "an abundance of caution" and queried why it had not gone further, sooner.

He added that he believes it is "just a matter of time" before jabs are recommended for everyone aged 12 and above.