After the Queen's actions to retire Prince Andrew last week, questions have been raised about his remaining constitutional duty.
As Counsellor of State he may still be called upon to pick up some of the Queen's duties if she were temporarily out of action due to illness or if she was traveling.

Under the Regency Act 1937, the group that the monarch can empower are the next four in line to the throne who are over the age of 21.

Those royals are Princes Charles, William, Andrew and Harry (after skipping over the Cambridge and Sussex children due to their young age).

The late Prince Philip, as the sovereign's spouse, would also have been included if he were still alive.

To activate the counsellors, the Queen issues a directive known as Letters Patent to formally grant authority to two or more counsellors so they can fulfill many of her daily duties that keep the state ticking over. For example, attending Privy Council meetings, signing routine documents and receiving new ambassadors to the UK. They aren't allowed to do the big stuff such as appointing a Prime Minister or deal with Commonwealth matters -- that would have to wait until she was back.

Reports emerged in the UK this week suggesting palace officials were considering removing Prince Andrew and Prince Harry from their crucial roles as they are no longer actively working for "the firm." Harry isn't even resident in the UK.

Buckingham Palace has not commented on the speculation, but constitutional experts say it makes sense because the Regency Act was drawn up with counsellors in mind that are senior royals already working closely with the sovereign and who understand the everyday duties of the monarch.

Prince Charles speaks with his younger brother, Prince Andrew, at a thanksgiving event marking the Queen's Diamond Jubilee in 2012.

"You're meant to have a little bit of flexibility as to who can act as Counsellors of State because if the Queen is taken unwell and she's unable to act, then you have people who can just step in and ensure that all the documents that the Queen would normally just approve in her red boxes just get dealt with in the normal way and the process of government just continues rolling on as smoothly as it normally does," Craig Prescott, a lecturer in law at Bangor University in Wales, tells CNN.

He says the current situation "limits what Charles and William could do" but that a solution seems "quite straightforward."

Rather than removing Andrew and Harry from the group -- which would require an Act of Parliament -- Prescott says other royals should be added to the group through a new Regency Act -- as was done for the Queen Mother when she was made an additional Counsellor in 1953.

"You allow for other members of the royal family to become Counsellors of State -- Princess Anne and Prince Edward, for example. If they don't do that, then you could end up with a real headache," Prescott says.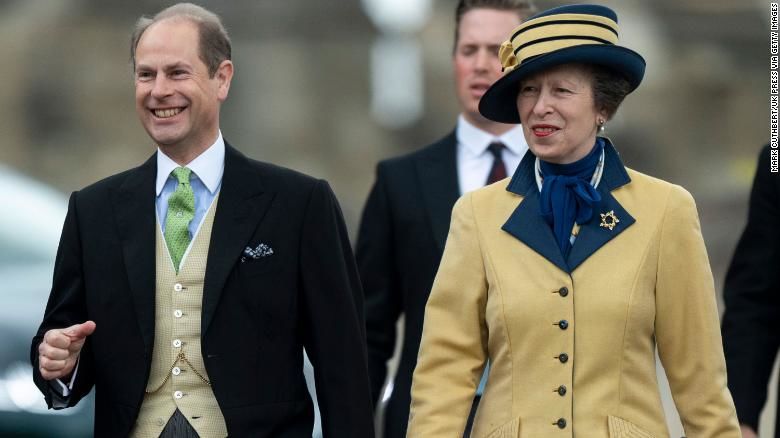 Constitutional experts suggest candidates to become Counsellors of State include the Queen's other children, Princess Anne and Prince Edward.

He says the palace is likely already exploring how to resolve the present issue to avoid any possible obstacles impeding day-to-day operations of the government, according to his research.

"I've seen documents in the National Archives, from the 1970s, where they've coordinated diaries of different members of the royal family to ensure that there were sufficient numbers of Counsellors of State in the country to act if required," he says, highlighting an example of the Queen's sister Princess
Margaret who was once asked to return from the island of Mustique earlier than intended to make sure a gap in schedules was covered.

He adds: "It is something that they take seriously and so that would lead me to think that they're taking this problem seriously and thinking about how to solve it."

What is clear is that there isn't enough slack in the system as it's currently set up. What if Charles or William aren't available when they are needed? The only two options would be to pull Andrew out of retirement or Harry back from America. How would the government react to that? And what if they refused?


ROYAL TEA BREAK
Duke of York social accounts shut down.

Prince Andrew's Twitter account has been deleted, days after the Queen stripped him of his honorary military titles and charities. Visitors to his official Twitter page, @TheDukeofYork -- which has previously been tagged in posts by the official royal family Twitter handle -- are now met with a blank page and a message stating "this account doesn't exist." Buckingham Palace has also updated its official website to reflect moves taken by the royal family to distance themselves from the Queen's second son, who is facing a civil sexual assault trial in the US.


DID YOU KNOW?

Here's another royal story you may have missed this week: Prince Harry's security row.

The Duke of Sussex is making a legal challenge to a UK government decision that prevents him from personally paying for police protection for himself and his family when they are in the UK, according to his legal representatives. Harry's legal team said they had initiated the legal challenge in September of last year but decided to make that information public now "in order to set the facts straight" because of a leak in a British tabloid newspaper.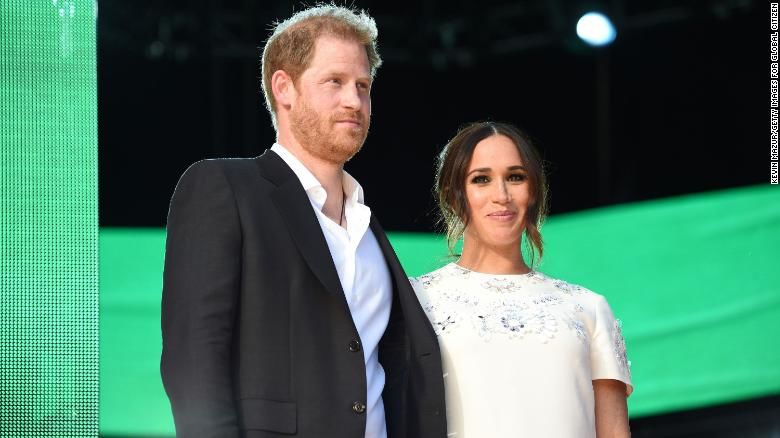 Prince Harry, Duke of Sussex, and Meghan, Duchess of Sussex, speak onstage during Global Citizen Live, New York, on September 25, 2021 in New York City.

Prince Harry wants to bring his son Archie and baby daughter Lilibet to visit from the US, but he and his family are "unable to return to his home" because it is too dangerous, a legal representative said in a statement Saturday. In particular, Harry's privately funded US security team "cannot replicate the necessary police protection needed" while they visit the UK, the representative added.

The claim follows an incident in London in the summer of 2021 when the prince's security was compromised as he left a charity event, the statement added.


WHAT ELSE IS HAPPENING?
Queen 'shocked and saddened' by Tonga eruption.

The Queen has offered her condolences to Tonga after a massive volcanic eruption took place on January 15, about 20 miles from the islands of Tonga. The eruption left much of the country covered in volcanic ash and caused a tsunami that led to flooding. "I am shocked and saddened by the impact of the volcanic eruption and tsunami in Tonga. My thoughts and prayers are with the people of Tonga, as you work together to recover from the damage caused. It must be incredibly difficult for those who are unable to contact friends and family while communications are disrupted, and I hope that they will soon be restored," the Queen sent to His Majesty Tupou VI, King of Tonga, according to a statement released by Buckingham Palace.


PHOTO OF THE WEEK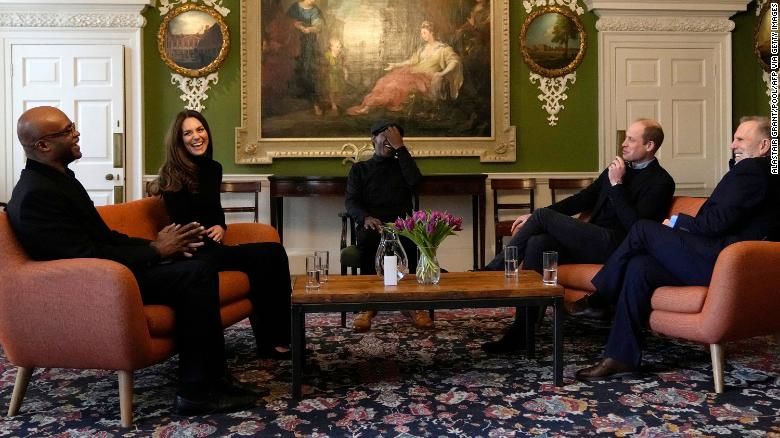 The Cambridges returned to duties this week after taking a break over the holiday season. Their first engagement of 2022 saw them head to the Foundling Museum in London to learn more about the care sector and meet representatives from across the system. Here they are pictured listening to Britain's former track and field athlete Kriss Akabusi, left, during the visit. A day later, the pair headed to Lancashire where they met healthcare professionals to hear about their experiences during the pandemic.


POSTCARDS FROM ROYALS AROUND THE GLOBE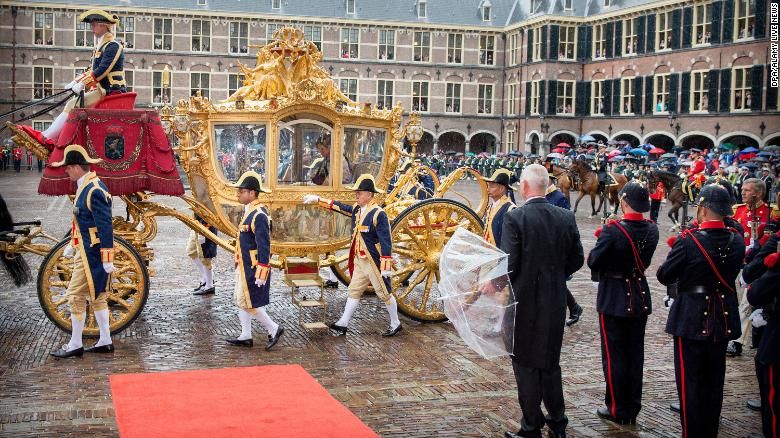 One of the panels on the Golden Coach, named "Tribute from the Colonies," depicts people of color from the colonies kneeling in subordination to a young white woman who represents the Netherlands, while presenting her with gifts, according to the Amsterdam Museum, where the coach is housed.
Dutch royal family to temporarily stop using Golden Coach.

King Willem-Alexander has said the Dutch royal family will temporarily stop using the Golden Coach until "the Netherlands is ready," following criticism of colonial ties to the horse-drawn carriage. "Our history contains much to be proud of. At the same time, it also offers learning material for faults to recognize and to avoid in the future," King Willem-Alexander, the ruling monarch in the Netherlands, said in a video message published on the royal family's verified YouTube account last week. "We cannot rewrite the past. We can try to come to terms with it together. That also applies to the colonial past. Instead, a collective effort is needed that goes deeper and lasts longer. An effort that unites us rather than divides us." The carriage -- known colloquially as "De Gouden Koets" -- has been at the center of fierce debate in recent years.


"Let us not be bystanders to injustice or prejudice. After all, surely our personal values are measured by the things we are prepared to ignore. Let us therefore learn from those who bore witness to the horrors of the Holocaust, and all subsequent genocides, and commit ourselves to keeping their stories alive, so that each generation will be ready to tackle hatred in any of its terrible forms."
----------
The Duchess of Cornwall delivered a plea at a Holocaust memorial event in London on Thursday.

Camilla delivered a powerful speech in London where she spoke of the lasting impact of Anne Frank's diary -- 75 years after it was first published. While in attendance of the annual Anne Frank Lunch for Holocaust Memorial Day (which is on January 27), the duchess also lit a candle in memory of the victims, alongside Auschwitz survivor Eva Schloss, the 92-year-old stepsister of Anne Frank.